Kate Hamill's PRIDE AND PREJUDICE Extends Off-Broadway; Previews Start Tonight!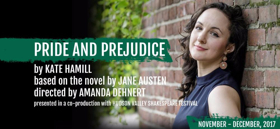 Primary Stages announces a three-week extension for Pride and Prejudice, adapted by and featuring Kate Hamill (Bedlam's Sense and Sensibility) and directed by Amanda Dehnert (Richard III), in a co-production with Hudson Valley Shakespeare Festival (HVSF).
Originally scheduled to run through December 16, 2017, Pride and Prejudice begins performances tonight, November 7, 2017 at the Cherry Lane Theatre (38 Commerce Street), with opening night set for Sunday, November 19, and will now run through January 6, 2018.
The production includes the cast from the World Premiere production at HVSF, including Mark Bedard ("The Knick") as "Wickham," "Miss Bingley," and "Mr. Collins;" Kimberly Chatterjee (The Christians) as "Lydia" and "Lady Catherine;" Kate Hamill (Vanity Fair) as "Lizzy;" Jason O'Connell (Sense & Sensibility) as "Mr. Darcy;" Amelia Pedlow (The Liar) as "Jane" and "Miss De Bourgh;" Chris Thorn (The Big Broadcast on East 53rd) as "Charlotte Lucas" and "Mr. Bennet;" John Tufts (Fashions for Men) as "Bingley" and "Mary;" and Nance Williamson (Romeo and Juliet) as "Mrs. Bennet."
The outspoken Elizabeth Bennet faces mounting pressure from her status-conscious mother to secure a suitable marriage. But is marriage suitable for a woman of Elizabeth's intelligence and independence? Especially when the irritating, aloof, self-involved... tall, vaguely handsome, mildly amusing, and impossibly aristocratic Mr. Darcy keeps popping up at every turn?! Literature's greatest tale of latent love has never felt so theatrical, or so full of life than it does in this effervescent new adaptation. Pride and Prejudice is written by and features Kate Hamill, adapted from the novel by Jane Austen, directed by Amanda Dehnert, and is presented in a co-production with Hudson Valley Shakespeare Festival.
Primary Stages 2017/18 season began with THE GOSPEL ACCORDING TO Thomas Jefferson, Charles Dickens AND COUNT Leo Tolstoy: DISCORD, written by Scott Carter ("Real Time With Bill Maher") and directed by Kimberly Senior (Disgraced), and will continue with the World Premiere of A WALK WITH MR. HEIFETZ, written by James Inverne (Wrestling with Elephants). Directed by Benjamin Kamine (Washer/Dryer), A WALK WITH MR. HEIFETZ is set to run January-February 2018. The season will conclude with FEEDING THE DRAGON, written and performed by Sharon Washington (While I Yet Live) and directed by Maria Mileaf (A Body of Water). Presented in a co-production with Hartford Stage, FEEDING THE DRAGON will run March-April 2018.
ABOUT THE ARTISTS:
Mark Bedard (Wickham/Miss Bingley/Mr. Collins). Off-Broadway: Midsummer Night's Dream (Pearl Theater - Drama League Nomination, Outstanding Revival); Fashions for Men (Mint Theater). HVSF: Pride & Prejudice; General From America; As You Like It; Measure for Measure; Midsummer Night's Dream; Winter's Tale. Oregon Shakespeare: The Cocoanuts (his own adaptation); Animal Crackers; She Loves Me; Servant of Two Masters; Paradise Lost; Love's Labor's Lost; Merchant of Venice; Comedy of Errors; Taming of the Shrew. Other regional: The Cocoanuts (Guthrie); Roe (Arena Stage, Berkeley Rep); Forum (Geva Theatre); Cymbeline (Shakespeare Theatre Company); Boeing Boeing (Seattle Repertory); Waiting for Godot (Marin Theatre); Love's Labour's Lost (Shakespeare and Company). Education: UC Irvine. Website: markbedard.com
Kimberly Chatterjee (Lydia/Lady Catherine). NEW YORK: The Tempest (Classical Theatre of Harlem); The Christians (Playwrights Horizons). REGIONAL: Pride & Prejudice, The General From America, Macbeth, Measure for Measure (Hudson Valley Shakespeare Festival); As You Like It (Folger Theatre). TELEVISION: "High Maintenance." Proud graduate of NYU Tisch's New Studio on Broadway. All the love and gratitude to her family, friends, and the wonderful people at HVSF and Primary Stages! www.kimberlychatterjee.com
Kate Hamill (Lizzy) is an actor / playwright. As playwright: Sense & Sensibility (in which she originated the role of Marianne), Winner, Off-Broadway Alliance Award 2016; Nominee, Drama League Award (Best Revival, 2016); 265+ performances off-Broadway. Other plays include Vanity Fair (in which she originated the role of Becky Sharp; Nominee, Off-Broadway Alliance Award 2017), In the Mines (Sundance Lab semi-finalist), Em (Red Bull New Play finalist), Little Fellow (O'Neill semi-finalist). Additional acting credits include: The Seagull (Bedlam), All That Fall (Kaliyuga), Dreams... Marsupial Girl (PearlDamour). Her plays have been produced at the Guthrie Theatre, Pearl Theatre, Dallas Theater Center, Folger Theatre (Helen Hayes Award, best production: S&S) & others. Upcoming productions at Oregon Shakespeare Festival, A.R.T., Playmakers Rep, Seattle Rep, & more. www.kate-hamill.com.
Jason O'Connell (Mr. Darcy). Off-Broadway: Edward and Robert Ferrars in Sense & Sensibility (Bedlam, Drama League Nomination - Outstanding Revival), Bottom and Puck in A Midsummer Night's Dream (The Pearl, Drama League Nomination - Outstanding Revival), Jason's own solo show, The Dork Knight (Abingdon Theatre, Joe's Pub), Penny Pennyworth (TADA), 365 Days/365 Plays (The Public). Also for Bedlam: Hamlet & Saint Joan, Trigorin in The Seagull. NYIT Award Recipient - Outstanding Lead Actor (Don Juan in Hell). Regional: 9 seasons at Hudson Valley Shakespeare Festival (Benedick in Much Ado, Berowne in Love's Labour's, Dorante in The Liar, etc), Two River Theater, American Players Theatre, Delaware Theatre Company, Florida Studio Theatre, Arkansas Rep, Great Lakes Theater. TV: "Law & Order: SVU," "Law & Order: Criminal Intent." www.jason-oconnell.com
Amelia Pedlow (Jane/Miss De Bourgh). OFF-BROADWAY: The Liar and The Heir Apparent (Classic Stage Company); 'Tis Pity She's a Whore (Red Bull Theatre Company); You Never Can Tell (The Pearl). REGIONAL: Pride and Prejudice and The General from America (Hudson Valley Shakespeare Festival); Red Velvet and The Metromaniacs (The Old Globe); The Metromaniacs, A Midsummer Night's Dream, and Merchant of Venice (The Shakespeare Theatre DC); Ether Dome (La Jolla Playhouse, Hartford Stage, and The Huntington); The Glass Menagerie, Hamlet, and The Liar (Denver Center); Legacy of Light (Cleveland Playhouse); The Diary of Anne Frank and The Tempest (Virginia Stage Company). TV: "The Good Wife"; "Blue Bloods"; "Shades of Blue"; "The Blacklist". EDUCATION: B.F.A. Juilliard.
Chris Thorn (Charlotte Lucas/Mr. Bennet). Off-Broadway: Pig Iron Theatre Company (Twelfth Night) The Acting Company (3 seasons), New Victory, EST. Regional: Hudson Valley Shakespeare Festival, CATF, Barrington Stage, Delaware Theater Company, The Guthrie Theater, The Fulton Theatre Company, Hartford Theaterworks. Film: Still on the Road and The Sonnet Project. Training: Boston University and LAMDA.
John Tufts (Bingley/Mary). Off-Broadway: Ensemble Studio Theatre; Mint Theatre. Chicago: Chicago Shakespeare Theater. Theater: 12 seasons with the Tony Award-winning Oregon Shakespeare Festival. Also: The Guthrie Theater, Arena Stage, Seattle Rep, MTC, PlayMakers Rep, ETC. Awards: Arthur Kennedy Award; Indy Award: I Am My Own Wife; Wall St. Journal 'Best of 2016'. www.john-tufts.com.
Nance Williamson (Mrs. Bennet) is thrilled to be reprising Mrs. Bennett in Pride and Prejudice. During her 33-year career as an Equity actor Nance has performed on Broadway in Broken Glass, Henry IV, Cyrano and Romeo and Juliet as well as numerous Off-Broadway and regional productions most recently Amanda in The Glass Menagerie at Pioneer Stage and premier production of Book of Will at DCTC. Nance is happily married to actor Kurt Rhoads.
Primary Stages is an Off-Broadway not-for-profit theater company dedicated to inspiring, supporting, and sharing the art of playwriting. We operate on the strongly held belief that the future of American theater relies on nurturing playwrights and giving them the artistic support needed to create new work. Since our founding in 1984, we have produced more than 130 new plays, including In Transit by James-Allen-Ford, Kristen Anderson-Lopez, Russ Kaplan, and Sara Wordsworth (on Broadway last season); Horton Foote's The Roads to Home, The Day Emily Married, Harrison, TX, and Dividing the Estate (two Tony nominations); Donald Margulies' The Model Apartment (1995 premiere and 2013 revival); David Ives' Lives of the Saints and All in the Timing (original 1993 production and 2013 revival); Billy Porter's While I Yet Live; Deborah Zoe Laufer's Informed Consent; Charles Busch's The Tribute Artist and Olive and the Bitter Herbs; Ike Holter's Exit Strategy; Tanya Saracho's Fade; Michael McKeever's Daniel's Husband, A.R. Gurney's Black Tie; Theresa Rebeck's Poor Behavior; Tanya Barfield's The Call, Terrence McNally's Dedication or the Stuff of Dreams and The Stendhal Syndrome; Dan O'Brien's The Body of an American; Danai Gurira and Nikkole Salter's In the Continuum (which went on to tour the U.S., Africa, and Scotland); and Conor McPherson's St. Nicholas (which marked the playwright's U.S. debut). Our productions and artists have received critical acclaim, including Tony, Obie, Lortel, AUDELCO, Outer Critics' Circle, Drama League, and Drama Desk awards and nominations. Primary Stages supports playwrights and develops new works through commissions, workshops, readings, and our education and training programs: The Dorothy Strelsin New American Writers Group, the Marvin and Anne Einhorn School of Performing Arts (ESPA), the Fordham/Primary Stages MFA in Playwriting, and the newly launched Primary Stages Off-Broadway Oral History Project. Through these programs, Primary Stages advocates for our artists, helping them make important-and often transformative- connections within the theater community.
Featured at the Theatre Shop
T-Shirts, Mugs, Phone Cases & More
Related Articles
More Hot Stories For You