Click Here for More Articles on AMY AND THE ORPHANS
Final 2 Weeks To See Roundabout's AMY AND THE ORPHANS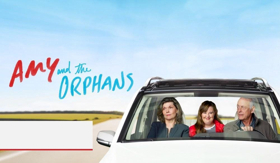 Roundabout Theatre Company (Todd Haimes, Artistic Director/CEO), will conclude the world premiere of Amy and the Orphans by Lindsey Ferrentino, directed by Scott Ellis, on Sunday, April 22.
The cast includes Vanessa Aspillaga as "Kathy," Mark Blum as "Jacob," Jamie Brewer as "Amy," Diane Davis as "Sarah," Josh McDermitt as "Bobby" and Debra Monk as "Maggie."
At the time of closing, Amy and the Orphans will have played 32 preview performances and 60 regular performances. Previews began on February 1, 2018 and opened officially on March 1, 2018 at the Laura Pels Theatre in the Harold and Miriam Steinberg Center for Theatre (111 West 46th Street).
Amy and the Orphans is Ferrentino's Roundabout Underground commission. As part of Roundabout's commitment to foster the talent of emerging writers, each Underground playwright is commissioned to write a new play before their Underground play is produced.
After their father's death, two unhinged siblings reunite with Amy, their movie-loving sister who has Down syndrome (Jamie Brewer, "American Horror Story"). Together, they careen down the Great American Long Island Expressway, navigating strip malls, traffic jams and some serious (and not-so-serious) family drama. An unexpected turn reveals the moment that changed their lives...and the fact that Amy may be the only one who knows her own mind.
The creative team includes Rachel Hauck (Scenic Design), Alejo Vietti (Costume Design), Kenneth Posner (Lighting Design) and John Gromada (Sound and Original Compositions).
Tickets for Amy and the Orphans are available by calling 212.719.1300, online at roundabouttheatre.org, in person at any Roundabout box office: American Airlines Theatre Box office (227 West 42nd Street); The Harold and Miriam Steinberg Center for Theatre (111 W 46th Street) and Studio 54 (254 West 54th Street); or by visiting StubHub, The Premier Secondary Ticketing Partner of Roundabout. All single tickets are $79. For groups of 10 or more please call 212-719-9393 x 365 or email groupsales@roundabouttheatre.org.
Amy and the Orphans plays Tuesday through Saturday evening at 7:30PM with Wednesday, Saturday matinees at 2:00PM and Sunday matinees at 3:00PM.
Roundabout will present two Relaxed Performances of Amy and the Orphans on Wednesday, April 11 at 2pm and Wednesday, April 18 at 7:30pm. These performances are less formal and more supportive of sensory, communication, movement and learning needs. To learn more, visit Relaxed Performances.
Through the New Play Initiative, Roundabout proves its devotion to the development and production of new works by significant writers and artists. The Roundabout Underground program in particular, provides substantial artistic and financial resources to emerging playwrights to stage their debut productions in New York and on Roundabout's stages. In addition to producing their first play, writers receive a commission for a future play, showing a level of commitment to writers' careers and the future of theatre in New York that is unparalleled. The New Play Initiative has discovered and brought audiences some of the most important new voices in theatre and is dedicated to creating a diverse canon for the future of theatre. To learn more about Roundabout's commitment to the development of new work, visit New Play Initiative.
Roundabout's work with new and emerging playwrights and directors, as well as development of new work, is made possible by Katheryn Patterson and Tom Kempner.
We gratefully acknowledge the Roundabout Leaders for New Works: Alec Baldwin, James Costa and John Archibald, Linda L. D'Onofrio, Peggy and Mark Ellis, Jodi Glucksman, Sylvia Golden, Hess Foundation, Inc., Judith and Douglas Krupp, K. Myers, Laura Pels International Foundation for Theater, Laura S. Rodgers, Seedlings Foundation, Mary Solomon, Lauren and Danny Stein, Harold and Mimi Steinberg Charitable Trust, and Dr. Leonard Tow.
The Harold and Miriam Steinberg Center for Theatre opened in March 2004 with an acclaimed premiere of Lynn Nottage's Intimate Apparel starring Viola Davis, directed by Dan Sullivan. Since that landmark production, the center has expanded beyond the Laura Pels Theatre to include the Black Box Theatre and now a new education center. The Steinberg Center continues to reflect Roundabout's commitment to produce new works by established and emerging writers as well as revivals of classic plays. This state-of-the-art off-Broadway theatre and education complex is made possible by a major gift from The Harold and Mimi Steinberg Charitable Trust. The Trust was created in 1986 by Harold Steinberg to promote and advance American Theatre as a vital part of our culture by supporting playwrights, encouraging the development and production of new work, and providing financial assistance to not-for-profit theatre companies across the country. Since its inception, the Trust has awarded over $70 million to more than 125 theatre organizations.
Roundabout Theatre Company celebrates the power of theatre by spotlighting classics from the past, cultivating new works of the present, and educating minds for the future. A not-for-profit company, Roundabout fulfills that mission by producing familiar and lesser-known plays and musicals; discovering and supporting talented playwrights; reducing the barriers that can inhibit theatergoing; collaborating with a diverse team of artists; building educational experiences; and archiving over five decades of production history.
Roundabout Theatre Company presents a variety of plays, musicals, and new works on its five stages, each of which is specifically designed to enhance the needs of Roundabout's mission. Off-Broadway, the Harold and Miriam Steinberg Center for Theatre, which houses the Laura Pels Theatre and Black Box Theatre, with its simple sophisticated design, is perfectly suited to showcasing new plays. The grandeur of its Broadway home on 42nd Street, American Airlines Theatre, sets the ideal stage for the classics. Roundabout's Studio 54 provides an exciting and intimate Broadway venue for its musical and special event productions. The Stephen Sondheim Theatre offers a state of the art LEED certified Broadway theatre in which to stage major large-scale musical revivals. Together these distinctive homes serve to enhance Roundabout's work on each of its stages.
American Airlines is the official airline of Roundabout Theatre Company. Roundabout productions are supported, in part, with public funds from the New York City Department of Cultural Affairs in partnership with the City Council, the New York State Council on the Arts with the support of Governor Cuomo and the New York State Legislature.
Roundabout's 2017-2018 Broadway season concludes with Tom Stoppard's Travesties, directed by Patrick Marber, starring Tom Hollander.
Roundabout's Off-Broadway season dedicated to new work at the Harold & Miriam Steinberg Center for Theatre in 2017-2018 includes Amy and the Orphans by Lindsey Ferrentino, directed by Scott Ellis; Skintight by Joshua Harmon, directed by Daniel Aukin; and Bobbie Clearly by Alex Lubischer, directed by Will Davis at the Roundabout Underground.
In 2018-2019, Roundabout's Broadway season will present Bernhardt/Hamlet, a new play by Theresa Rebeck, directed by Moritz von Stuelpnagel, starring Janet McTeer; True West by Sam Shepard, directed by James Macdonald, starring Ethan Hawke and Paul Dano; and Kiss Me, Kate, directed by Scott Ellis, starring Kelli O'Hara.
Off-Broadway in 2018-2019, Roundabout will produce Apologia by Alexi Kaye Campbell, directed by Daniel Aukin, with Stockard Channing; Toni Stone by Lydia R. Diamond, directed by Pam MacKinnon, with Uzo Aduba; and Usual Girls by Ming Peiffer, directed by Tyne Rafaeli at Roundabout Underground.
Related Articles
More Hot Stories For You