BWW Review: HAL & BEE at 59E59 Theaters-A Clever Blend of Reality and Dark Comedy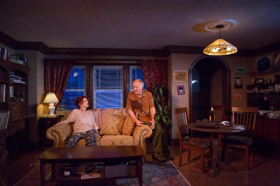 "Isn't fear what drives us all to complaining?"
by Hal in Hal & Bee
59E59 Theaters is currently presenting the NYC premiere of Hal & Bee written by Max Baker and directed by Sarah Norris. The play portrays the trials of a long-time married couple and reveals their conflicts. With a stellar cast and excellent staging, this entertaining dark comedy is very thought provoking and has a broad audience appeal.
In the show, Hal is a pot-smoking blogger and a self-proclaimed agoraphobe. Bee, a heavy drinker, is fed up with her museum job of 19 years and the couple's static lifestyle. When these two "children of the 60's" learn that their rent-controlled Upper West Side apartment is being acquired by the Carlyle Group, Bee proposes that they move upstate to a lakefront cabin. But she meets with resistance from Hal whose attitude towards her takes a very dark turn. Meanwhile, their college-aged daughter Moon is dealing with her own personal issues, while making a strained effort to connect with her parents. Enter, The Bug Man, a local exterminator who offers some surprising wisdom for Hal to consider. You'll wonder if this couple can rekindle a relationship that seems to be long lost to their daily routines.
Leading the cast are Broadway veterans, Candy Buckley as Bee and Jeff Hayenga as Hal who master their portrayal of aging hippies. The troupe also includes the talents of Lisa Jill Anderson who portrays Moon and offers a youthful perspective to the family dynamic. While only briefly on stage, Ian Poake excels in his role as The Bug Man. This four-person cast delivers Max Baker's clever dialogue with perfect pacing.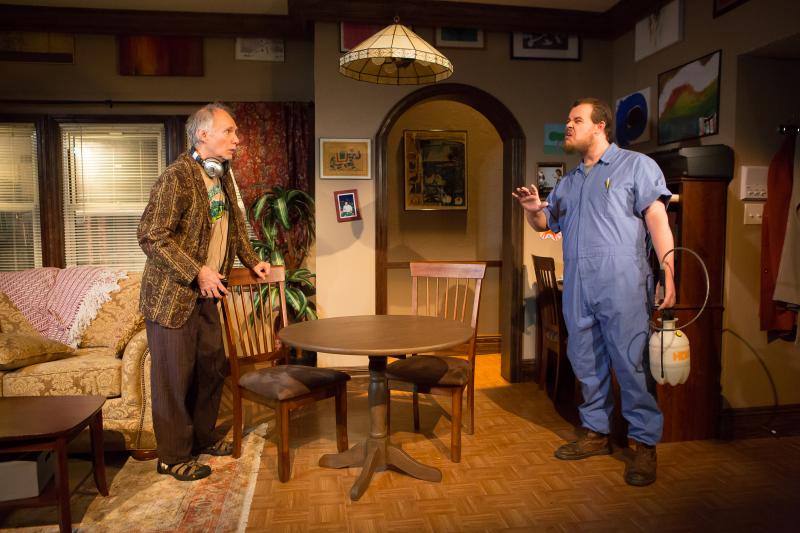 The Production and Creative Team has done a great job of bringing the setting for Hal & Bee to life in the intimate 59E59 Theaters' space. They include scenic design by Brian Dudkiewicz; costume design by Genevieve V. Beller; lighting design by Michael O'Connor; Sound Design by Andy Evan Cohen; and Props Design by Abigail Stuckey. The Fight Direcctor is Scott Barrow; Technical Director is Evan Kutcher; Production Stage Manager is Nikki Castle; Assistant Stage Manager is Lindsey Hurley; Assistant to the Director is Adam Daniel Koren; Production Assistant is John La Costa; and Casting is by TBD Casting. The Producers are Michael Allen Aguirre and Margaret Dunn.
Humorous, surprising, and touching, Hal & Bee is about promise in the face of discontent. We are sure that audiences will enjoy it. Get your tickets now while it is being performed through March 31st.
Hal & Bee is produced by Stable Cable Lab Co. and New Light Theater Project. The running time is 1 hour and 40 minutes with no intermission. The performance schedule is Tuesday - Friday at 7:30 PM; Saturday at 7:30 PM; and Sunday at 2:30 PM. There are added matinee performances on Saturday, March 10 and Saturday, March 31 at 2:30 PM. Performances are at 59E59 Theaters (59 East 59th Street, between Park and Madison). Single tickets are $25 ($20 for 59E59 Members). Tickets are available by calling Ticket Central at 212.279.4200 or online at http://www.59e59.org/.
Photo Credit: Hunter Canning