DEDICATION Comes to Den Norske Opera & Ballett This Month
The performance takes place on 21 November.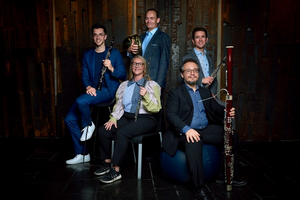 When five wind players from the Oslo Chamber Academy gather in The Studio, it is to share with the audience some of the most exciting works ever written for woodwind instruments from Scandinavia.
The works were written for the Oslo Chamber Academy, Lillehammer Wind Quintet, Royal Stockholm Philharmonic Orchestra Wind Quintet and Copenhagen Wind Quintet - all leading ensembles with a mission and dedication.
The performance takes place on 21 November. Learn more at https://operaen.no/en/Productions/oslo-chamber-academy-dedication-concert/.
World premiere
In addition to music by our own Wolfgang Plagge and Danish Carl Nielsen, the stage is also set for a world premiere of Turkish Mert Karabey's wind quintet, which was completed this year. The piece's five movements carry such titles as 'Burak smokes a pipe' and 'A winter fairytale' and promise an exciting encounter between Norway and Turkey.
Surprising Swedish avant-garde
In the 1960s, the Jewish Hungarian György Ligeti created some of the most intense avant-garde music ever written. His compositions have also featured in Stanley Kubrick's films 2001: A Space Odyssey, The Shining and Eyes Wide Shut.
Less known perhaps is that Ligeti had close ties to Sweden and wrote the work '10 pieces for the wind quintet' for the Royal Stockholm Philharmonic Orchestra Wind Quintet. In fact, Ligeti spoke fluent Swedish and was a guest professor at the Royal College of Music! In the adapted work from 1968, he alternates between solo micro concerts in the even-numbered movements and ensemble playing in the odd-numbered movements. Those who are sceptical about avant-garde music will be pleasantly surprised by this performance. It makes new ideas appear simple and easily accessible, while playful music challenges and whets the appetite.