BWW Interview: Producer Karianne Jaeger - The Journey of Creating An All New PHANTOM OF THE OPERA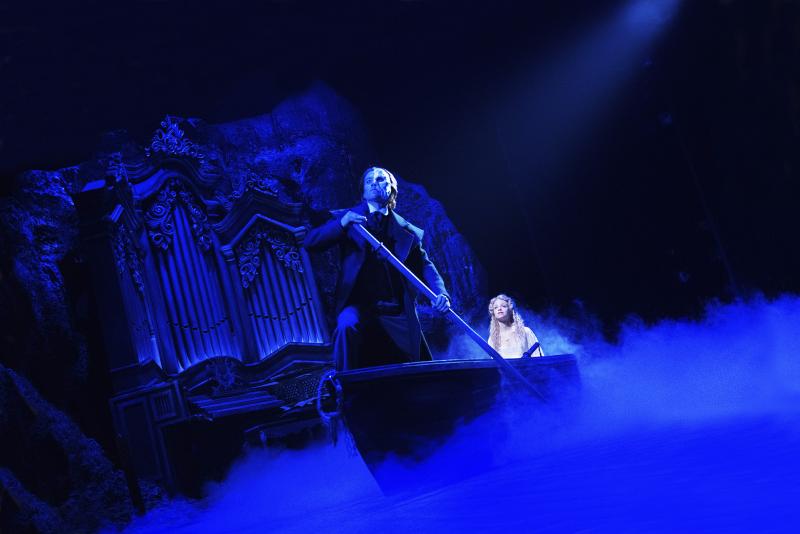 As I am greeted by "The Phantom of the Opera" producer, Karianne Jæger, and led up through the back stage's circular stairs the atmosphere in the theatre feels very focused and concentrated. Stagehands working to fit the stage pieces in the cramped wings, technicians are lighting the ballet dancers during "Ill Muto." The huge chandelier (bigger than the original) is looming in the ceiling over the stalls. "We are in great shape," Jæger exclaims. "We are in the middle of the final technical rehearsals, but we are working hard to make this great production even greater. It's all in the details."
Based on the classic novel Le Fantôme de L'Opéra by Gaston Leroux, The Phantom of the Opera tells the story of a masked figure who lurks beneath the catacombs of the Paris Opera House, exercising a reign of terror over all who inhabit it. He falls madly in love with an innocent young soprano, Christine, and devotes himself to creating a new star by nurturing her extraordinary talents and by employing all of the devious methods at his command.
BWW, Christian Ranke: You have made your home in Norway's former main opera house. That seems fitting for this subject matter.
Karianne Jæger: (Laughs) It's very fitting that the phantom should return to haunt this building. It's like he has finally come home in a way.
BWW: Producing musicals in Norway has often been a "hit and miss." Why do you think that is?
KJ: If you look at Folketeatret's history... when it opened in 2009 with a wonderful production of "Mamma Mia" and later "We Will Rock You" the producers didn't succeed financially, nor did they manage to build an audience who would return to future productions. So we were quite apprehensive at first when we started producing at this venue. But thankfully it has evolved to where we are now.
We are now able to produce large productions with a huge cast, a big orchestra and a big staff. I believe the audience recognizes and appreciate this, and that makes them wanting to come back time and time again to see what we are presenting.
BWW: One occasionally hears complaints that you only do the well-known shows.
KJ: Yes we do, and with good reason. In the bigger picture Norway is a "young" musical theatre nation. We as producers have a job to do. In the next few years we will be presenting shows that the audience are familiar with, and the productions will have to be up to international standards, meaning big and spectacular! Norwegian theatres and producers have been very apprehensive in trying to emulate Broadway and West End, but I truly want us to become more like that. They already do it splendidly in both Sweden and Denmark. They truly respect the art form. When that goal is met here as well we can produce shows that are less known in Norway like "Dear Evan Hansen," which I love.

The interview continues below
BBW: What has been the biggest struggle in getting to be in the position you are now?
KJ: It has been a steep climb both in regards to getting the productions up to Broadway and West End standards and shows the Norwegian audiences what the true art form that musical theatre is. It is the hardest art there is, with excruciating demands on the performers. And there is loads of talent in Norway, and it is our job to show them to a larger audience. We are presenting a new production of "The Phantom of the Opera". Specially suited for this theatre with the cooperation with The Really Useful Company and Andrew Lloyd Webber. This is the biggest production done in Norwegian musical theatre history. It has taken us six years to get this show here to Norway, and it has been a hard but very rewarding process.
BWW: Why did you decide to do a new version and not do the "iconic" original version, directed by Hal Prince?
KJ: In the beginning that was certainly an option, but it became evident we couldn't do that in this venue. Folketeatret is a protected building and thus it is impossible to make changes to stage and scenery. So we knew we had to look for other options. That option became opera director Stephen Barlow, who had already done a new version of the musical in Bucharest, Romania back in 2015. He brought the entire creative team from that production to Oslo, which included choreographer Ewan Jones, stage and costume designer Andrew Riley and Lighting designer Howard Hudson. That production was only the starting point and we have expanded it and opened it up to fit our theatre."
BWW: To do this is a rather "daring" move to this. How have the nerves been treating you while working on this show?
KJ: Lots of sleepless nights (Laughs). Of course, the premise is outrageous. We are aiming to deliver a version of "The Phantom of the Opera" on a scale Norway has never seen before. It's a pretty gutsy move.
We have tremendous respect for the original production, which unlike Les Misérables haven't changed since it opened in 1986. It sits like a milestone, and is one of the best musicals ever written. We are really happy with what this production has turned into and the massive talent both on stage and in the creative team. Stephen Barlow is wonderful to work with, and he loves focusing on details. The proscenium of the theatre is a replica of the original Palais Garnier Opéra national in Paris and our chandelier is (like the Hal Prince version) based on the actual chandelier in Paris.
The interview continues below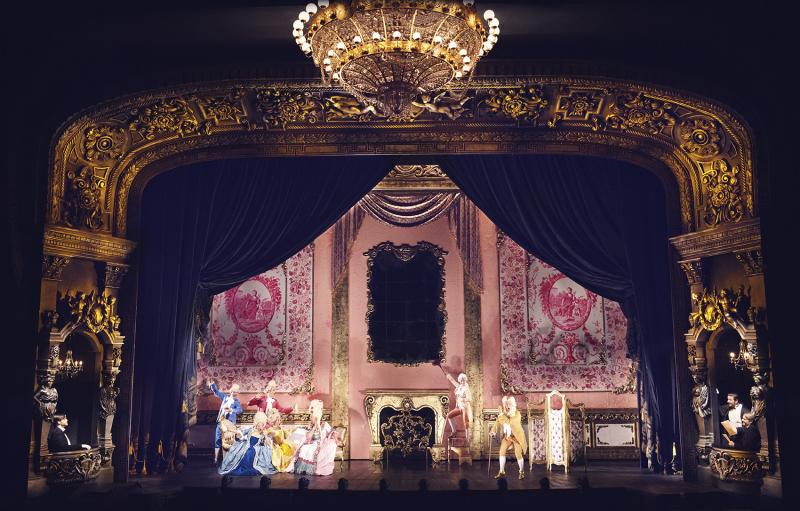 BWW: Tell us about the process in getting the rights to do a show like Phantom.
KJ: We started our work in getting the rights back in 2012. To do this show you have to prove to The Really Useful Group that you can handle a show on this scale. Scenekvelder had to show that we could do this. In 2014, when we did "Billy Elliot", members of Andrew Lloyd Webber's Production Company were in the audience and after seeing the show they gave us the "go ahead" to start negotiating.
BWW: How involved has The Really Useful Group been in the production?
KJ: Apart from approval of the scenic design and costumes, and the broad strokes of they have not been directly involved. The three leads had to be approved by them.
During the final auditions we sent videos of them to RUG and they were approved. We even heard back from Lloyd Webber that he especially liked our phantom, played by Espen Grjotheim, which was great to hear. I am really looking forward to show you Espen's Phantom. You will see a new side of him that hasn't had the opportunity to show before.
BWW: You have a very "Nordic" cast. After you announced an open call audition for this production, what has the casting-process been like?
KJ: We had a big audition process and were fortunate to find talents from both Norway and our neighboring countries. Our Christine is Mira Ormala from Finland and Carl Lindquist, from Sweden, plays Raoul.
The interview continues below
The rest of the cast is Norwegian performers, both experienced and a few making their professional debut. Such as Markus Bjørlykke (Piangi) and Astrid Giske (understudy Christine) who both graduated this spring at The Norwegian College of Musical Theatre. It is rare that newly graduated students get to go into a production of this scale. So it was very thrilling when Markus went into the room and knocked everyone's socks off.
BWW: Your Carlotta is played by international Soprano, Solveig Kringlebotn. You persuaded her to finally be in a musical (laughs). I know she was asked several times to play Christine before (which she technically did back in 1990 in the Ken Hill version that inspired Lloyd Webber to write his own version). How did this come about?
KJ: Solveig is one of the most generous performers I have met. She is absolutely not like Carlotta. She is grounded and does not label music or singing styles. Stephen knew her by reputation but he had not seen her in a context like this. But she came to audition, no problem at all, humble and willing to play with the stereotype diva. She never gets tired of hitting the high notes full out every time. Working with her has been such a joy.
BWW: Have you felt the same kind of joy working with your husband, Atle Halstensen, who serves as musical director and co-producer? No fighting and arguments when the workday is done, I trust.
KJ: Absolutely no arguments whatsoever (Laughs)! Of course it can be a challenge working together as closely as we do and being married at the same time, cause we never really "stop" working, if you know what I mean? But it has to be like that because Atle and myself is really good combination. We have both have characteristics that makes the running of this theatre into something really special. It's feels more like a lifestyle than work, really. We live and breath musical theatre and we love it.
The interview continues below
As for myself, I may feel tired sometimes but it gives me a kick to know that there are busteling with people inside the theatre that gets to work on such projects as this. That makes me happy and that is first and foremost my driving force.
BWW: What has the pre sale been like?
KJ: We are close to 70.000 tickets sold, which is really great in a country with a population of a little more that 5 million. This production really has to deliver so it can be run for a while and extend until our next production, which will be "The Sound of Music" next fall. What's exciting is that we will have international producers and colleagues will be here at the opening. This is really vital so that we can look across the boarders and in time present this production to other territories.
BWW: Why do you think this show has become such a phenomenon?
KJ: I think it has to do with the combination of a wonderful love story, the struggle between the light and the dark and the wonderful score Lloyd Webber has written. I think it is the best thing he has ever written.
---
"The Phantom of the Opera" will open in Oslo September 7. It will star Espen Grjotheim, Mira Ormala and Carl Lindquist
The rest of the cast will include Markus Bjørlykke, Hans Marius Mittet, Arvid Larsen, Jannike Kruse, Charlotte Brænna, Trygve Svinland, Trond Teigen, Øyvind Boye Løvold, Liv-Unni Larsson Undall, Jonathan Böiers, Andreas Hoff, Astrid Giske, Aurora Louise H. Itland, Birgitte Velsvik, Egil Solberg Smørås, Fransiska Sveinall, Inger Øverebø Uberg, Kamilla Tell Aronsen, Kristoffer Grua Pedersen, Malin Skjolde, Marius Grønsdal, Marte Golten, Mare Jahren, Samuel Brandt, Sofia Skjønneberg, Stine Mari Langstrand, Thomas Ottersen, and Tine Bariås.
All photos by Fredrik Arff
Related Articles View More Norway

Stories

Shows