Christian Ranke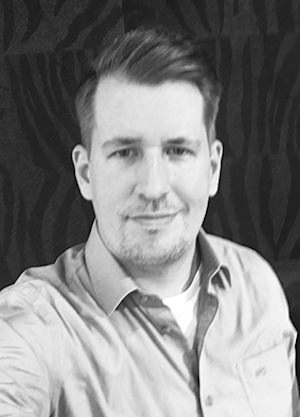 Christian Ranke has translated several musicals into Norwegian including THE WITCHES OF EASTWICK, EVITA and recently RAGTIME. In this production he also portrayed the role of Tateh, for which he was nominated for a Regional BroadwayWorld Award.
Other roles include the bishop of Digne/Grantaire (and understudying Javert) in LES MISÉRABLES, Michael in the Scandinavian premiere of THE WITCHES OF EASTWICK, Gordon/the Man/ensemble in RENT, the title role in SHREK! THE MUSICAL and Professor Callahn in LEGALLY BLONDE.
MOST POPULAR ARTICLES
LAST 30 DAYS
BWW Review: STARDUST at Chat Noir - Hilde Louise Asbj?rnsen Gives Star Power on Every Level
Posted: Jul. 4, 2021


LAST 365 DAYS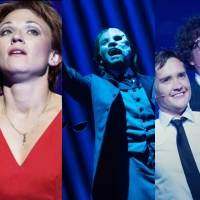 BWW Feature: REGIONAL BRODWAYWORLD AWARDS OF THE DECADE ANNOUNCED for Norway
Posted: Jan. 20, 2021


BWW Review: STARDUST at Chat Noir - Hilde Louise Asbj?rnsen Gives Star Power on Every Level
Posted: Jul. 4, 2021


Video: Meadowlark performed by Martine Tufvesson Lundberg
Posted: Nov. 3, 2020


BWW Review: STARDUST at Chat Noir - Hilde Louise Asbjørnsen Gives Star Power on Every Level

July 4, 2021

Seeing Hilde Louise Asbjørnsen on stage is a good lesson in star power. It feels like she doesn't have to try - she just does, and she does it magnificently. Commanding the audience's attention, never losing it during those ninety minutes of splendor.
---
BWW Feature: REGIONAL BRODWAYWORLD AWARDS OF THE DECADE ANNOUNCED for Norway

January 20, 2021

Winners have been announced for the 2020 BroadwayWorld Norway Awards - which were back bigger than ever, celebrating the best in local theatre of the past decade instead of the past years productions!
---
Video: Meadowlark performed by Martine Tufvesson Lundberg

November 3, 2020

During a pandemic it is wonderfuk that performers (in Norway at least) now have the chance to do intimate concerts with social distancing. Performer Martine Tufvesson Lundberg gives this incredible rendition of Meadowlark (that few have heard of in this country). Listen that beling high-E!! Mats-André Soli on piano and Jan Ragnar Storheim on cello. Enjoy!
---
BWW Review: SPELET OM TRONA, SESONG 1 by Overspillteatret - Deliciously Dumb!

June 25, 2020

Overspillteatret (in English The Overacting Company) has put together a sixty minute version of the first season of 'Game of Thrones' in a hilarious parodic fashion. Jam packed with self-references and deliciously filthy humor.
---
Det Norske Teatret will be streaming 'MUSIKALAR I 100' from 5/29

May 27, 2020

2013 marked Det Norske Teatret's 100th anniversary. To celebrate this occasion the theatre put on a rather intimate production named 'Musikalar i 100' with a small cast presenting moments from their past achievements. The cast included performers such as Hedi Ruud Ellingsen, Heidi Gjermundsen Broch, Gjertrud Jynge, Paul Åge Johannessen and Frank Kjosås. This archival production will be streamed at the theatres webpage from May 29th at 8.00 pm (local time) and will be available for a limited time.
---
BWW Review: CHESS at Folketeatret - Chess Pieces Finally in Place.

February 14, 2020

Just like in the game of Chess it is a big move to give this musical another try due to its uneven track record on stage. In this brand new production of CHESS many of the chess pieces finally falls into place, A lot of it due to of a simplified plot which is character driven and where the music is in the center of attention.
---
Mega Hit Musical MAMMA MIA! Will Return to Oslo in Early 2021

February 4, 2020

Scenekvelder is bringing the mega musical MAMMA MIA! back to Norwegian audiences in the spring of 2021.
---
BWW Review: SÅ SOM I HIMMELEN at Oslo Nye Teater - A Celebration of Life, Love and music!

January 31, 2020

'Så som i himmelen' celebrates life, love and music, and how the music can be essential to rehabilitate what was broken into something stronger. It is also about the value fellowship between people of different social classes and backgrounds. It can make you laugh. It can make you cry. But first and foremost it will make you feel. The producers and creative team of this production has done a masterful job of and should be very proud
---
BWW Review: AN ACT OF GOD at Chat Noir - Somewhere In Between Heaven and Earth

January 21, 2020

The almighty God has descended from heaven to reveal himself to the people (at Chat Noir) to clear up a few things. He is distraught by the manner the world has evolved since 'the launch' of the Ten Commandments and his last visit a few thousand years ago. Now he has come to speak the people (in the shape of Frank Kjosås) to clear up some misinterpretations, once and for all. Ninety minutes later we were not much the wiser, albeit there were laughs along the way.
---
BWW Previews / Video: JERSERY BOYS Is Coming to Norway in 2020 - Here Is a Sneak Peek of the Cast

November 22, 2019

The Broadway musical is finally coming to Oslo and on September 16, 2020, it is ready for Norwegian premiere at Chateau Neuf! The true story of Frankie Valli & The Four Seasons. It will star Atle Pettersen, Nicolay Ramm, Mathias Luppichini and Sindre Postholm. The production will be directed by Tore Sergei Myklebust and choreographed by Kirsty McDonald (Flashdance - The Musical). Hans Einar Apelland will serve as Musical Director and stage design and costumes by Takis.
---
BWW Review: CHARLIE AND THE CHOCOLATE FACTORY at Det Norske Teatret - Highly Imaginative Musical With Strong, Solid Performances.

November 11, 2019

Charlie and the Chocolate factory" is big, extravagant and highly entertaining. The two leads, Peter Andreas Hjellnes (Charlie) and Fridtjof Sensæth Josefsen (Willy Wonka), carry the show splendidly on their shoulders. As a musical it has flaws, but the production 'almost' manages to conceal this through solid stage design, beautiful comstumes, solid direction and fun choreography.
---
BWW Previews: NINE - THE MUSICAL Comes to Norway - 'In a Very Unusual Way'

October 15, 2019

Two new female creative producers / directors, with huge aspirations, are about to present the Norwegian premiere production of NINE - THE MUSICAL on October 18.
---
BWW Review: IDYLL at Lillestrøm Kultursenter - Idyllic Performances Makes the Show

September 27, 2019

This Musical has a superb cast, performing along an bumpy libretto. As with all Jukebox-musicals the story has been written around pre-existing songs. The authors have done a good job in incorporating a narrative that takes a lot of characters and situations from Postgirobygget's music. The band's music lends itself well to be performed in a theatrical setting, and while it is always good to have strong songs that stands on their own two feet, they can also become an obstacle when trying to conform a good flow in the story.
---
BWW Review: OPTIMIST at Chateau Neuf - Jumps for Joy, but Struggles a Bit to Find Its Footing

September 25, 2019

On September 27th lengendary songwriter and performer, Jahn Teigen, will turn Seventy. To international readers he may be best known for his contributions to Eurovision song contest, and his role as the executioner in the West End musical a?oeWhich Witch,a?? that is still a hot topic among the musical theater community. But the true power of Jahn Teigen's legacy lays in his songs, which is a huge part of Norwegian culture. They have formed a common bond that, in spite of social background or upbringing, has stood the test of time.
---
BWW Review: THE SOUND OF MUSIC at Folketeateret - Beautifully Presented Show

September 11, 2019

Scenekvelder have created a masterful production of 'The Sound of Music' first and foremost thanks to a skillful direction by Lars Jacobsen. He has taken a source material which despite the noticeable weakness of its quaintly old-fashioned book, comes across stronger and more modern than I have seen in past productions.
---
BWW Review: BORN THIS WAY at Color Line Fantasy - Wonderfully Vibrant Fantasy At Sea

September 4, 2019

The show radiates of creativity and enjoyment. With a highly talented international cast pf performers, good use of front projection and an eclectic song-list that also includes some lesser beautiful lesser known songs in the mix.
---
BWW Review: DOGFIGHT at Riksscenen, Oslo - Outstanding Musical With Tender And Heartfelt Performances

August 26, 2019

DOGFIGHT is a marvelous show. This intimate, carefully written musical had its Scandinavian Premiere on Monday night at Riksscenen in Oslo. It shows what musical theatre really can be in its truest form. You don't need huge scenery and big effects. It all depends on great material, strong performers and an inventive creative team. And this is indeed masterfully performed by a very strong ensemble.
---
BWW Previews: DOGFIGHT at Riksscenen, Oslo

August 6, 2019

It has been a long journey for director Renate Stridh in bringing this musical to Norway. On August 26 she will finally present the Scandinavian premiere of Dogfight at Riksscnenen in Oslo. BroadwayWorld caught up with her recently, and had a talk about the production.
---
BWW Interview: Johan Osuldsen - The Face Of Cultural Versatility

July 5, 2019

It is very difficult to tag Johan Osuldsen under one banner. He started out as a dancer and performer, spanning over several decades. Later he became known as a choreographer and director and subsequently directed for television. He is also a composer as well as translator of several musicals (including Stephen Sondheim's 'Company', 'Into the Woods' and Jason Robert Brown's 'The Last Five Years).
---
BWW Review: JESUS CHRIST SUPERSTAR at Ullensaker Kulturhus - The second coming...almost

May 13, 2019

This is my second review of 'Jesus Christ Superstar' in two months, and while the prior was a staged production, this new one at Ullensaker Kulturhus, is a straight up concert. In my opinion it has always worked better as a concert. The Lord agrees with me - Lord Lloyd Webber, that is.
---