Clare Cook to Participate in Hamilton Project Residency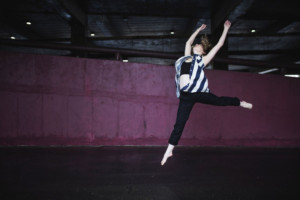 Clare Cook, founder of Basin Arts in Lafayette, has been selected to participate in the Hamilton Project Residency at Barn Arts Collective in Bass Harbor, Maine July 6-15. While in Maine, she will be researching and developing a project titled Surface, an excerpt of which will be performed by Basin Dance Collective at the 2018 Arts Summit on July 24 in Baton Rouge (https://www.artsbr.org/2018-arts-summit/). The full-length version of Surface will premiere Nov. 28-30 at the Acadiana Center for the Arts in Lafayette.
The Hamilton Project Residency at Barn Arts Collective invites 10 performance-based artists from all over the country to spend days working on 10 different projects. Over the course of the residency, this team of artists form an ensemble that works together to support progress on each artist's project. The residency culminates with a public event on July 14 that will showcase an excerpt from each piece in the residency.
Cook will spend her residency time researching and furthering the development of Surface, a performance piece created by Cook for Basin Dance Collective in collaboration with body painter Brittney Pelloquin and fine artist Dirk Guidry, using the body as medium to forge relationships between painting, sound and movement.
"Our human experience is predominately shaped by what we see in front of us and the language we hear spoken aloud," Cook said. "Surface asks, 'What if our most honest experience as humans exists in a place deep below our exterior?' Pulling from both medieval and Renaissance periods in sound, painting styles and physical gesture, Surface aims to connect these periods of artistic ancestry to our current human experience."
Clare Cook is a dancer, choreographer, teacher, and community collaborator with a deep commitment to dance and the power of the arts to effect change. After a decade of working in NYC, she returned to Lafayette in 2016 inspired to invest her time and talent in her hometown's burgeoning arts community. She is the Founder and Director of Basin Arts, a collaborative arts space in Downtown Lafayette as well as the Artistic Director of Basin Dance Collective, the professional dance company in residence at Basin Arts.
In 2010, she began Clare Cook Dance Theater as a vehicle to create and produce original, collaborative dance theater productions. Through CCDT and as a freelance choreographer she has presented work at the New York Musical Theatre Festival, DanceNOW Festival at Joe's Pub, HERE Arts Center, Cortland Repertory Theater, Fringe NYC, Triskelion Arts, Opera Slavica, NYU, The New School for Drama and Columbia University. She was the choreographer for the First National Tour of Bullets Over Broadway, re-setting Susan Stroman's Tony-Nominated choreography and traveled to Bulgaria with the Drama League of NYC to work with the Sofia Puppet Theatre of Bulgaria. As a performer, Cook has worked with ChristinaNoel & The Creature, Yin Yue Dance, colectivodoszeta/Carlos A. Cruz Velazquez, Yoo & Dancers, expandance, Christopher Williams, Ivy Baldwin, Kay Cummings, Jim Martin, and Raw Delivery/Carrie J. Brown, She has performed across NYC at Dance Theater Workshop, St. Mark's Church, Joyce Soho, La Mama, Duo Theater, Webster Hall, Bushwick Starr, John Ryan Theater, and The Tank, among other venues.
She has been on faculty at LSU and NYU Tisch Dance, worked as Education Director for the Lar Lubovitch Dance Company, was a teaching artist for the Metropolitan Opera Guild and currently teaches Modern Dance at the University of Louisiana Lafayette. Since moving to Lafayette in 2016, she has presented work with the Acadiana Center for the Arts, worked with the Acadiana Symphony Orchestra, collaborated with Runaway Dish, and has been commissioned by the University of Louisiana-Lafayette to create multiple new works for State of La Danse and ArTech Fusion.
Her early dance training was at DeLarue Dance Centre in Lafayette, then at Louisiana State University under the direction of Molly Buchmann, the University of Massachusetts-Amherst and The Ailey School in NYC. She holds an MFA in Dance from New York University's Tisch School of the Arts and is a member of The Stage Directors and Choreographers Society professional union.
For more information about Basin Arts or Basin Dance Collective visit https://basinartslafayette.com/ or call Joelle Polisky at (615) 516-0358.
About Barn Arts Collective: http://www.barnartscollective.com/mission.html
About their residency program: http://www.barnartscollective.com/residencies.html
Photo Credit: Greta Gertsner