BWW Review: The NOLA Project Presents URINETOWN as Their First Musical in Years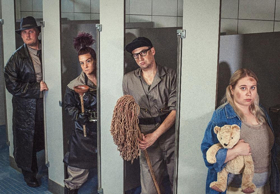 Friday night marked opening night of The NOLA Project's first musical in years. What did they choose? URINETOWN, THE MUSICAL of course. What else would/could a cutting edge theatre company who is known for occasionally pushing the envelope invite its audience members to experience other than a perfectly dystopian and a hilariously dark musical about a town whose residents must pay to pee? Yes, you heard that right. Pay. To. Pee.
In this less than lovely town, citizens have to pay to use the restroom and are sent to the illusive "Urinetown" (the place, not the musical) in exile. The problem is, most of them don't actually have enough money to relieve themselves. So then there's this kiddo who works at one of the amenities and he decides to heck with this, I'm going to let everyone pee for free. Whaaaaaaaaat? That's right... PEE FOR FREE. By starting this revolution he ruffles the feathers of the malevolent CEO of Urine Good Company, Caldwell C. Cladwell, who decides that all costs (even at the cost of his sweet and innocent daughter, Hope) he would stop this revolution and send its leader, Bobby Strong, to Urinetown (again the place, not the musical).
Honestly, I can't think of a musical more suited for The NOLA Project, and I hope to the high heavens that they keep doing musicals because this was one hell of a show. It kept me laughing the entire time despite the fact that I was also cringing. But the good kind of cringing. The kind of cringing when you know that you're supposed to be cringing, and then simultaneously finding those cringe-worthy moments the best parts of the show. It truly is the oddest combination, but between the content of URINETOWN (the musical, not the place), the technical aspects of the show including the set design and costumes, the brilliant direction and choreography by A.J. Allegra (also the Artistic Director of The NOLA Project) and Lindsey Romig, and the super talented cast, I literally fell more in love with URINETOWN (the musical, not the place) than I already was.
Let's talk about this cast for a second, because... damn.
So, URINETOWN (the musical, not the place) is different from other shows in that it is actually narrated by two of the characters - Officer Lockstock (played by Patrick Hunter) and Little Sally (played by Natalie Boyd). They are regular characters throughout the story, but they also step aside and break that notorious fourth wall by talking directly to the audience about what the heck is happening. Little Sally, in her (somewhat) innocence, asks Officer Lockstock questions upon questions upon questions, and he always has an answer - though sometimes the answer isn't what she wants to hear. For example, he kind of accidentally on purpose blurts out something to the effect of (sorry if I butcher this) "There is no Urinetown [the place, not the musical], we just kill people!" That may have been a spoiler, but let's be honest with ourselves... were you really surprised? Hunter and Boyd had a very natural chemistry on stage, and they both have this dry and dark sense of humor about them that made them absolutely perfect for their roles. Bravo!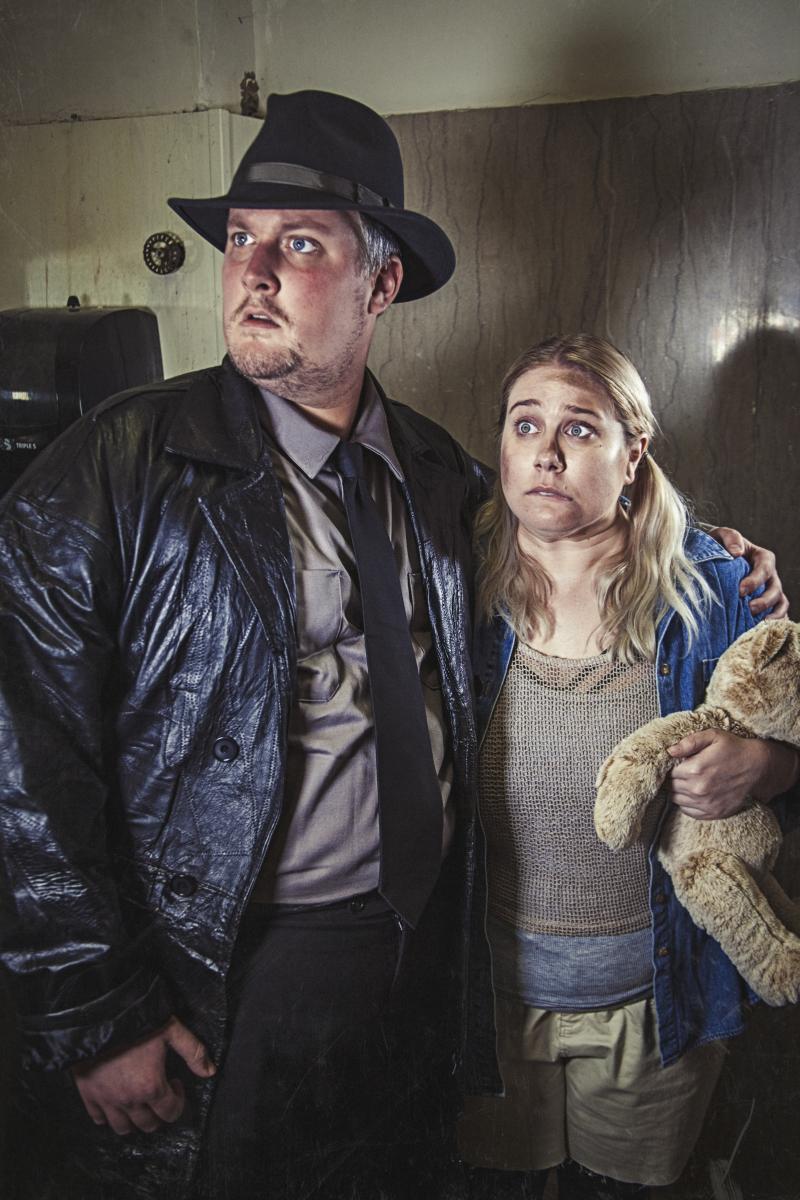 Speaking of perfect... Where can I sign up for the Keith Claverie fan club? Better yet, how do I become president of the Keith Claverie fan club? #notevensorry Honestly. Every time I have seen this dude in a show, he has been the stand out, and I'm going to tell you why. CHARACTERIZATION. He nails it. Every time. So, the first show I ever remember seeing him in was (because I'm a Shakespeare junkie) a production of TWELFTH NIGHT that The NOLA Project did in the atrium of the New Orleans Museum of Art. Ok, so, I went to see the show because I love all things Shakespeare and I thought the idea of using the atrium of a museum was the coolest thing ever. That whole production (typical of The NOLA Project) was unlike any Shakespeare performance I had seen before. But the stand out was Mr. Claverie. Again... because of characterization. I don't even know how else to describe it, and I apologize to those of you who did not get to see that production because you're not going to have a clue what I mean when I say this, but... THE MALVOLIO FACE. There. Are. No. Other. Words. There is no other way to describe how he played that character. He picks a character quirk and sticks to his guns throughout the entire show, and it makes his characters the most memorable. With URINETOWN (the musical, not the place) that phrase that, again, is only going to mean something to the people who have seen/heard it first hand is... THE BOBBY STRONG VOICE. So yet again, he nails a character and makes it memorable because of a silly quirk. Sorry for that verbal vomit I just spilled out onto everyone, but seriously... characterization, specific movements/facial expressions/accents is what makes his performances unique and unforgettable.
Other cast standouts include Alex Martinez Wallace (Caldwell C. Cladwell), Leslie Claverie (Penelope Pennywise), and Maggie Windler (Hope Cladwell).
Wallace also has that genius characterization quality about him that I noticed when he played Black Stache in PETER AND THE STARCATCHER some years back. The whole idea of that show is this sort of bigger than life, exaggerated, imaginative, mind of a child exploration, so of course the villain needs to be played by someone who can deliver a simultaneously scary and funny and somewhat ridiculous performance in a completely serious way. It's the exact same thing, although the characters themselves and the story lines are vastly different, with Mr. Cladwell in URINETOWN (the musical, not the place). He is an absolutely ridiculous man with evil ambition, but he's also quite hilarious and Wallace understood that and performed the character flawlessly. (Sidenote: Can you tell I'm a fan of a good character actor yet?)
Leslie Claverie completely beast moded her character. Ms. Pennywise is the lady who is in charge of the public toilets in our show. She is a tricky character because she's not quite evil, not quite nice, not quite smart, but not quite dumb. She's got a really tough exterior most likely because of the cards she has been dealt in life, but later on in the story we learn that she does indeed have a heart. She is a complete stickler for not allowing those who don't have enough money to use the restrooms. I get the feeling that it's not because she doesn't feel bad for these people, but she has a job to do. And, when you're in a tough situation in a rough town like she is, you do what you have to do to stay employed. I see her kind of as a diamond... you know how when you look at a diamond at different angles you see different things? That's how Ms. Pennywise is. One being, with lots of different facets. I don't want to give away how her character's story winds up ending because there are lots of twists and turns, but know this... there's more to Ms. Pennywise than what meets the eye, and I don't think I really understood all of her dynamics until Ms. Claverie's performance.
Last but for sure not least is the girl with the voice of an angel, Maggie Windler, who played Hope Cladwell. Despite being the daughter of a pretty evil guy, Hope (perfectly and definitely not accidentally named) is the light among all of the darkness in URINETOWN (both the place and the musical). Hope believes unreservedly in following her heart, and encourages Bobby to do the same (hence the reason he starts his free pee revolution). Unbeknownst to her, Hope is the one who plants this idea in Bobby's head to go up against her own father during their sweet little duet "Follow Your Heart," and that folks is what we call dramatic irony. Windler was the best combination of both the innocence and fierceness that Hope brings to URINETOWN (again, both the place and the musical).
I could seriously go on forever singing this show's praises, but alas, I know I can only hold your attention for so long. So instead of reading my rant about how awesome The NOLA Projects's URINETOWN (the musical, not the place) is, go see it for yourself! Visit http://www.nolaproject.com/ for tickets and more information on how you can see the show and support this amazing theatre company!