Heidi Scheuermann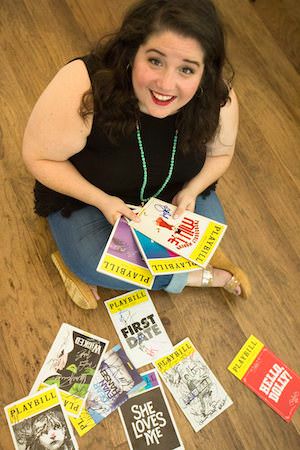 Heidi first found her love for theatre during summer road trips to the beach where her dad would rig up a TV in the back of the mini van and pop in a VHS of Oklahoma!  She now works in Communication by day and writes for BWW by night.
MOST POPULAR ARTICLES
LAST 30 DAYS
LAST 365 DAYS
BWW Review: HEDY! THE LIFE & INVENTIONS OF HEDY LAMARR at BB's Stage Door Canteen At The National WWII Museum

May 31, 2021

When you experience HEDY! The Life & Inventions of Hedy Lamarr, you are treated to an intimate hour and a half of Hedy talking you through her life, and introducing you to all of the important people she met along the way that helped to shape her and the different directions in which she ventured. She introduces you to her father who encouraged her to think, her mother who taught her the importance of discipline, her first husband Fritz Mandl from whom she learned the ins and outs of munitions simply by being a fly on the wall in their own home, George Antheil who was a composer and her partner in the invention of The Secret Communication System, and many more.
---
BWW Interview: Connor Lyon of JERSEY BOYS at The Saenger Theatre

March 6, 2020

Get ready, New Orleans, one of the most rockin' shows of the season opens at the Saenger Theatre tonight!  JERSEY BOYS is coming to us for the third time in recent years, and I couldn't be happier.  In the show we learn about Frankie Valli and the Four Seasons, their rise to stardom, and the work it took to get to the top.  Featured in the show are hit songs like WALK LIKE A MAN, BIG GIRLS DON'T CRY, and SHERRY.
---
BWW Interview: Audrey Belle Adams of CHARLIE AND THE CHOCOLATE FACTORY at The Saenger Theatre

February 4, 2020

Get ready kids and former kids, for the most magical show we've had at the Saenger Theatre all season!  CHARLIE AND THE CHOCOLATE FACTORY is opening next week, and the cast is ready to take us on a journey to Willy Wonka's candy kingdom.
---
BWW Interview: Red Concepcion Plays the Engineer in MISS SAIGON Opening in New Orleans Next Week

January 17, 2020

There are a handful of musicals that I firmly believe every self-proclaimed theatre lover needs to see, if for no other reason, to say they've seen it. Among the ranks are LES MISERABLES, PHANTOM OF THE OPERA, FIDDLER ON THE ROOF, WEST SIDE STORY, I think it's now pretty safe to add WICKED to the list, and MISS SAIGON. They're classics, if you will. New Orleans is lucky enough to have two of these as part of the 2019-2020 Broadway Across America season, and gracing us this coming week is none other than MISS SAIGON.
---
BWW Preview: DEAR EVAN HANSEN at The Mahalia Jackson Theater For The Performing Arts

October 28, 2019

Dear New Orleans, November 5 is going to be a good day and here's why... the Tony Award Winning musical DEAR EVAN HANSEN with music and lyrics by Benj Pasek and Justin Paul (La La Land, The Greatest Showman) opens at The Mahalia Jackson Theater for the Performing Arts.  Sincerely, me.
---
BWW Interview: Megan McGinnis of COME FROM AWAY on Tour

May 28, 2019

Everyone has a 9/11 story. Where were you? Megan McGinnis and the touring cast of COME FROM AWAY are bringing their story to New Orleans this week and you can bet I will be there! Keep reading to hear from Megan about her journey in show business and what makes COME FROM AWAY so special.
---
BWW Interview: John-Michael Breen is Lonny in ROCK OF AGES 10th Anniversary Tour

January 5, 2019

Let's get ready to rock, New Orleans! Opening at the Saenger Theatre TONIGHT is, according to cast member John-Michael Breen, the "best face-melting jukebox musical you'll ever see" that also has a lot of heart. If you're crazy about the 80s, or even if you're not, this show is one to see.
---
BWW Interview: John Adkison brings Walter Hobbs to life in ELF THE MUSICAL Coming to New Orleans Tonight!

December 18, 2018

Grab your candy, candy canes, candy corns, and syrup! Buddy the Elf is coming to New Orleans and he's bringing all of his friends and family with him! ELF THE MUSICAL, based off of the beloved Christmas movie Elf starring Will Ferrell, has been turned into a musical and it's headed to the Big Easy this week. ELF tells the story of Buddy, a human baby who sneaks into Santa's sack one night and is raised by the elves at the North Pole. When it becomes obvious to Buddy that he doesn't belong, Santa decides it's time for Buddy to journey to New York City to find his biological father, Walter Hobbs, and to get to know his family. Hilarity and Christmas cheer ensues, of course.
---
BWW Interview: Eddie Noel plays José Fajardo in ON YOUR FEET! THE MUSICAL National Tour Headed to New Orleans

November 27, 2018

An incredibly talented creative team decided that the world knows the music, but it's about time we learned the story of the people behind the music. ON YOUR FEET! THE MUSICAL gives us a glimpse into the hardships and obstacles Gloria and Emilio had to overcome in their lives to pursue their passion for their music, and to become the best of the best at what they do.
---
BWW Interview: Marisol Montalvo and Jeff Roberson Open Up About the World of Opera and Their Show MAD SCENE Coming to Broadway at NOCCA

October 30, 2018

Opera isn't my go-to art form, I'll admit it.  In fact, I don't know many people who truly appreciate opera music nor do they understand what it actually takes to become a successful opera singer.  It's an art that often goes unnoticed because of the stereotypes that it is long, boring, difficult to understand, unrelatable, and only for old, rich people.  But if music is a universal language, and I truly believe this to be true, then why do we insist that we cannot understand and then listen to all forms of music except for this one?  I recently had the honor of speaking with two artists who are radically trying to change the scene, and make opera music accessible to everyone.
---
BWW Interview: Madison Micucci Keeps it Real in SCHOOL OF ROCK THE MUSICAL Opening at the Saenger Theatre This Week!

October 28, 2018

I love movies. I love funny movies. And I especially love quoting funny movies. School of Rock is one of those movies for my family and me. We absolutely love it. I think we may laugh harder the more times we watch it. It just doesn't get old. And now, it's a musical! I mean, does it get better than this?!
---
BWW Interview: Jay Paranada is Evil Sidekick Iago in Disney's ALADDIN

October 4, 2018

I remember the first time I saw Disney's Aladdin in the movie theatre as a kid. I was only 4 years old, and I was both mystified, entertained, in love with the music, and terrified. So much wrapped up into one movie! A street rat who at heart is a really good guy, but just a little lost and trying to find his place in the world. A princess who teaches us that all the money and comforts in the world don't necessarily bring you joy and that we should always stand up for ourselves. A Genie who grants wishes and ultimately earns his freedom. An evil sorcerer and his trusted sidekick who want nothing more than to rule the world and destroy anyone in their path. But also, there's amazing music and lots of dancing. How could you NOT love this story?!
---
BWW Interview: Lenne Klingaman is Dawn in National Tour of WAITRESS

June 12, 2018

Sugar, butter, flour! Sara Bareilles' musical WAITRESS opens at the Saenger Theatre tonight! It's about a young woman named Jenna who works at a bakery and is trying to figure out her life. She's in an abusive marriage, finds out she's pregnant, and it forces her to take a look at what she really wants. With the help of her best friends, an unexpected romance with a doctor, and a pie-baking contest her future starts to look a whole lot brighter.
---
BWW Review: Bryan Batt Gives Heavenly Performance in AN ACT OF GOD at Le Petit Theatre du Vieux Carre

June 11, 2018

AN ACT OF GOD gives quite a twist to religion as we know it. God decides to set the record straight and tell us what he really thinks about the 10 commandments, and gives us a few... we'll call them "edits." Apparently, us humans have distorted what God actually meant when he originally wrote his top 10, and he feels the need at this time in history to explain to clear some things up and tell us what he really expects of us.
---
BWW Review: JPAS Takes Flight with CATCH ME IF YOU CAN

May 2, 2018

Nearly 10 years after the movie, some geniuses decided to turn the show into a Broadway musical starring Aaron Tveit and Norbert Leo Butz. Honestly, what more do we need in life? While the show didn't have a long run on Broadway, it is now being played in regional theatres, and the New Orleans area was lucky enough to have the opportunity to experience the fun at Jefferson Performing Arts Society (JPAS).
---
BWW Interview: Sammy Ferber is Mark in RENT 20th Anniversary Tour

April 17, 2018

This week is going to be great! Do you know why? It's because the 20th Anniversary tour of one of the best modern musicals is headed to the Saenger tonight! RENT, written by Jonathan Larson, follows a group of artists as they face life living in East Village as they deal with love and loss at the height of the AIDS epidemic. It's a story that teaches audience how to live their life in the present because tomorrow isn't guaranteed. What a lesson!
---
BWW Interview: THE PHANTOM OF THE OPERA's Emma Grimsley

March 16, 2018

PHANTOM fans get excited, because the national tour of THE PHANTOM OF THE OPERA is in New Orleans right now! That's right. Through March 25th you have the opportunity to get yourselves over to the Saenger Theatre and experience one of the most classic shows of all time. This year marks 30 years that the show has been on Broadway and what better way to celebrate than to go see the show in your own hometown?
---
BWW Review: Jefferson Performing Arts Society Presents THE HUNCHBACK OF NOTRE DAME

March 1, 2018

This score was something I didn't appreciate as a kid because I was too scared to watch the movie again, and I'm glad she had the sense to make me sing it. It's just gorgeous. Fast forward again to this past weekend when I saw THE HUNCHBACK OF NOTRE DAME presented live at Jefferson Performing Arts Society (JPAS). Stunning is the word that comes to mind.
---
BWW Interview: N'Jameh Camara Brings Nettie to Life in THE COLOR PURPLE at the Saenger Theatre

February 20, 2018

Every once in a while we have the opportunity to experience a piece of theatre that not only is a beautiful work of art and technically incredible, but is also deeply moving and makes us think about our lives in a way we haven't before. We have that opportunity beginning tonight when THE COLOR PURPLE opens at the Saenger Theatre.
---
BWW Interview: AN AMERICAN IN PARIS National Tour's Ben Michael

January 30, 2018

Calling all humans! Tonight, AN AMERICAN IN PARIS opens at the Saenger Theatre in New Orleans, and this is a show you absolutely don't want to miss. With music by the Gershwin brothers, book by Craig Lucas, and with the choreography and direction of Christopher Wheeldon, this show brings beauty and light to the aftermath of World War II in Paris. We follow three young men who are on a journey to find love and to find their way in the world through making art in a time when the world was struggling to recover.
---