State Theatre New Jersey Presents Boyz II Men This Month
The concert is on Friday, February 10 at 8pm.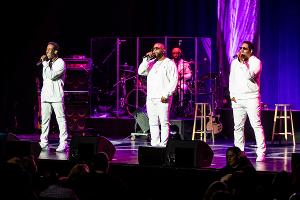 State Theatre New Jersey presents Boyz II Men on Friday, February 10 at 8pm. Tickets range from $59-$234.
Boyz II Men redefined popular R&B and continues to create timeless hits that appeal to fans across all generations. The band has penned and performed some of the most celebrated classics of the past two decades. The group's four Grammy Awards are just the tip of the iceberg: throughout their 30-year career, Boyz II Men have also won a whopping nine American Music Awards, nine Soul Train Awards, three Billboard Awards, a 2011 MOBO Award for Outstanding Contribution to Music, a star on the Hollywood Walk of Fame, as well and a Casino Entertainment Award for their acclaimed residency at the Mirage Resort and Casino in Las Vegas, which launched in 2013.
The trio holds the distinction of being the best-selling R&B group of all time, with an astounding 64 million albums sold. And the reason is abundantly clear: for the past two decades Boyz II Men have given fans a rich catalog of hits filled with smooth harmonies and enduring themes. And for Boyz II Men, the hits just keep on coming-the group continues to craft new albums and bring their legendary act to stages across the world.
Boyz II Men's past hits include: "End of the Road," "I'll Make Love to You," "One Sweet Day," "Motownphilly," and many others. And their recent albums have earned them major critical acclaim as well. Their Decca label debut, Motown: A Journey Through Hitsville USA (Decca/Universal), on November 13, 2007, earned them two Grammy nominations.
In 2011, Boyz II Men marked their 20th anniversary by releasing a landmark album, fittingly titled Twenty. The album contains the group's first original material in nearly a decade as well as a dozen remastered classic, career-defining hits. Twenty debuted at #20 on the Billboard Top 200 Albums Chart, #4 on the Billboard R&B album chart, #10 on the Billboard Digital Album Chart, and placed #1 on the iTunes R&B Soul Album chart. Twenty's first single, "More Than You'll Ever Know" cracked into the top 15 on Urban AC charts.
Boyz II Men have won fans the world over with their soulful multi-octave sound and incredible vocals. Given the monumental success of their albums and the timeless quality of their vocals, it's easy to see why Boyz II Men remains the most popular R&B group of all time. Ask any successful pop or R&B superstar which artists have inspired them-chances are Boyz II Men will be at the top. From Justin Timberlake and Usher to Justin Bieber and Beyonce, the most successful stars in the industry look to Boyz II Men as their idols.
For tickets, more information, or group discounts, call State Theatre Guest Services at 732-246-SHOW (7469) or visit online at STNJ.org. State Theatre Guest Services, located at 15 Livingston Ave, New Brunswick NJ, is open by phone and email only, Tuesday through Friday from 11am to 5pm. For in-person purchases, Guest Services is open Tuesday through Friday from 12pm to 4:30pm. Additional ticket and transaction fees may apply.