Photo Flash: Shakespeare Theatre of NJ Presents THE TAMING OF THE SHREW
The Shakespeare Theatre Of New Jersey begins its 2010 season with one of William Shakespeare's most popular comedies - The Taming of the Shrew. Directed by Bonnie J. Monte, who is celebrating her 20th Anniversary Season as artistic director of The Shakespeare Theatre, The Taming of the Shrew begins performances on June 2 and continues through June 27.
For tickets or more information, call the box office at 973-408-5600 or visit www.ShakespeareNJ.org. Discount ticket packages for the entire 6-play season, or 5 and 4 choose your own ticket packages are also available.
Shakespeare's raucous and lusty comedy features two wild-spirited, stubborn rebels - Petruchio and Katherina - who over the course of their extraordinary courtship, end up being a most extraordinary couple, tamed by the only force capable of taming them - love! The Taming of the Shrew was the inspiration for the Tony Award-winning Broadway musical Kiss Me Kate.
Photo credit: Gerry Goodstein


Jon Barker, Katie Fabel, Jack Moran and Scott Whitehurst

James Michael Reilly, StEve Wilson and Victoria Mack

Victoria Mack and StEve Wilson

Jon Barker and Jack Moran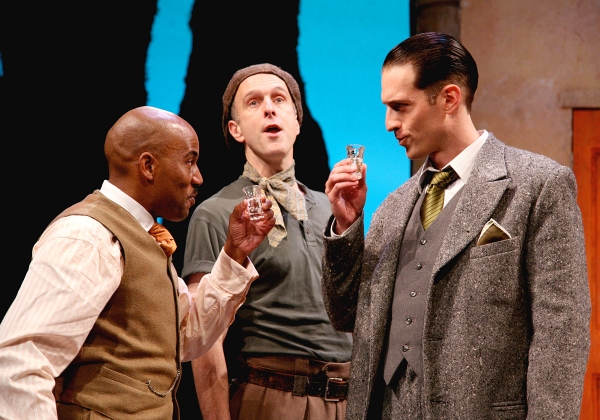 Scott Whitehurst, StEve Wilson and James Michael Reilly