Photo Coverage: Production Photos of Paper Mills' LOST IN YONKERS
Directed by Michael Bloom, Lost in Yonkers will run at the Millburn theater from February 17 through March 14, 2010. Lost in Yonkers was selected by the New Jersey State Council on the Arts as part of the American Masterpieces Series in New Jersey. American Masterpieces is a program of the National Endowment for the Arts.
Lost in Yonkers will play the following performance schedule: Wednesdays at 7:30PM, Thursdays at 1:30PM & 7:30PM, Fridays at 8:00PM, Saturdays at 1:30PM & 8:00PM and Sundays at 1:30PM & 7:00PM. Single tickets are now on sale and range in price from $25 to $92. Student rush tickets are $20 and are available the day of performance in person with current student ID. Tickets may be purchased by calling 973-376-4343, or at the Paper Mill Box Office on Brookside Drive in Millburn, or online at www.papermill.org. Paper Mill Playhouse gift cards, available in any denomination, can be purchased at the Paper Mill Playhouse Box Office. Visa, MasterCard, Discover and American Express accepted. Groups of ten or more can receive up to a 25% discount on tickets and should call 973-379-3636 ext. 2438.
Lost in Yonkers, often proclaimed as Neil Simon's best work, this Tony Award-winning and Pulitzer Prize-winning play is a funny and touching portrayal of acceptance, survival, and family dynamics. Set during World War II, brothers Arty and Jay are sent to live with their frightfully intimidating Grandma and sweet but mentally slow Aunt Bella, punctuated by visits from their "gangster" Uncle Louie. This masterwork is an unsentimental examination of lives in an oppressive household, climaxing with dramatic confrontation between the bitter mother and lonely daughter. You'll laugh, you'll cry, you'll think. And, in its honest, unerring portrait of a family, you just might recognize your own experience.
Lost in Yonkers brings a spectacular cast to the Paper Mill stage including: Rosemary Prinz (Grandma) performed on Broadway in Tribute; Prisoner of Second Avenue; Three Men on a Horse; Tonight in Samarkand; and Grey-Eyed People. Ms. Prinz was Penny Hughes for twelve years on the television show As the World Turns. She created the role of M'Lynn in the Off-Broadway production of Steel Magnolia's. Her additional theater credits include: Cat on a Hot Tin Roof; Long Day's Journey Into Night; A Little Night Music; The Importance of Being Earnest; Death of a Salesman; and The Glass Menagerie. J. Anthony Crane (Louis) has performed on Broadway in Sight Unseen and Butley. His Off-Broadway credits include: Modern Orthodox; Relativity; and The Brothers Karamazov. Mr. Crane's television credits are: Life on Mars; Ugly Betty; The Practice; Third Watch; JAG; Six Degrees; Frasier; CSI; and The Big Easy. He has appeared on film in In Praise of Shadows; March; SimOne; Dying on The Edge; and Bite. Sara Surrey (Bella) performed at Lincoln Center in A Free Man of Color. Ms. Surrey's regional credits include: The Dining Room; Antony & Cleopatra; Anna Christie; The Black Dahlia; The Archbishop's Ceiling; Hayfever; Three Days of Rain; and Arcadia. Her film and television credits include: Staten Island; Law & Order: Criminal Intent; Guiding Light; The Job; and Tough Crowd. John Plumpis (Eddie) was in the national tours of The Lion King and Laughter on the 23rd Floor. Mr. Plumpis is a company member of The Actors Company Theatre in New York. His television credits include: Law & Order:SVU; 7th Heaven; One Life to Live; Another World; and Guiding Light. Patricia Buckley (Gert) performed Off Broadway in Flesh and Blood; Evolution; Hitting The Wall; Those Who Can Do; and Moliere's Shorts. She's toured internationally in productions of Gams on the Lam and K De Calle. Ms. Buckley's regional theater credits include: The Heidi Chronicles; Twelfth Night; The Three Musketeers; Yangs Zen Frogs; Much Ado About Nothing; and Out of Sterno. Her film and television credits include: Law & Order; Kabluey; Death of A President; Anna Is Being Stalked; and The Delicious. Alex Wyse (Jay) was in the New York productions of The Last Smoker in America and Mrs. Sharp. Mr. Wyse's regional theater credits are: Speech & Debate; The Cherry Orchard; Our Town; The Lion in Winter; Urinetown; Gypsy; She Loves Me; Lord of the Flies; and Summer of '42. He appeared on television in Quality Time With the Keenes; Kid Concoctions; and Handel's Messiah Rocks. Maxwell Beer (Arty) performed regionally in 13; Les Miserables; Pete's Dragon; and Newsies. Mr. Beers' film credits are Kidz Bop and The Lunchroom.
Lost in Yonkers will be directed by Michael Bloom, Artistic Director of the Cleveland Play House. Mr. Bloom has directed Heaven's My Destination; The Glass Menagerie; A Street Car Named Desire; Rabbit Hole and Well; Dinner with Friends; and Sight Unseen. He's directed at American Reperatory Theatre, Manhattan Theatre Club, Geffen Playhouse, Old Globe Theatre, Seattle Repertory Theater, Kansas City Repertory Theater, Williamstown Theatre Festival, ALLIANCE THEATRE Company, Long Wharf Theatre, and in Tokyo at Aoyama Theatre and Theatre Cocoon. Farrar, Straus, & Giroux published his book Thinking Like a Director in 2001.
Michael Schweikhardt will serve as the Scenic Designer. Costume design is by David Kay Mickelsen. Lighting design is by Paul Miller. Sound design is by Keith Kohrs. The Production Stage Manager is Nicole Bouclier. Casting is by Paul Fouquet.
Paper Mill Playhouse, a not-for-profit arts organization, is one of the country's leading regional theatres. Paper Mill Playhouse programs are made possible, in part, by funds from the New Jersey State Council on the Arts/Department of State, A Partner Agency of the National Endowment for the Arts, and by funds from the National Endowment for the Arts. Additional support is provided by generous contributions from numerous corporations, foundations, and individuals. Paper Mill Playhouse is a member of Theatre Communications Group, the National Alliance for Musical Theatre, the Council of Stock Theatres, and the New Jersey Theatre Alliance.
Free Audience Enrichment Activities for Lost in Yonkers
Wed. February 17 6:30pm Art Gallery Directors Notes & Coffee Series
Enjoy coffee on us as Director Michael Bloom discusses Lost in Yonkers.
Thurs. February 18 6:30pm Mezzanine Conversation Series
Thurs. February 25 Learn more about the show you are about
Thurs. March 4 to see, led by members of Paper Mill's
Thurs. March 11 Artistic and Education Departments.
Sat. March 13 Post Matinee Orchestra Cast Talk-Back Series
Meet the cast and ask actors questions about the show or the role they are portraying.
Photos by Peter Jennings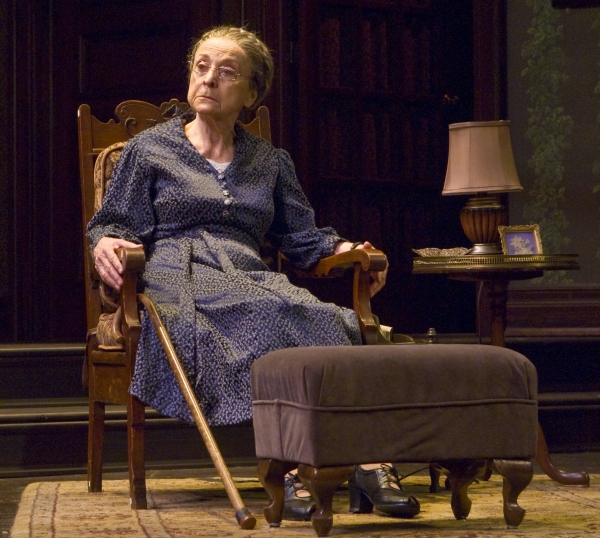 Rosemary Prinz (Grandma)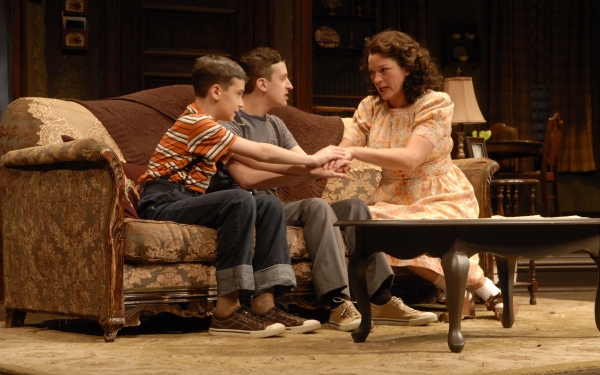 Maxwell Beer (Arty), Alex Wyse (Jay), and Sara Surrey (Bella).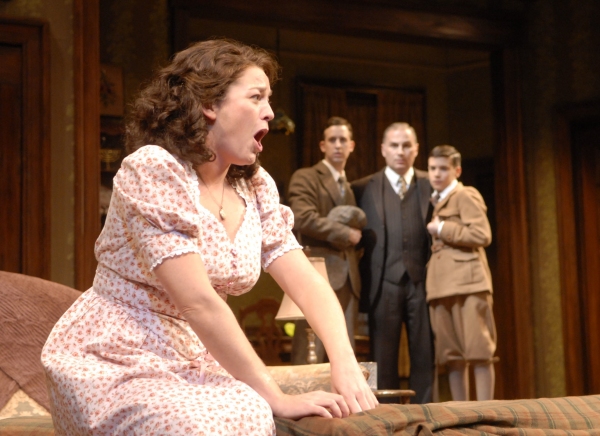 Sara Surrey (Bella), Alex Wyse (Jay), John Plumpis (Eddie), and Maxwell Beer (Arty).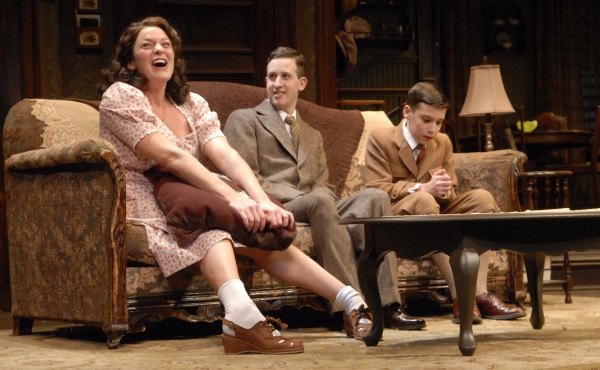 Sara Surrey (Bella), Alex Wyse (Jay), and Maxwell Beer (Arty).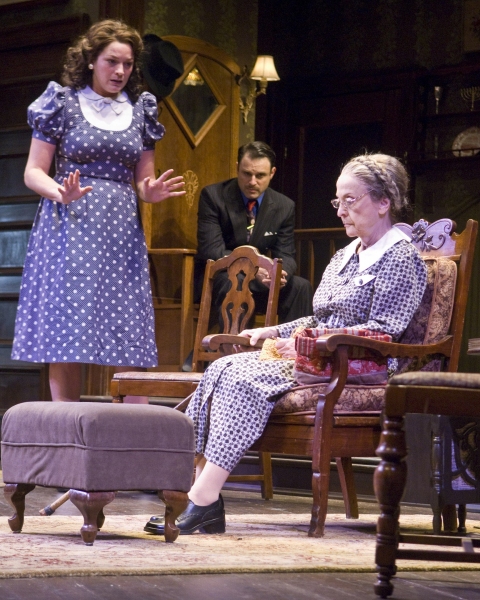 Sara Surrey (Bella), J. Anthony Crane (Uncle Louis), and Rosemary Prinz (Grandma).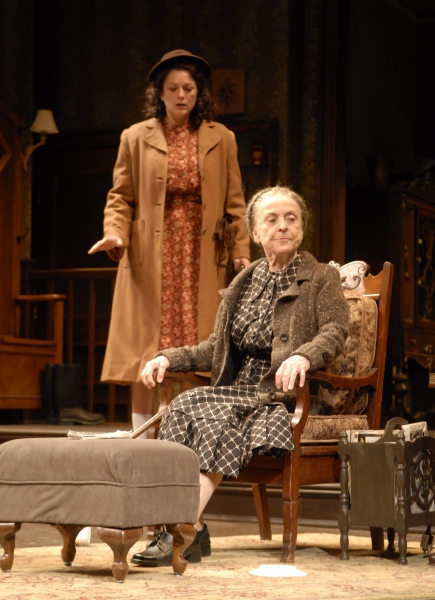 Sara Surrey (Bella) and Rosemary Prinz (Grandma)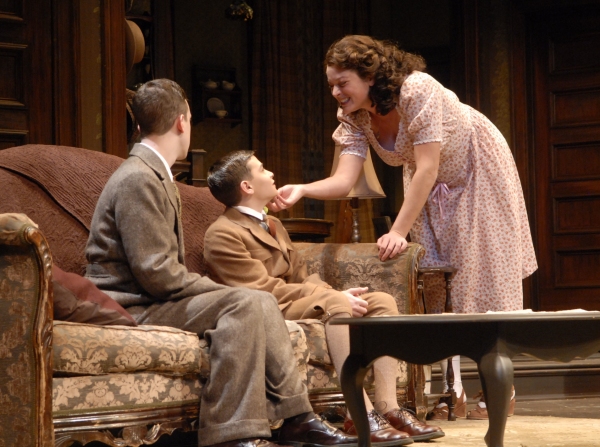 Alex Wyse (Jay), Maxwell Beer (Arty), and Sara Surrey (Bella).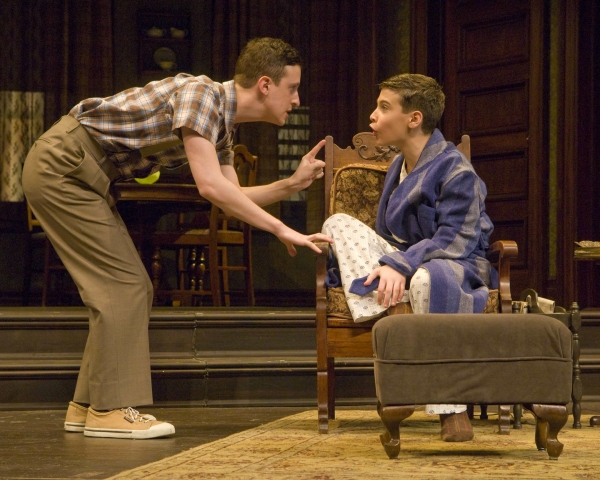 Alex Wyse (Jay) and Maxwell Beer (Arty).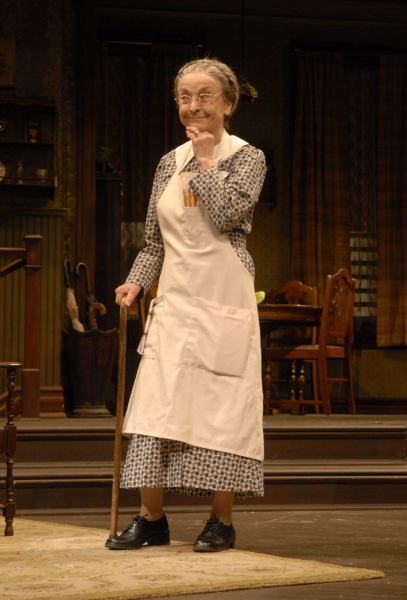 Rosemary Prinz (Grandma).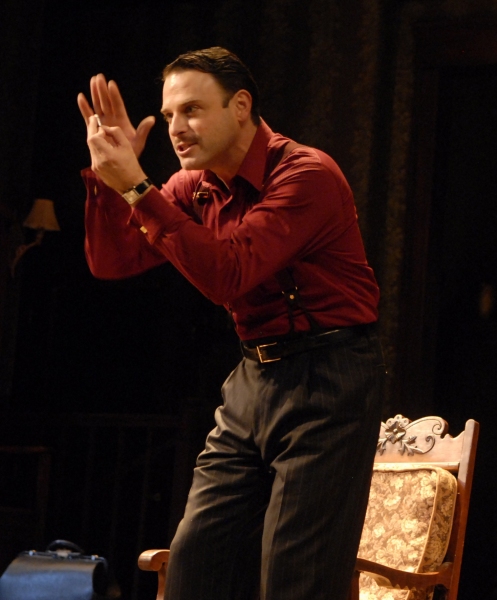 J. Anthony Crane (Uncle Louis).