Peak Performances to Host the World Premiere of SPINNING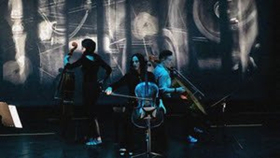 Peak Performances presents the world premiere of Spinning, a collaborative musical work written and composed by Pulitzer Prize winner and MacArthur Fellow Julia Wolfe (Anthracite Fields, 2015), and conceived with "cello goddess" (The New Yorker) Maya Beiser, with multimedia projections by innovative artist Laurie Olinder (May 10-13). Commissioned by Peak Performances and culminating their season of works by women, Spinning considers the essential labor of spinning thread-work once performed by hand by women-paying homage to the human dignity of this "women's work." Music has long been a vital part of this craft, both as a propelling force and as a distraction. Spinning,for three cellos and voice, is performed by Beiserwith Melody Giron and Lavena Johanson.
Beiser and Wolfe met in graduate school at Yale, and worked together in the formation of the amplified touring band Bang on a Can All-Stars, which emerged out of the Bang on a Can Festival in the early 1990s. Spinningmarks their first in-depth collaboration. In Beiser's own words, "I found in Julia's music a rare quality - combining folk, rock and classical elements in a distinct and relentless energy. This collaboration is one that has been in our minds for many years, and we are thrilled to now embark on this journey together."
Wolfe received the Pulitzer in 2015 for Anthracite Fields, an oratorio bringing together oral histories, interviews, speeches, and more to honor the people who persevered and endured in the Pennsylvania Anthracite coal region, and she is now in the midst of creating a work for the New York Philharmonic on the history of women in New York City's garment industry at the turn of the century. The theme of labor has been a consistent interest of hers, and is evoked in Spinning through less historical, more sensual terms, with text by Wolfe and Emily Dickinson.
Wolfe and Beiser teamed with Olinder, an artist who has created arresting projections for a number of musical projects (by organizations like Bang on a Can, Brooklyn Youth Chorus, the Kronos Quartet, LA Opera, The Philadelphia Orchestra, and more), to create a visual universe for the piece, which explores the concept of spinning in the natural, human-made, and machine-made worlds. Netta Yerushalmy joined to choreograph, giving the performers, and their instruments, a gestural vocabulary that emulates the themes and contributes additional evocative sounds.
It became apparent, through the piece's creation, that it was not so much about narrative as it was a poetic exploration of the craft of spinning. From spiders pulling silk from a gland and casting out lines, to humans, who have used tools from spindles to wheels to industrial machines, spinning is as old as time. Parallels between strung bows, cello strings, spinning patterns, frenetic bobbins, texture, textiles, and busy hands combine across Spinning with song and propel the work.
Spinning, composed by Julia Wolfe and conceived with Maya Beiser,is performed by Beiser, Lavena Johanson, and Melody Giron, all on cello and voice. The creative team includes Julia Wolfe (Music and Text), Laurie Olinder (Projection Art and Design), Dave Cook (Sound Designer), Aaron Copp (Lighting Designer), Netta Yerushalmy (Choreographer), Simon Harding (Projection Programmer), and Jennifer Hill (Associate Lighting Designer). It is produced by Islandia Music & Jensen Artists, with Production Manager Chris Roberts.
Performance Schedule and Ticketing
Performances of Spinning will take place at the Alexander Kasser Theater at Montclair State University (1 Normal Ave, Montclair, NJ), Thursday, May 10 and Friday, May 11 at 7:30pm; Saturday, May 12 at 8pm; and Sunday, May 13 at 3pm.
Tickets, affordably priced at $20 (and free for Montclair undergraduates), can be purchased at www.peakperfs.org or 973.655.5112.
Spinning was commissioned by Peak Performances at Montclair State University, and made possible by The MAP Fund, which is supported by the Doris Duke Charitable Foundation and the Andrew W. Mellon Foundation.
This project is supported in part by awards from the National Endowment for the Arts and the Aaron Copland Fund for Music.
Avant-garde cellist and multifaceted artist Maya Beiserdefies categories. Passionately forging a career path through uncharted territories, she has captivated audiences worldwide with her virtuosity, eclectic repertoire, and relentless quest to redefine her instrument's boundaries. The Boston Globe praises her "virtuoso chops and rock-star charisma," describing her as, "a force of nature," while Rolling Stone calls her a "cello rock star." Raised in the Galilee Mountains in Israel, surrounded by the music and rituals of Jews, Muslims, and Christians while studying classical cello repertoire, Maya is dedicated to reinventing solo cello performance in the mainstream arena. A featured performer on the world's most prestigious stages including Lincoln Center, Carnegie Hall, BAM Next Wave Festival, Kennedy Center, London's Southbank Centre and the Barbican, Sydney Opera House, Beijing Festival, and the Big Ears Festival, she has collaborated with a wide range of artists including Tan Dun, Brian Eno, Philip Glass, Steve Reich, Louis Andriessen, Shirin Neshat, Robert Woodruff, and Bill Morrison, among many others. Her discography includes ten solo albums; her 2016 album TranceClassical debuted at No. 1 on the Apple Music classical chart and her acclaimed album Uncovered also topped the classical music charts making the number one spot on both Amazon and Apple Music in 2014. Her latest album, David Lang's the day and world to come, was released in January 2018 on Cantaloupe Music. Maya Beiser is a 2015 United States Artists (USA) Distinguished Fellow and a 2017 Mellon Distinguished Visiting Artist at MIT Center for Art, Science & Technology; her 2011 TED Talk has been watched by over one million people, and she was recently a Presenting Artist at the inaugural CultureSummit in Abu Dhabi. Maya was a founding member of the Bang on a Can All-Stars and is a graduate of Yale University. www.mayabeiser.com
Julia Wolfe draws inspiration from folk, classical, and rock genres, bringing a modern sensibility to each while simultaneously tearing down the walls between them.She won the Pulitzer Prize for her concert-length oratorio, Anthracite Fields for chorus and instruments. Other recent projects include the evening-length Steel Hammer for the Bang on a Can All-Stars and singers, and a "body concerto," riSE and fLY, commissioned and premiered by the BBC, that features rapid-fire body slaps and street percussion. In 2019, the New York Philharmonic premieres Wolfe's large-scale work for orchestra and women's chorus, Fire in my mouth, continuing her interest in American labor history with the subject of women in New York's garment industry at the turn of the century. Wolfe's music is distinguished by an intense physicality and a relentless power that pushes performers to extremes and demands attention from the audience. She has written a major body of work for strings, from quartets to full orchestra. Her quartets, as described by The New Yorker, "combine the violent forward drive of rock music with an aura of minimalist serenity [using] the four instruments as a big guitar, whipping psychedelic states of mind into frenzied and ecstatic climaxes." Her music has been heard at venues throughout the world and has been recorded on the Cantaloupe Music, Teldec, Point/Universal, Sony Classical, and Argo/Decca labels.Wolfe is a 2016 MacArthur Fellow and was a recipient of a 2015 Herb Alpert Award in Music. She is on faculty at the NYU Steinhardt School and is co-founder/co-artistic director of New York's legendary music collective Bang on a Can. Her music is published by Red Poppy, Ltd. (ASCAP) and is distributed worldwide by G. Schirmer, Inc. www.juliawolfemusic.com
Laurie Olinderis a multimedia designer, painter and photographer. Olinder has designed projections for some of the most notable contemporary composers and performers of our time, including John Adams, The Brooklyn Youth Chorus, The Brooklyn Philharmonic, Gavin Bryars, Bryce Dressner, Philip Glass, Michael Gordon, Henryk Gorecki, The Kronos Quartet, David Lang and Julia Wolfe. Projection design credits include: Anatomy Theater (Red Cat Theater, LA Opera); The Sinking of the Titanic (Big Ears Festival); Brooklyn Youth Chorus with The Kronos Quartet (Roulette, Brooklyn, NY); Silent Cranes (Roulette, Brooklyn) composed by Mary Kouyoumdjian; Bubbles (Roulette, Brooklyn, NY) composed by Alexandra Vrebalov; The Difficulty of Crossing a Field (Montclair State); Brooklyn Village, composed by David T. Little with The Brooklyn Philharmonic and The Brooklyn Youth Chorus (Roulette, Brooklyn, NY); Persephone (Brooklyn Academy Of Music); Lightning at Our Feet (Brooklyn Academy Of Music); 11 Excerpts: Philip Glass Operas (The University of Miami); Symphony #3 by Henryk Gorecki (Brooklyn Academy Of Music with The Brooklyn Philharmonic); Decasia (Basel Switzerland, St. Ann's Warehouse, Angel Orensanz); Shelter, Bang on a Can(Brooklyn Academy Of Music); The Death of Klinghoffer (Brooklyn Academy Of Music). Olinder is a founding member of New York's Ridge Theater and has been recognized with an OBIE Award, a New York Dance and Performance "Bessie" Award and an Eliot Norton Award for Outstanding Design in the Theater and a NYFA fellowship. Upcoming projects include projections for Super Funland, a new installation at The Museum of Sex opening Winter 2019. www.laurieolinder.com
Additional Bios
An award-winning cellist, Melody Giron (cello) has performed in concert halls of China, Europe, South America, Central America and the United States with orchestras, chamber groups and as a soloist. Performances include venues such as Carnegie Hall (New York), Symphony Hall (Boston, MA), Snape Maltings Concert Hall (Aldeburgh, England), Radio City Music Hall (NYC), Madison Square Garden (NYC), and Prudential Center (NJ), among many others. In addition to an active classical solo and orchestral career, Giron's versatility has engaged her in many new music projects, performances on Off-Broadway theater stages, and collaborations with the likes of Stevie Wonder, Andra Day and Keyshia Cole. Giron plays cello on multiple TV shows, and stars in a GMC car commercial. She received her bachelor's degree from The New England Conservatory of Music and earned her master's degree from Peabody Institute of Johns Hopkins University. www.melodygiron.com
Cellist Lavena Johanson (cello) is a commanding performer and a consummate musician. As a soloist and chamber musician, she has performed new and recent works by Ted Hearne, Amy Beth Kirsten, Caroline Shaw, and Anna Thorvaldsdottir on Baltimore's Evolution Contemporary Music Series. She was a founding member of the Atlas String Quartet, semi-finalists at the 2014 Fischoff Chamber Music Competition. Lavena has also premiered and recorded two pieces written expressly for her by her husband, Judah Adashi, and is only the second cellist to ever perform both of Michael Hersch's Sonatas for Unaccompanied Cello in one night. Recent appearances include a return to the Evolution Series, where she performed Bryce Dessner's Tuusula for solo cello, and also a performance of Bach's Second Suite for Unaccompanied Cello at the Baltimore Bach Marathon, fulfilling the second year of her six-year Bach Suites performance project. www.lavenajohanson.com
Netta Yerushalmy (choreographer) received a Guggenheim Fellowship, Grant to Artists from Foundation for Contemporary Arts, Jerome Robbins Bogliasco Fellowship, NYFA Fellowship, and the Toulmin Fellowship for Women Leaders in Dance at NYU's Center for Ballet. Her current project, Paramodernities, received the National Dance Project award from the New England Foundation for the Arts. Yerushalmy's works have been presented by venues such as The Joyce Theater, Jacob's Pillow Dance, American Dance Festival, Baryshnikov Arts Center, Watermill Center, Danspace Project, New York Live Arts, Suzanne Dellal Center (Tel-Aviv), Hebbel am Ufer (Berlin). Yerushalmy works across genres and disciplines: she contributed to artist Josiah McElheny's project for The Madison Square Park Conservancy, she choreographed a ?Red Hot Chili Peppers music video, and has collaborated on evenings of theory and performance at the Institute for Cultural Inquiry (Berlin). Her work has been commissioned by repertory companies and universities all around the USA. nettay.com
Aaron Copp (lighting designer) previously collaborated with Maya Beiser on All Vows at BAM in 2015. Other recent projects include One Line Drawn, created by Brian Brooks for Miami City Ballet with music by Michael Gordon, Shahrazad for The Royal Ballet Of Flanders, and Rules Of The Game, created by Jonah Bokaer, Daniel Arsham and Pharrell Williams. Music collaborations include tours for The Silk Road Ensemble, Natalie Merchant and The Goat Rodeo Sessions as well as music-theater pieces with So Percussion at BAM, and the Bang on a Can All-Stars at Lincoln Center. He has worked extensively in the dance world, and in 2008 received his second Bessie Award for Jonah Bokaer's The Invention Of Minus One. He had a long association with Merce Cunningham, designing such pieces as Ground Level Overlay, Windows, and Biped, for which he also won a Bessie. Copp has an MFA from the Yale School of Drama. www.aaroncopp.com
Dave Cook (sound designer), a native New Yorker, has been a sound engineer for many years and comes from a background immersed in recording studios, theaters and concert settings. His work in the pop/rock world has landed him Gold and Platinum album credits with artists such as 10,000 maniacs, the B-52's (he engineered everyone's favorite backyard barbecue song, "The Love Shack") and others including, Nick Cave, Graham Parker, The Golden Palominos, Amy Helm and many more. He has mixed shows with David Bowie, Radiohead, and Morphine to name a few. His current and previous live concert touring/mixing credits include Natalie Merchant, Todd Rundgren, Carly Simon, Ravi Shankar, Anoushka Shankar, Terry Riley, Marc Cohn, ETHEL, Laurie Anderson, Medeski, Martin and Wood and of course, Maya Beiser. Cook owns and operates Area 52 Studios in Saugerties, NY and lives with his family and pets in Saugerties as well. www.area-52-studios.com
About Peak Performances
Peak Performances is a program of the Office of Arts and Cultural Programming at Montclair State University and has been honored by the New Jersey State Council on the Arts with an Arts Citation of Excellence and Designation of Major Impact. Programs in this season are made possible in part by the New Jersey State Council on the Arts/Department of State, a Partner Agency of the National Endowment for the Arts; the New England Foundation for the Arts' National Dance Project, with lead funding from the Doris Duke Charitable Foundation and The Andrew W. Mellon Foundation.