Old Library Theatre Presents The 12th Annual One Act Play Festival
Learn more about the plays here!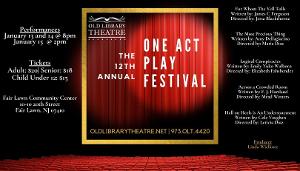 For one weekend only, Old Library Theatre presents the 12th Annual One Act Play Festival.
Now in its 12th year, the Old Library Theatre One Act Play Festival presents five original works selected from over three-hundred submissions from author's nationwide.
This year's festival includes:
For Whom the Yell Tolls: Directed by Jessa Blackthorne, Written by James C. Ferguson
Synopsis: Joss invites his mother Felicity to dinner. His girlfriend, Pepper, is nervous but optimistic to meet her for the first time. But what happens when Felicity is not what she expects?
The Most Precious Thing: Directed Maria Diaz, Written by Amy Dellagiarino
Synopsis: A woman takes an unexpected "journey" and finds herself at a crossroads, where she comes face to face with her own self-worth.
Across a Crowded Room: Directed by Mead Winters, Written by F.J. Hartland
Synopsis: To cross the room or to not cross the room? That is the question. Two individuals are at a surprise birthday party and as they debate whether to introduce themselves to each other They stop to realize are the risks and chances of happiness in life worth it or perhaps not?
Logical Conspiracies: Directed by Elizabeth Fahsbender, Written by Emily Yuko Walborn
Synopsis: When two strangers with different personalities get locked in a room together, paranoia and chaos ensue.
Hell on Heels is An Understatement: Directed by Leticia Diaz, Written by Cole Vaughan
Synopsis: This memory play, set in 1990s middle America, asks the question: "Who would you become if you sold your soul to a pretty lady in high heels?"
Performance and Ticket Information
Performances will take place at the George Frey Center for Arts and Recreation - 10-10 20th Street, Fair Lawn, NJ - on Friday, January 13 and Saturday, January 14 at 8:00pm and Sunday, January 15 at 2pm. Tickets are available ($20 for adults, $18 for seniors, and $15 for children under 12) and can be purchased online at https://cloud.broadwayworld.com/rec/ticketclick.cfm?fromlink=2218313®id=16&articlelink=https%3A%2F%2Foldlibrarytheatre.net%2Fproduction%2F12th-annual-one-act-play-festival%2F?utm_source=BWW2022&utm_medium=referral&utm_campaign=article&utm_content=bottombuybutton1 or in person at the box office on the day of the show.