BWW Review: AN ACT OF GOD Starring Kathleen Turner is Fabulous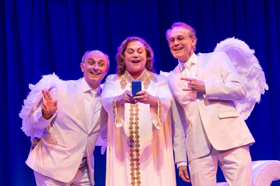 "I have wrath management issues."
by God in An Act of God
Kathleen Turner, the legendary star of stage and screen, is thrilling metro area audiences in her role as the Almighty One in An Act of God at George Street Playhouse. Written by David Javerbaum and expertly directed by the Playhouse's Artistic Director, David Saint, this wildly amusing, yet thought provoking show is mesmerizing from the first moment to the last. See it while it is on the GSP stage through December 23rd.
David Javerbaum wrote the play An Act of God based the award winning book, The Last Testament: A Memoir by God and his popular Twitter feed @TheTweetofGod that has 3.74M followers. The play made its Broadway debut in 2015 with Jim Parsons as God and returned to Broadway in 2016 starring Sean Hayes. Kathleen Turner's appearance as God gives the role a sense of universality.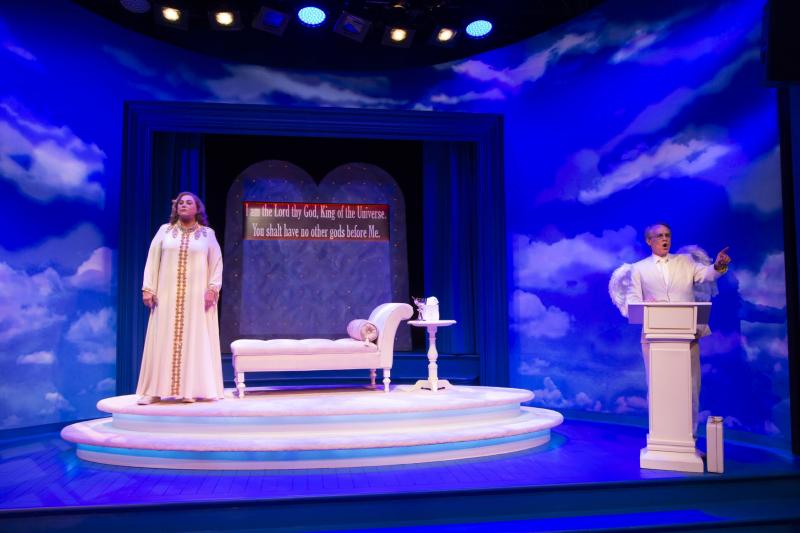 In the show, the Lord has decided to make an intervention. By taking on the form of an actor, God attempts to address some pressing human concerns. Flanked by two Archangels, Gabriel and Michael, the Almighty One speaks of how creation was accomplished in 6 days, gives the inside scoop on some popular bible stories, and updates the Ten Commandments with ones that include "Thou shalt separate Me and State," and "Thou shalt not tell Me what to do." Gabriel provides context for God's presentation with quotes from the Bible while Michael fields questions from the audience and poses some of his own like "Do you answer prayers?" God's work, so often misinterpreted, is set straight in An Act of God.
The cast of the show is truly heaven sent. Kathleen Turner masters the role of God with energy, verve and inimitable charm. Turner's fans and many more will be delighted by her performance. Jim Walton as Gabriel and Stephen DeRosa as Michael are ideal as the Archangels. The three actors work together seamlessly to present the clever, intriguing dialogue.
The Creative Team has done a wonderful job of bringing An Act of God to the stage. They include set design by Timothy R. Mackabee; costume design by Esther Arroyo; and lighting design by Jason Lyons. The Original Music and Sound Design is by Scott Killian; the Production Stage Manager is Eileen F. Haggerty; the Production Manager is Christopher J. Bailey; Casting is by McCorkle Casting, Ltd.
An Act of God is a fantastic choice for the holiday theatre season. Enjoy seeing a star-studded cast in a show that captures celestial events with some much needed humor. Get your tickets. You'll be enthralled by this fabulous production.
Tickets for An Act of God start at $85. Located in the first three rows, "Heavenly Seating" for $100 offers patrons the opportunity to be closer to God. The show runs for 90 minutes with no intermission. To purchase tickets or for more information, visit the George Street Playhouse website at www.GeorgeStreetPlayhouse.org or call 732.246.7717.
While the George Street Playhouse venue is being razed to make way for a new performing arts center that will include the Playhouse's future home, it has taken residence in the former New Jersey Museum of Agriculture at 103 College Farm Road on Rutgers University's Cook Campus through the 2018-2019 season. George Street Playhouse is located right off of Route 1 only minutes from downtown New Brunswick. There is plenty of convenient parking and the theatre is barrier-free. For directions, visit the Playhouse web site at www.GeorgeStreetPlayhouse.org.
Photo Credit: T. Charles Erickson
Related Articles View More New Jersey

Stories

Shows