BWW Review: THE TRIAL OF DONNA CAINE at GSP is an Engrossing Courtroom Drama
"Be careful what you say and who you say it to."
Emily Zola Ginsberg in The Trial of Donna Caine
George Street Playhouse (GSP) opens their 2018/2019 season with Walter Anderson's The Trial of Donna Caine, directed by the Playhouse's Artistic Director, David Saint. In his address to the audience on opening night, Saint stated, "I'm extremely proud of this show." And we understand why. It is superbly presented and features a stellar cast.
The Trial of Donna Caine is inspired by actual happenings that surrounded a Marine Corps training mishap at Parris Island, South Carolina in April of 1956 that was dubbed "Ribbon Creek Incident." Anderson has ingeniously put a modern spin on the story by adding significant female characters, depicting an insider's view of military life, and presenting it as a courtroom drama.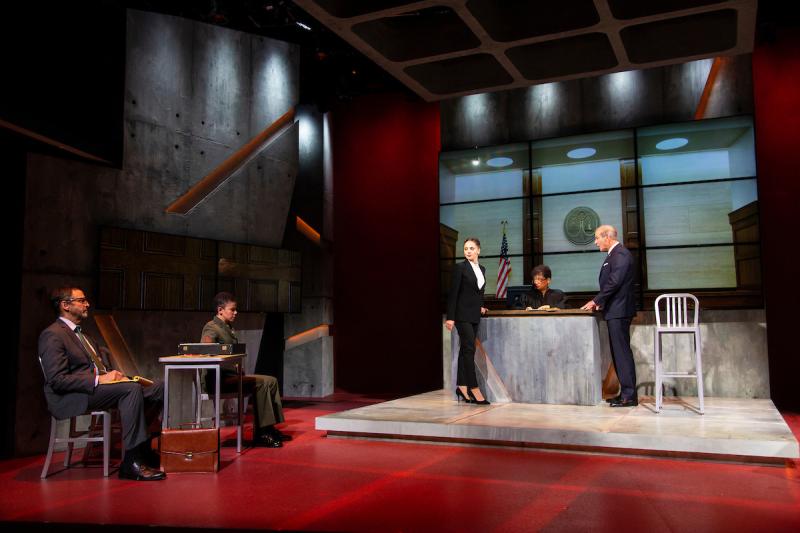 In the play, Marine Staff Sergeant Donna Caine has been accused of causing the deaths of five new recruits by marching them through a waterway during a dangerous high tide. It's a time of change for the Marines, when platoons are experiencing gender integration. Emily Zola Ginsberg is a sharp young lawyer whose firm has been requested by a judge to meet Caine and gather information about the incident. When Ginsberg visits Caine in prison, she feels personally compelled to represent the dedicated Marine who is feeling isolated. Ginsberg convinces Caine not to plead guilty and to proceed with a trial. The prosecutor, Roy Gill presents convincing evidence that Caine is guilty, yet Ginsberg and her partner, Vincent Stone are determined to dig deeper and bring all the facts to light. The emotive scenes are very dynamic and, as the characters' backstories are revealed, the story becomes even more interesting.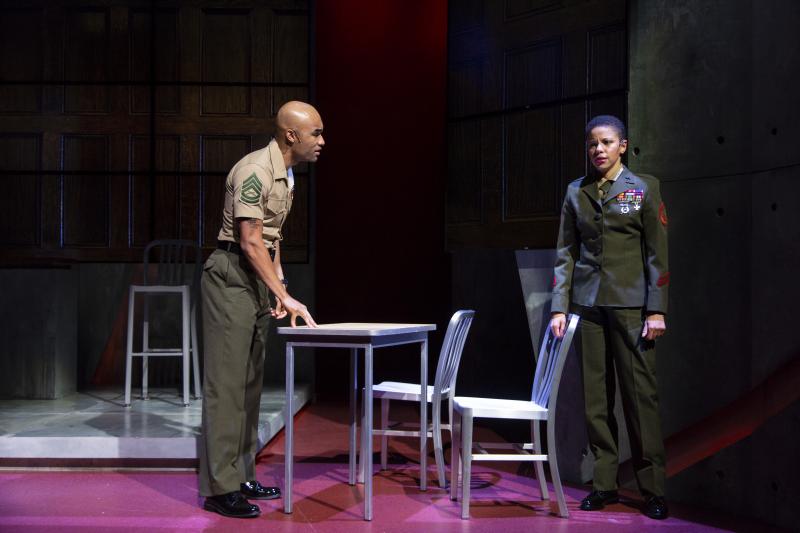 The cast includes Flor De Liz Perez as Donna Caine; Margarita Levieva as Emily Zola Ginsberg; John Bolger as Roy Gill; Peter Frechette as Vincent Stone; Kally Duling as Private First Class Ellen Colessio; Julia Brothers as Lt. Colonel Sandra Eden; Michael Cullen as Sergeant Major Clayton Williams; Ryan George as Gunnery Sergeant Jacob Jasper Walker; and Melissa Maxwell as Judge Olivia Easton. With the authenticity of Anderson's dialogue, and the acting talents of this accomplished troupe, the courtroom drama is riveting. Engrossing scenes include Emily Zola Ginsberg's first encounter with Donna Caine; Private Ellen Colessio describing her training with Donna Caine; Roy Gill's unrelenting questioning of Gunner Sergeant Jacob Jasper Walker; Emily Zola Ginsberg's meeting with Sergeant Major Clayton Williams; the courtroom testimony of Lt. Colonel Sandra Eden; and Judge Olivia Easton's effort to develop a plea bargain between the defense and prosecution.
The Creative Team has done an excellent job of bringing the production to the New Brunswick Stage with Scenic and Media Design by James Youmans; Costume Design by Brian C. Hemesath; Lighting Design by Jason Lyons; and Sound Design by Scott Killian. The Production Manager is Christopher J. Bailey; Production Stage Manager is Nicole Kuker; Assistant Stage Manager is Andrea Miller; and Casting by McCorkle Casting, Ltd.
Metro area audiences are fortunate to have The Trial of Donna Caine on the New Brunswick stage. Get your tickets and make it a part of your fall entertainment schedule.
The Trial of Donna Caine runs for 2 hours with one intermission. It will be performed at George Street Playhouse through November 11. The theatre is presently at its interim location, at 103 College Farm Road, New Brunswick, just off of Route 1 South.
For tickets, call 732.246.7717 and visit https://georgestreetplayhouse.org/.
Photo Credit: T. Charles Erickson