Review: THE IMMIGRANT at GSP Touches Your Heart and Soul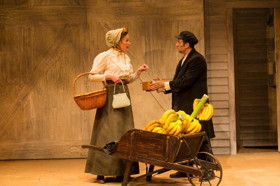 "You're smart Haskel, and you work hard."
by Milton Perry in The Immigrant
As a home to great theatre, George Street Playhouse (GSP) has done it again by bringing to the metro area a theatrical gem. The Immigrant, a production that is relevant, inspirational, and entertaining, is being performed on the New Brunswick stage through April 7. Written by Mark Harelik, conceived by Mark Harelik and Randal Myler, the show enjoys wonderful direction by the Playhouse's Director of Education, Jim Jack, and has an excellent four-person cast. This unforgettable story deftly combines drama, history, tradition, and just the right amount of humor.
The play is based on true events. Haskell Herelik is a Russian Jew who immigrates to the United States seeking refuge from his homeland. He arrives at the port of Galveston and settles in Hamilton, Texas in the early 1900's. Haskell starts his work in America struggling to sell bananas for a penny a piece from a wheel cart. When peddling the fruit, he comes to the home of town's banker, Milton Perry and his wife, Ima. The Perrys are at first uncomfortable with Haskell, but soon Ima, a devout Christian, recognizes that the young immigrant needs help and the couple offers him temporary housing. As Haskell endeavors to learn English and assimilate in the Texas town, he forges a deep friendship with the Perrys. With an investment from Milton, Haskell's business flourishes and he brings his wife, Leah to America. With hard work, determination, and the support of a community, Haskell and Leah build a family and live the American dream while remaining faithful to their Jewish traditions.
Benjamin Pelteson masters the dynamic part of Haskell Herelik who starts out as a poor man who can only speak Yiddish, overcomes countless obstacles, and later excels as a businessman and the head of his family. Lauriel Friedman is delightful as Haskell's wife, Leah. Gretchen Hall is ideal as kindly, motherly, Ima Perry, and R. Ward Duffy captures the role of Milton Perry, a ernest businessman and devoted husband. You'll be charmed and moved by scenes that include Ima purchasing bananas from Haskell; Haskell practicing his English; Leah's sudden arrival in Hamilton; Milton and Haskell waiting together as Leah gives birth to the Herelik children; and Ima and Leah talking while making Challah together.
The Creative Team has done a great job of developing the setting for The Immigrant. They include set design by Jason Simms; costume design by Ásta Bennie Hostetter; lighting design by Christopher J. Bailey; projection design by Caite Hevner; sound design by Scott Killian and Christopher Pfeifer and stage. The original music is by Scott Killian; the Stage Manager is Samantha Flint; and Casting is by McCorkle Casting, Ltd.
Now is the time to see a play that will touch your heart and soul. Don't miss The Immigrant, a moving and brilliant portrait of an American family. New Jersey theatergoers will relish this show and the opportunity to reflect on the remarkable contributions that immigrants are continually making in our country.
To find tickets or for more information, visit the George Street Playhouse website at https://georgestreetplayhouse.org/, or call the box office at 732-246-7717.
Photo Credit: T. Charles Erickson