BWW Review: SONGBIRD at Two River Theater is a Must-See
"You are all stuck in the same place, doing the same thing."
by Tammy Tripp in Songbird
Not to be missed! Two River Theater is now presenting Songbird, a new musical gem. Set in Nashville, Tennessee, it is an intriguing story based on Anton Chekhov's The Seagull. Written by Michael Kimmel, with music and lyrics by Lauren Pritchard, the show features the splendid direction by Gaye Taylor Upchurch, choreography by Marc Kimelman, and musical direction by Kris Kukul.
In Songbird, a neighborhood bar is run by the husband and wife team of Samuel and Pauline and their daughter, Missy with help from two young men, Dean and Rip. Dean's mother, country music sensation, Tammy Trip, is coming home after long absence accompanied by singer-songwriter, Beck, her much younger boyfriend. Dean, and his girlfriend Mia plan to perform a song that Dean wrote to impress Tammy. The locals gather for the musical event including Doc and Tammy's older brother, Soren. But things hardly turn out as planned. Tammy humiliates Dean by ridiculing his song; a romance ensues between Mia and Beck; and old tensions surface in the group. There's drama, humor, and plenty of whiskey in this authentic, yet complex story about human relationships.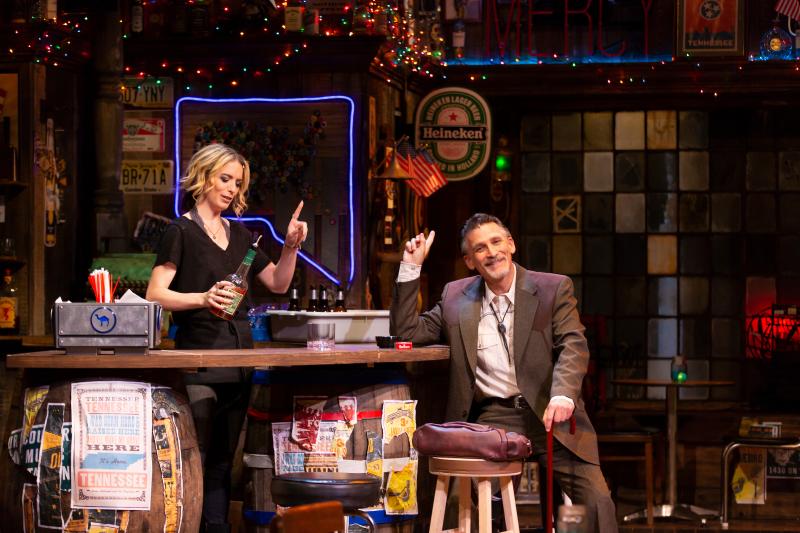 Songbird showcases the cast's outstanding acting abilities, diverse musicianship, and stirring vocal talents. The company includes Ephie Aardema as Mia and acoustic guitar, egg shaker, glockenspiel; Felicia Finley as Tammy Trip and on spoons; Deon'te Goodman as Rip and acoustic guitar; Kelly Karbacz as Pauline and on tambourine; Drew McVety as Doc and violin; Eric William Morris as Beck and acoustic guitar, 12 string guitar; Kacie Sheik as Missy; Marrick Smith as Dean and acoustic guitar, electric guitar; Bob Stillman as Soren on piano, egg shaker, tambourine and ukulele; and Andy Taylor as Samuel and cello, mandolin.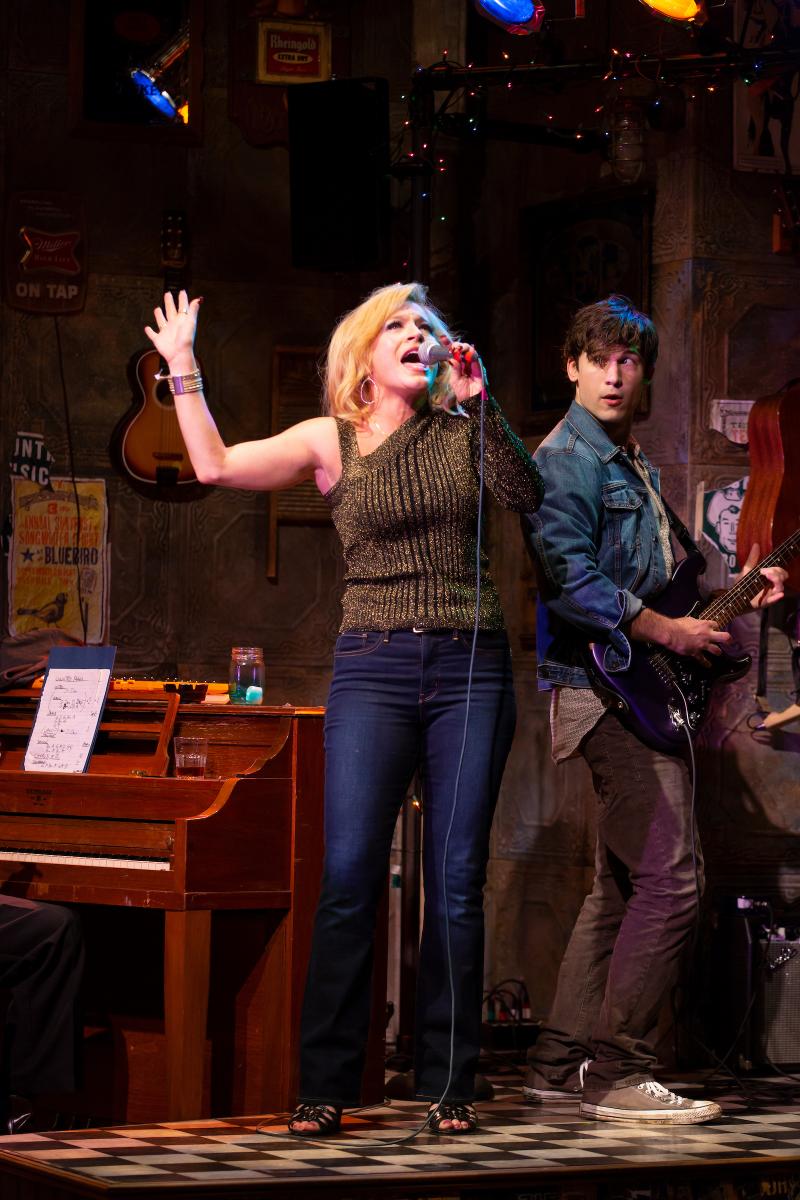 The engaging score highlights each of the show's scenes. There's a blend of musical genres including folk, bluegrass, country and pop-country. Some of our favorite songs include "Small Town Heart" by Tammy Tripp; "Whiskey Interlude" by Soren and Company; "Cry Me a River" by Missy & Company; "Whiskey Lullabies" by Doc and Company; "Tennesee Blues" by Company; "Highway Fantasy" by Missy and Beck; "The Stranger" by Dean; and "Heart Costs" by Company.
The Creative Team has done a top job of bringing a down home, southern setting to the stage with scenic design by Jason Sherwood; costume design by Sarah Holden; lighting design by Aaron Porter; and sound design by Broken Chord. The Music Coordinator is Kristin Stowell; Assistant Music Director is Ada Westfall; Dialect Coach is Shane Ann Younts; Casting is by Calleri Casting; Production Stage Manager is Amanda Michaels; and Assistant Stage Manager is Hannah Woodward.
Music lovers and many more will be captivated by Songbird. I had the pleasure of seeing it when it made its Off-Broadway premiere at 59E59 Theaters, and I was anxious to see it again. The production at Two River Theater made me love it all the more. Our compliments to Artistic Director, John Dias and Managing Director, Michael Hurst for making the show available to metro area audiences.
Songbird will be on stage at Two River Theater through July 1. The theater is located at 21 Bridge Avenue in Red Bank. Ticket prices for the show range from $40 to $70 with special discounts for groups, seniors, and U.S. military personnel, their families, and veterans. A limited number of $20 tickets are available for every performance that may be partial view. Tickets for patrons under 30 are $20 and include the best available seats. Tickets are available by calling 732.345.1400 or by visiting https://www.tworivertheater.org/.
Photo Credit: T. Charles Erickson
Related Articles View More New Jersey

Stories

Shows