BWW Review: NEWSIES at Centenary Stage is an Excellent Family Show for the Holidays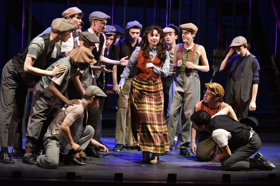 "The game is changing."
By Katherine Plummer in Newsies
If you always wanted to see Newsies, now's your chance. The Centenary Stage Company is performing a wonderful production of this Broadway hit for their "Family Holiday Spectacular." The show is onstage now through December 10th at the Lackland Performing Arts Center's Sitnik Theatre on the campus of Centenary University. Directed and choreographed by Michael Blevins with musical direction by Jarred Lee, the show features a talented cast, a live orchestra, and excellent staging.
Newsies is based on the 1992 Disney film that was written by Bob Tzudiker and Noni White. It premiered as a musical at Paper Mill Playhouse in 2011 and made its Broadway debut in 2012. The show has music by Alan Menken, lyrics by Jack Feldman, and the book by Harvey Fierstein. While on Broadway, Newsies received 23 major theatrical nominations, including eight Tony Award nods, and won Tony, Drama Desk and Outer Critics Circle Awards for its Score and Choreography.
Newsies is inspired by the real-life Newsboys Strike of 1899 in New York City. In the show, Jack Kelly is a tenacious newsboy with dreams of leaving the city and becoming an artist. But when newspaper publisher, Joseph Pulitzer raises the distribution cost of the daily papers to increase company profits, Kelly and the other newsies wage a strike to demand a fair deal. And it's Katherine Plummer, a young reporter, who informs the public of the their activism by writing a compelling newspaper article. What started as a revolt by a group of young newspaper sellers, becomes a bigger movement that captures the attention of the people across New York City and beyond. This is an inspiring story for our times. It proves that individuals can come together to initiate positive change.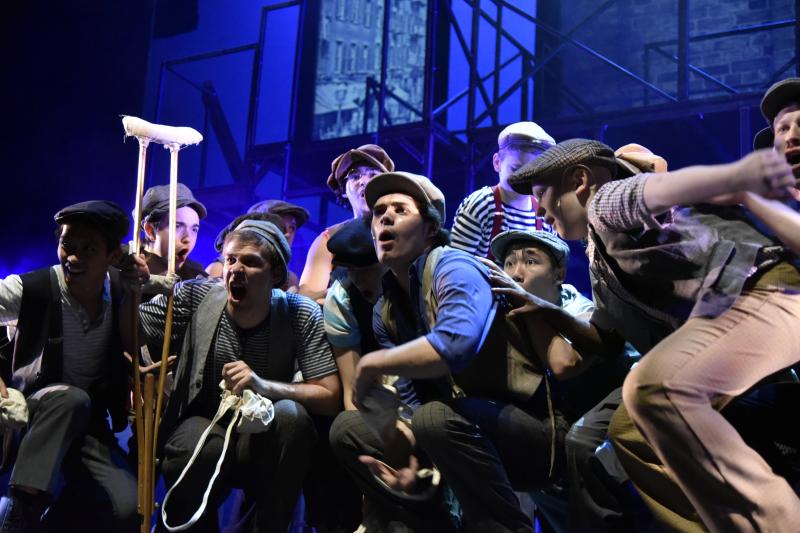 The Centenary Stage Company's production of Newsies has a cast of over 50 performers that consists of professional guest artists, local talent, Centenary University faculty, staff, and students along with the students of the acclaimed Young Performers Workshop. From the show's equity artists to the youngest performers, it is a remarkable troupe that masters the show's storytelling along with the spirited musical numbers. Leading the cast are Jake Jackson as Jack Kelly; McKenzie Custin as Katherine Plummer; Brandon Wiener as Crutchie; Christopher Newhouse as Davie; Jackson Yawger as Les; Carl Wallnau as Joseph Pulitzer; and Stephen Davis as Wiesel.
The full cast includes Joe Anselmo, Teax Armijo, Nick Bettens, Zack Clark. Patrick Cogan, Richard Cort, Izac D. Cruz, Zachary DeBevec, Tyler Donovan, Bob Eberle, Sean C. Fowle, Matthew Fralley, Cina Gabel, Samille Ganges, Sebastian Gutkin, Tony Lee, AJ Lewis, Cynthia Livingstone, Dominick Lusardi, Emma Mason, Richard Malloy, Megan McGill, Brianna Morris, Tim Nagle, Grace Noel, Kevin O' Gorman, Sasha Onishchuk, Raphael Pelczmann, Anthony Raddi, Claudia Raglievich, Kiana Rodriguez, James Russo, Lauren Santarelli, Jack Scarsi, Megan Schmiedhauser, Matthew Sigler, Maxinne Spann, Lauren Taglienti, Jonathan Tanigak, Brandon Vita, Saquan Williams, Andrew Wire, and David Yawger.
The show's brilliant score is wonderfully performed and the musical numbers showcase the cast's dance abilities and their athleticism. Outstanding pieces include "Carrying the Banner," "The World Will Know," "Santa Fe," "Watch What Happens," "Brooklyn's Here," and "Once and for All."
The Production Team has done a fantastic job of bringing Newsies to the Hackettstown stage with set design by Asheigh Poteat, lighting design by Ethan Newman; sound design by Steve Wasylean; projection design by Christopher J. Young; and costume design by Ashleigh Poteat. The Fight Choreographer is Steven Davis, the Technical Director is Jeff Chase, the Stage Manager is Sonya Thiel.
Newsies is a story of triumph over adversity. Centenary Stage Company is presenting a top-notch show for the holiday season that will surely please theatergoers of all ages. We applaud Producers, Carl Wallnau, CSC's Artistic Director, and Catherine Rust, General Manager for making Newsies available to area audiences Get your tickets now and enjoy.
To purchase tickets for Newsies visit http://centenarystageco.org/ or call the Centenary Stage Company box office at (908) 979 - 0900. The box office is located in the Lackland Performing Arts Center at 715 Grand Ave. Hackettstown, NJ and it is open Monday through Friday from 1 - 5 pm and two hours prior to each performance. Centenary Stage Company can also be found across social media platforms; Facebook, Instagram and Twitter. Like and follow to receive the latest in Centenary Stage Company news and special offers.
Photo Credit: Joe Gigli