Review: MERCY at NJ Rep is a Poignant New Play Excellently Presented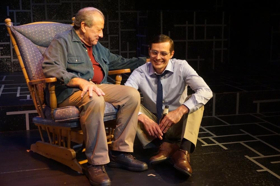 "We can't change the past, but we can work on the present."
By Walter in Mercy
New Jersey Repertory Company (NJ Rep) is now presenting the world premiere of Adam Szymkowicz's play, Mercy. With excellent direction by Gail Winar, the show features a cast that makes this dark comedy totally absorbing.
In Mercy, Orville's wife was a pedestrian killed by a drunk driver. Feeling lost and alone with his newborn daughter, Orville tries to get through his days at the office, while his father, Walter tends to the baby. Orville's workplace becomes uncomfortable when his boss, Brenda says she wants to comfort him, but certainly has something else in mind. The story takes an unexpected turn when Orville encounters Ian, the troubled man with addiction problems who is responsible for his wife's fatality. Orville becomes familiar with his wife's killer, while he considers a way to avenge her death. As Orville deals with grief, responsibility, and moving on with his life, he faces some serious, personal dilemmas.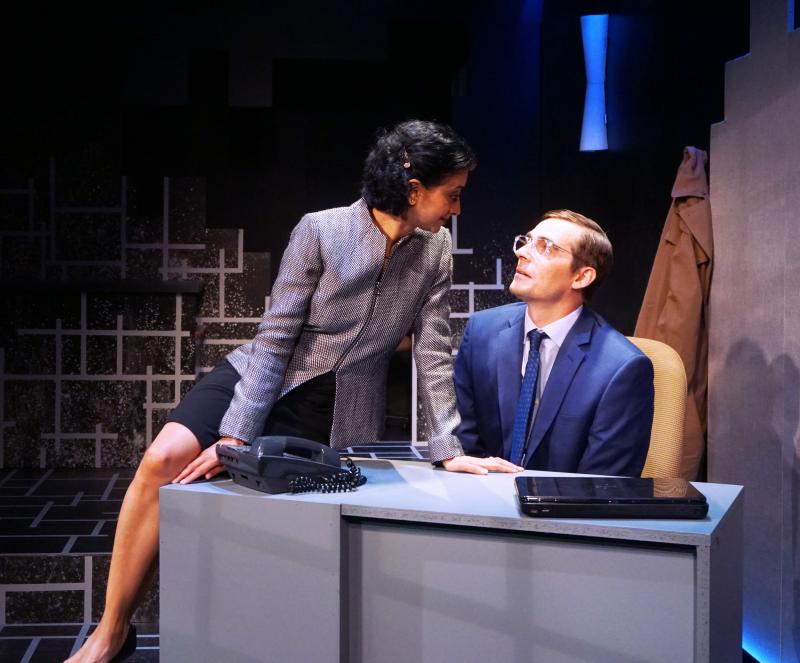 The cast's compelling performances capture the drama, suspense, and humor in Szymkowicz's well-crafted play. Whether it's Walter patiently providing care to his adult son and granddaughter, Brenda subtly propositioning Orville, or Orville confronting Ian, the individual scenes are riveting. The troupe includes Christopher Daftsios as Ian Sanders; Dan Grimaldi as Walter Marks; Nandita Shenoy as Brenda James; and Jacob A. Ware as Orville Marks. Chris Price is the company's understudy.
The Production Staff has done a great job of bringing Mercy to the Long Branch stage with a flexible set that works well for each scene. They include scenic design by Jessica Parks; lighting design by Jill Nagle; sound design by Merek Royce Press; and costume design by Patricia E. Doherty. The Production Stage Manager is Kristin Pfeifer; Assistant Stage Manager is Adam von Pier; Technical Director is Brian P. Snyder; Master Electrician is James Lockhart; Assistant Director is Janey Huber.
Mercy has a significant story that brings to light important issues of our times that include the devastating problems caused by drunk drivers, the trials of single parenting, and the value of family support. Executive Producer, Gabor Barabas and Artistic Director, Suzanne Barabas are continuing to present the finest new theatre productions year-round to metro area audiences.
Mercy runs through July 15 at New Jersey Repertory Company located at 179 Broadway in Long Branch with convenient, free parking available in the rear lot. Performances are Thursdays, Fridays 8:00 PM; Saturdays 3:00 PM and 8:00 PM; Sundays 2:00 PM.
Tickets are $46. Annual subscriptions are $225 per person. For tickets or additional information call 732-229-3166 or visit their web site at http://www.njrep.org/.
Photo Credit: Suzanne Barabas