BWW Review: ITS A WONDERFUL LIFE: A LIVE RADIO PLAY at The Shakespeare Theatre of NJ is Marvelous
Holiday theatergoers have something to celebrate. The Shakespeare Theatre of New Jersey is now presenting their outstanding season finale, It's a Wonderful Life: A Live Radio Play through December 31. The beloved Christmas story is cleverly performed as a radio broadcast. Directed by Doug West and adapted by Joe Landry, the production features a superb cast and excellent staging. It is a marvelous show that will please the entire family.
The radio play is entirely faithful to the classic story depicted in the original 1946 Christmas film, It's a Wonderful Life produced and directed by Frank Capra. The movie was based on the short story, "The Greatest Gift" written by Philip Van Doren Stern. It is a tale that has captivated Americans for generations with its distinctive characters, and inspiring moral.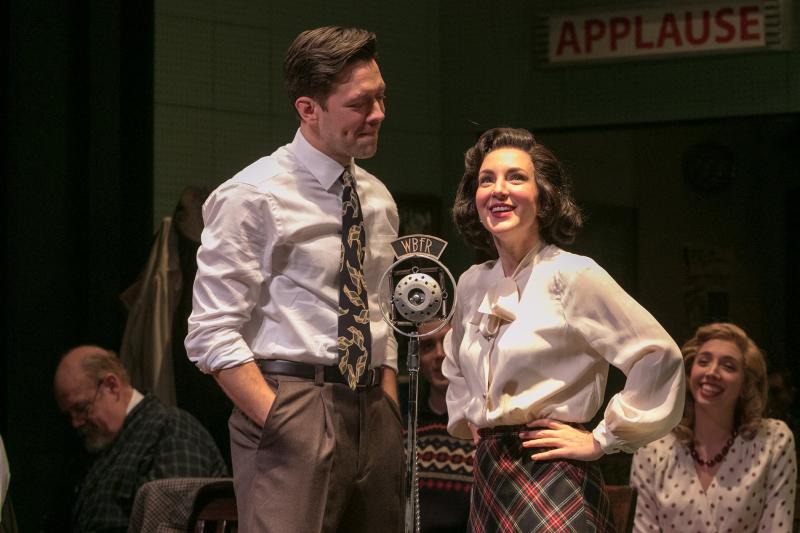 The show is set in the 1940's at the WBFR Radio studios in New York City where a group of actors and skilled technicians gather to create a live broadcast of It's a Wonderful Life. The radio personalities enact the story of George Bailey who, after many disappointments and struggles, wishes he had never been born. His guardian Angel, Clarence is sent to earth to help George realize how many lives he has impacted, and how outcomes would have been very different and often tragic if he had never existed. As the story is performed, the audience experiences a dynamic radio show of yesteryear with Foley sound effects, musical accompaniment, and commercial spots.
The Shakespeare Theatre of New Jersey has assembled the ideal company for this theatrical delight. They master the storytelling and capture the humor that occurs when the radio performers quickly transition to portray multiple roles. The cast includes John Ahlin as Mr. Potter/Old Man Collins/Bert; Elizabeth Colwell as Violet Bick/Zuzu; Leavell Javon Johnson as Joseph/Horace/Charlie/Binky; John Keabler as George Bailey/Jake Laurents; Susan Maris as Mary Hatch/Sally Applewhite/Young Mary Hatch; James Michael Reilly as Billy Bailey/Martini/Old Man Gower/Ernie; Andy Paterson as Clarence Oddbody/Harry Heywood; Russell Sperberg as Harry Bailey/Tommy Bailey/Sam Wainwright; and Tina Stafford as Rose Bailey/Mrs. Hatch/Jaine Bailey/Matilda.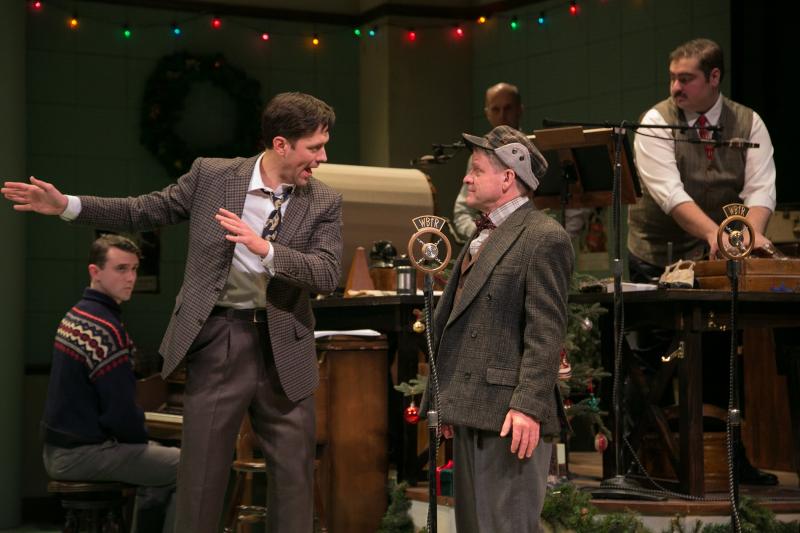 The Creative Team has brought the 1940's to life and transformed the stage into an authentic radio station. The Team includes scenic design by Charlie Calvert; lighting design by Matthew Adelson; costume design by Natalie Loveland; and sound design by Steven Beckel. The Production Stage Manager is Kathy Snyder.
It's a Wonderful Life: A Live Radio Play is "on the air" and the show will enthrall you with its charm at The Shakespeare Theatre of New Jersey. We applaud Artistic Director, Bonnie J. Monte and Managing Director, Todd Rosen for making this production available to metro area audiences. Its positive message is what all people need this holiday season.
It's a Wonderful Life: A Live Radio Play runs for approximately 2 hours with one intermission. The Shakespeare Theatre of New Jersey is located at 36 Madison Avenue, Madison, NJ on the Drew University Campus. The Theatre has a 30 under 30 where patrons aged 30 and under can purchase tickets for $30 with a valid ID subject to availability. They have $15 student rush tickets available 30 minutes prior to each performance with a valid student ID and a limited number of Pay What You Can tickets for every performance on a first come, first served basis. For ticketing, call the Box Office at 973.408.5600 or visit www.ShakespeareNJ.org.
Photo Credit: Jerry Dalia
Related Articles View More New Jersey

Stories

Shows