BWW Interview: Carly Zien in TRYING at George Street Playhouse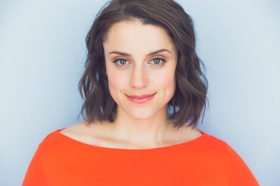 George Street Playhouse (GSP) is now presenting Trying by Joanna McClelland Glass. It will be on stage March 13 to April 8. The poignant drama will be directed by Jim Jack, who is helming his second GSP mainstage production following the widely acclaimed 2016 production of My Name is Asher Lev. The show stars Philip Goodwin and Carly Zien.
Trying tells the story of internationally known Francis Biddle, Chief Judge of the Nuremberg trials, Attorney General under President Franklin D. Roosevelt. At 81 years old, he is sharply cantankerous and trying to put his life in order as he works on his memoir. When Sarah, a young, new secretary is hired, the two come to understand how strangers at very different places in their lives can unexpectedly and forever influence each other. Trying is based on the playwright Joanna McClelland Glass' real-life experience as Biddle's secretary.
Broadwayworld.com had the pleasure of interviewing Carly Zien who plays Sarah in Trying. She shared with us some interesting thoughts about her career and the upcoming show.
Zien is thrilled to be making her George Street Playhouse debut. Theater: One Slight Hitch (Totem Pole Playhouse); Over the River and Through the Woods (Flat Rock Playhouse); Buzzer (Cincinnati Playhouse); and Maggie in Cat on a Hot Tin Roof (Chautauqua Theater Company). Favorite roles from school include Viola and Olivia in two different productions of Twelfth Night, Lula in Dutchman, and Harper in Angels in America. Film and TV: A Woman, A Part; The Marvelous Mrs. Maisel (Amazon); Nightcap (PopTV). MFA: Yale School Of Drama.
We'd love to know about your earliest interest in theatre arts.
I was interested in theater from a very early age! My first professional show was when I was in fourth grade, at First Stage Children's theater in my hometown, Milwaukee, Wisconsin. It was a production of Little House on the Prairie and I played Nelly, the mean next door neighbor. But of course there were a lot of private performances for my family long before that.
Is there someone who had a great influence on your career?
My teachers had a tremendous influence on my career. All of my grad school teachers: Ron Van Lieu, Fay Simpson, Erica Fae, Evan Yionoulis, and others. My college theater professor Toni Dorfman. My high school theater director Ken Miller. The artistic director of First Stage, Rob Goodman. And of course my family. They've always encouraged me to do what I love, and I'm very lucky for that.
What advice do you have for people who are interested in pursuing acting?
Get into a good acting class. Avoid teachers who make you feel small. Read plays, watch TV shows and movies that inspire you. Audition for plays at your school or in your town. Be sure to get the education you need before you go out there to pursue the dream. Acting is a craft, and in my opinion it requires a foundation in training if you want to seriously pursue it.
Trying is drawn from fascinating American history. Did you do any particular research to get ready for your role?
I wish I had more time to do more research! There wasn't a whole lot of time between auditions and rehearsals so my first priority was memorizing lines. Luckily, our director, Jim Jack, gave us a few days in rehearsal to read up on Judge Biddle and to research the time period. There was so much going on in America in the late 60's. The Vietnam War was raging, a beautiful anti-war movement was blooming all across the country, and leaders like John F. Kennedy, Dr. Martin Luther King, and Robert Kennedy were assassinated within months of each other. This is the backdrop of the story, and it takes place in the heart of it all: Washington D.C.
What are some of the challenges your role as Sarah in Trying?
It's a two-person play with a lot of dialogue and a lot of "business"- moving papers around, typing, changing costumes in between every scene. In addition to trying (heh heh) to be emotionally connected and focused on listening to my scene partner, I'm required to remember a lot of technical stuff! That's been the biggest challenge since I can get a little spacey sometimes.
Tell us about experience working at GSP.
The people who work here are so warm and welcoming. And I really lucked out getting to work with Jim Jack, Phillip Goodwin, and Jane Pole. They are tremendous professionals with big hearts. I'm lucky to be in their company. And of course the rest of the staff at GSP have been tremendous, from the artistic director David Saint to the costume and wardrobe crew to the development and marketing teams. And there are horses outside in their new location! It's very serene.
What would you like NJ audiences to know about the show?
Bring tissues. And enjoy!
For the future?
We're living in a heated political moment, similar to 1968, the year the show takes place. I think Biddle and Sarah are both people who have integrity and dignity and who deeply care about helping others and making a difference in the world before they die. We can all learn something from that.
For more information on Carly Zien, visit: www.carlyzien.com Reel: https://vimeo.com/212595906/description
Follow her on social media: Instagram and Twitter: @carlyzien, facebook.com/carlyziencoaching
Trying will be performed at George Street Playhouse through April 8. The Playhouse is located at 103 College Farm Road in New Brunswick on the Cook Campus of Rutgers University while their new theatre is being built in the heart of New Brunswick. The interim location is right off Route 1 (just two miles from Livingston Avenue). The venue features 190 seats, expansive lobby spaces including an outdoor patio, free parking and barrier free access to all public areas.
For ticketing, directions, and more information, please visit https://georgestreetplayhouse.org/ or call 732.246.7717.
Photo Credit: Courtesy of Carly Zien
Related Articles View More New Jersey

Stories

Shows