Art House Productions to Open New Venue with LEISURE, LUST This Fall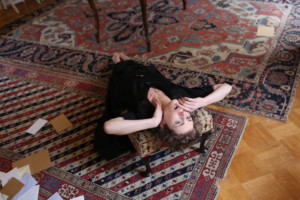 Art House Productions has announced that the Jersey City-based performing and visual arts organization will open its new space on Coles Street with Sara Farrington's Leisure, Lust from October 26 through November 12. Leisure and Lust are part of the full-length play Leisure, Labor, Lust.
Labor will be developed during the company's month in residence at Art House Productions and will be presented as a staged reading at the Sunday, November 12 matinee of Leisure, Lust.
Inspired by the worlds of Edith Wharton and Jacob Riis, Leisure, Lust tackles issues of gender, sex, love, mental illness, labor, immigration, and explores how class is woven into the fabric of American society, despite our founding narrative to the contrary. The cast features Stephanie Regina, Gabriella Rhodeen, Kyle Stockburger and Christopher Tocco.
Director Marina McClure leads an all-female creative team that includes set designer Mary Hamrick, costume designer Alice Tavener, and stage manager Kristiana Cowcer.
Art House's Executive Director Meredith Burns was introduced to Farrington and McClure's work by Art House Artistic Associate, Kristy Dodson, who thought Leisure, Lust would be the perfect show to open the new, fully-accessible arts center.
"It combines everything that I admire in a play," says Burns, who began her career as an actor working off-Broadway and regionally. "It's sharp and not afraid to cut, it's funny,
self-aware, and it has tremendous compassion for its characters."
In selecting the work as the inaugural production, Burns draws a direct correlation between our values as Americans now and during Edith Wharton and Jacob Riis' society in the late 1800's/early 1900's.
"We're still fame and money obsessed. We're still wary of outsiders and generally unconcerned with the poor and their stories, and all of us seem to always be striving to fit in and to achieve something ostensibly better than what it is we have despite the toll it may take on our relationships and spiritual lives," says Burns. "It also deals with shame and truth, or lack thereof, which I think are particularly relevant themes right now. Plays like this help me feel more connected to what's important while also delivering the catharsis I look for when seeing theater. I am so proud and excited to be able to share this play and these artists' work and I'm looking forward to hearing the responses."
In addition to the theatrical production, the Art House Gallery will have an exhibition in alignment with Leisure, Lust called Unreliable Narrator which challenges the notion that "history is recorded by the victors" by highlighting alternative points of view on missing histories. Audiences will be able to enjoy the gallery before the performance, at intermission, and immediately following the performance.
Performances of Leisure, Lust are Thursday-Saturday at 7:30 p.m.; Sundays at 3:00 p.m. Tickets: $25. Students & Seniors: $20. To purchase, visit arthouseproductions.org or call 201.915.9911.
Art House's state-of-the-art, ADA compliant 5,500 square foot facility has elevator access, gender-neutral family bathrooms, and wheelchair ramp accessibility. For accessibility requests and inquiries, contact info@arthouseproductions.org or call 201-915-9911.
Sara Farrington is an NY & NJ based playwright. MFA from Brooklyn College w/ Mac Wellman. Sara's most recent play, CasablancaBox, was nominated for two Drama Desk Awards. She was a recent HARP Artist at HERE Arts Center and is a current resident artist at CityTech's TheatreWorks program to create Brando (dir: Reid Farrington). Upcoming and recent plays: Brando (CityTech), Leisure, Labor, Lust (The Tank), Cosmicomics (The Flea, dir: Marina McClure), The Return (Metropolitan Museum of Art), Leisure, Lust (The Mount), Near Vicksburg (Incubator Arts), Requiem for Black Marie (Incubator Arts, Stella Adler), Mickey & Sage (Incubator Arts, ShelterBelt, Omaha). Her work has been supported by The Ventrous Fund, NYSCA, Axe-Houghton Foundation, MediaTHE, The Arch & Bruce Brown Foundation. Sara's work is published by Broadway Play Publishing, Inc. Sara and husband Reid have two little boys, Jack and Levi, and live in Maplewood, NJ. For more: www.ladyfarrington.com.
Marina McClure (Director) helms the multidisciplinary art lab The New Wild and is a
resident director at the Flea Theater. Her work has been seen throughout the US, Canada and South Africa. Recent: Tear a Root from the Earth, a new musical for Afghanistan in collaboration with Qais Essar and Gramophonic (New Ohio's Ice Factory; Kennedy Center); CasablancaBox (2017 Drama Desk Nomination for Unique Theatrical Experience); Wing It! a giant puppet parade and large-scale community performance for the Tony-winning Handspring Puppet Company in celebration of South Africa's National Day of Reconciliation; an episodic adaptation of Italo Calvino'sCosmicomics as a part of the Flea's new initiative for young audiences, Cereals. Upcoming: Kalean Ung's Letters from Home (ISC in Los Angeles; UC San Diego), Steph del Rosso's Fill Fill Fill Fill Fill Fill Fill (The Flea), the premiere of Leisure, Labor, Lust (The Tank). Marina teaches directing at The National Theater Institute at the O'Neill and frequently directs at Dartmouth College and NYU-Tisch. MFA: CalArts. www.marinamcclure.com
Art House Productions is a 501(c)(3) nonprofit organization committed to the development and presentation of performing and visual arts programs in Jersey City, NJ. Art House Productions presents original theater, music events, visual arts, experimental performance, classes, video/new media and the citywide arts festival, JC Fridays. For more information about our programs, visit www.arthouseproductions.org.
Art House Productions (AHP) sprung from the desire to connect a devastated community through art and dialogue after September 11, 2011. Since then, AHP has established itself as a pioneer of artistic and cultural programming in Hudson County. Now in its 16th year, AHP bring Northern NJ audiences a professional season of theatrical performances and visual art exhibitions as well as the free, city-wide arts festival, JC Fridays. Art House Productions has significantly influenced the advancement of the arts community, acting as one of the major pioneering forces for the arts in Jersey City. In 2007 Art House became incorporated and was granted nonprofit 501(c)(3) status. In late 2007, the organization was presented with the Key to the City and an official Proclamation for its outstanding contributions to the City of Jersey City, NJ.
Pictured: Gabriella Rhodeen. Photo by Marina McClure.
More Hot Stories For You