New London Barn Playhouse Presents GREASE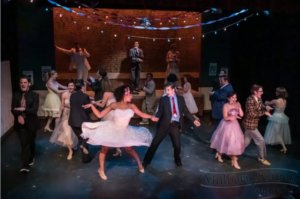 Welcome to Rydell High, where star-crossed Danny and Sandy try to find a place for their forbidden love. Grease will have you hand jivin' and beboppin' all the way down the aisles!
Grease runs July 17th thru August 4th including three 2pm matinees on Wednesday, July 17th, Wednesday, July 24th, and Wednesday, July 31st and three 5pm performances on Sunday, July 21st, Sunday, July 28th, and Sunday, August 4th. All other performances are Tuesday thru Saturday at 7:30pm.
It's the 1950's and greaser Danny Zuko and new girl Sandy are in love. After a storybook summer together at the beach, Danny comes back to his hometown and Sandy starts at a new high school. What they don't know is they are both attending Rydell High. Danny's the leader of the T-Birds, a group of leather jacket-wearing greasers, while Sandy hangs around the Pink Ladies, a group of hoop skirt-wearing girls lead by Rizzo. When they meet again at Rydell High, Danny is not the same guy Sandy fell for last summer.
Starring in this production is a wonderful cast of returning Barnies from past seasons, accompanied by some new talent. John Battagliese* plays greaser Danny Zuko in his Barn Playhouse debut, most recently he was seen touring the country in the First National Tour of Cruel Intentions: The 90's Musical. Dawn Tucker* portrays Rydell High Principal Miss Lynch in her Barn Playhouse debut, previously in productions of Showboat, Sound of Music, and Bye Bye Birdie. Daniel S. Hayward returns to the Barn as Vince Fontaine after being part of the Acting Intern company in 2015 and recently returning from the national tour of Finding Neverland. Kailey Boyle, last seen as an Acting Intern in summer 2017, strikes back as Rizzo before she begins her senior year at Baldwin Wallace University in Ohio. Other credits of Boyle's include Sophie Sheridan in MAMMA MIA! at Idaho Shakespeare. Jack Higgins appears on the Barn stage for the first time as the Teen Angel, but was last seen in The Little Mermaid at Northern Stage. Russell Garrett++ directs Grease, returning for another season after directing Camelot in 2018 as well as Forever Plaid and The 39 Steps. Russell's Broadway credits include The Scarlet Pimpernel and Seven Brides for Seven Brothers. Michael D. Jablonski is back at The Barn to Choreograph Grease after choreographing West Side Story in 2017. Other credits for Jablonski include The Book of Mormon, West Side Story, and Cry-Baby. The Barn celebrates a group of remarkable and talented designers for this production - Karl Green (Costume Designer), Brad Carlson (Scenic Designer), and Cecilia Durbin+ (Lighting Designer). The Stage Manager for this production is Elizabeth Haroian*.
Also starring in Grease is the 2019 Acting Intern Company! Caroline Attayek (Patty Simcox), Bradley Betros (Roger), Matthew Carp (Ensemble), Nick Cortazzo (Johnny Casino), Cara Dipietro (Jan), Lauren Echausse (Sandy), Stephanie Everett (Ensemble), Darron Hayes (Doody), Hannah Hunt (Frenchie), Sabrina Koss (Ensemble), RhonniRose Mantilla (Cha-Cha DeGregorio), Haley McCormick (Marty), Justin Norwood (Eugene), Alec Michael Ryan (Kenickie) and Trevin Parker (Sonny).
Tickets start at $20 for adults and are available at nlbarn.org/tickets, by phone at 603-526-6710 or at the New London Barn Playhouse box office every day from 11AM to 6PM. Rush tickets are available for $18.00 by downloading the TodayTix app.