Troy Castellano And McNamara's Irish Pub & Restaurant To Host 2nd Annual Holiday Fundraiser & Instrument Drive
Featuring singer/songwriters Troy Castellano, Lauren Mascitti, Jimmy Charles, and Ashlyn Grayce.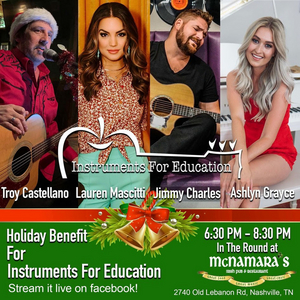 Middle Tennessee-based Instruments For Education (IFE) will host its 2nd annual holiday fundraiser and instrument drive raising money and collecting musical instrument donations for Nashville-area students, teachers, and school classrooms.
The magical night of music will take place on Wednesday, December 7th, 2022 at 6:30 PM CST in Turk's Lounge (an ongoing drop-off location for this worthy charity), located on the second floor of McNamara's Irish Pub & Restaraunt (2740 Old Lebanon Road, Nashville, TN. 27214, Phone: 615- 885-7262).
If you are unable to attend, you can catch the show streaming live on Facebook HERE. The lineup will feature unforgettable performances from singer/songwriters Troy Castellano, Lauren Mascitti, Jimmy Charles, and Ashlyn Grayce. There is NO cover! Cards will be placed on tables with donation QR codes and all proceeds will benefit IFE. Have an instrument you'd like to donate? Bring it to the show and they will place it into the hands of teachers, students, and classrooms! Your support is what allows these instruments to be brought into the schools and utilized to enrich students' lives and their education.
Please follow IFE's social platforms and consider donating even if you are unable to attend! Another drop-off location in addition to McNamra's is Bluesman Vintage (4922 Port Royal Road, Unit B1, Spring Hill, TN, 37174). You can also donate HERE.
As a way to give back to the community, Veteran Singer-Songwriter, Troy Castellano founded Instruments For Education (IFE) in the summer of 2018 and launched the non-profit, 501(c)(3) organization to provide Middle Tennessee-area students, teachers, and schools with musical instruments for their classrooms and students. IFE collects, purchases, and distributes musical instruments and provides them to school classrooms that may not otherwise have it in their budget to purchase instruments. Allowing upcoming kids a hands-on way to learn about musical instrument(s), IFE has donated/placed nearly 500 instruments since 2018! Join our mailing list and be the first to receive info on upcoming events! Visit the website HERE. In addition to providing musical instruments to students, all donations are tax-deductible.
Troy Castellano's musical career began in his home state of Minnesota where he wrote songs for and played in original bands spanning many genres. Early on, he was on Tommy Lee's (Motley Crue) 2010 Methods of Mayhem, the winner of several battle of the bands, country showdowns, and songwriter's competitions. He also played Midway Stadium with Cheap Trick and Styx in St. Paul Minnesota. Castellano decided to dedicate his time to his music career and relocate his family to Nashville. A true and extremely prolific songwriter, Castellano enjoys the process of creating music. Whether it's songwriting, singing, playing, or producing, he loves every aspect of making music. In his songs, he makes every word count.
Castellano is also an accomplished jingle writer. He has had numerous independent cuts, major holds, and hosts regular songwriter rounds at some of Nashville's most prominent venues including The Bluebird Cafe The Listening Room Cafe, 6th and Peabody, The Local, Tin Roof, and has played many of the industry's most popular songwriter's festivals including Muscle Shoals Songwriter's Festival, Westhaven Porchfest, Tennessee Motorcycle and Music Revival. He has also appeared on 650 AM WSM's Nashville Today, Mainstreet Today, WSMV's Today in Nashville, NashFM's The Ty Bentli Show - Ten Minute Tune. Castellan has to his credit music placements on multiple TV shows on CMT, MTV, TLC, Discovery, CW, Spike, Fox, and has already enjoyed success with many independent cuts including "Grateful," recorded by multi-award-winning Christian artist, Chris Golden (formerly with The Oak Ridge Boys band), which reached #1 across 4 National Inspirational charts.
When he is not writing or performing, Castellano can be found in his small home studio, My Blue Heaven Studio, where he produces everything from competitive songwriter demos to full singles for artists and writers. The music he creates out of his studio has been used on TV shows, been on hold with major recording artists as well as charted singles for rising artists. Look for Castellano's song "I Wanna," co-written with Justin Love and John Cirillo, featured in TNT's original CLAWS series finale, which aired earlier this year streaming on Hulu, DIRECTV, TNT, Spectrum On Demand or via download on Apple iTunes, Google Play Movies, Vudu, and Amazon Video.
Castellano just released his new Christmas single, "This Christmas" which he wrote and produced and it can be found HERE along with all of his other music. For more information on Instruments For Education, visit the Website, Facebook, Instagram, Twitter, and YouTube. You can learn more about Troy Castellano and his music HERE.