SHAKESPEARE IN LOVE Closes Out Nashville Rep's 2018-19 Season at TPAC's Johnson Theatre
SHAKESPEARE IN LOVE Closes Out Nashville Rep's 2018-19 Season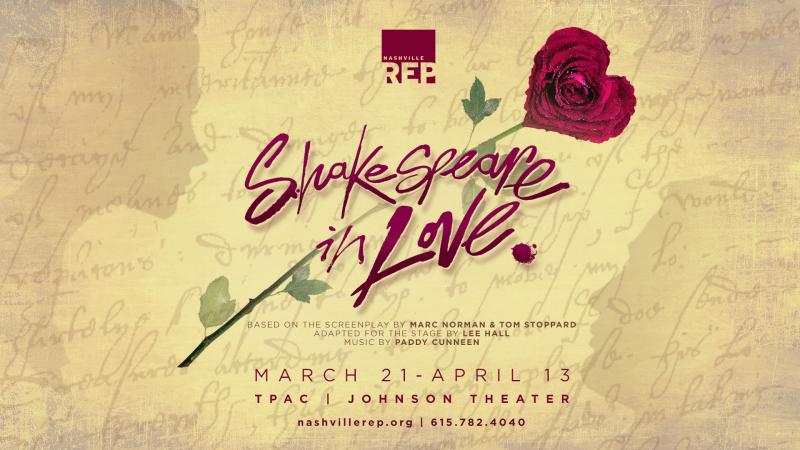 Shakespeare in Love - the final show of Nashville Repertory Theatre's 2018-19 season - opens Saturday night, March 23, at the Andrew Johnson Theatre at the Tennessee Performing Arts Center, running through April 13. Replete with comedy, a secret romance, live music, a play-within-a-play, stunning costumes, swordfights, a hefty wager and Queen Elizabeth I herself, there's also the promise of a very cute dog to entice audiences to the theatre.
Shakespeare in Love was adapted by Lee Hall from the Academy Award-winning film of the same name (written by Tom Stoppard and Marc Norman). Directed by Nashville Rep artistic director Rene D. Copeland, Shakespeare in Love focuses on penniless young playwright Will Shakespeare who is battling writer's block until he meets a young woman who becomes his inspiration.
Described as "a true valentine to the theater," the play focuses on Shakespeare and his struggle to achieve some acclaim in the theater. When he meets the beautiful Viola de Lesseps, the daughter of a wealthy merchant, who dreams of becoming an actor in a time when women were not permitted onstage, Shakespeare finally finds his muse.
Despite learning that Viola's father has promised her to the stuffy Lord Wessex, Will and Viola cannot stay apart. Inspired by their passionate affair, Will begins to write his greatest love story, Romeo and Juliet. With opening night and the wedding day fast approaching, audiences will have the ideal perspective to discover which plot end in comedy and which in tragedy.
Making his Nashville Repertory Theatre debut, Joe Leitess stars as Will Shakespeare, with Cailen Fu, also joining the company for her first role, as Viola de Lesseps. Leitess and Fu lead a cast filled with new faces and veterans of past Nashville Rep productions.
"In a post-Hamilton world, the idea of diverse casting of historical characters is not new, certainly, but I was really excited to have the chance to illuminate universal aspects of the story through casting choices that included actors of color," says Copeland. "I mean, what's more universal than love, and brotherhood, and power?"
"And let's face it: if you're looking for a powerful queen, someone who can command a room absolutely but have a twinkle in her eye, then there's no better choice than Jennifer Whitcomb-Oliva, who will take the stage as Queen Elizabeth."
Joel Diggs plays another historical figure from the Elizabethan era, playwright Christopher Marlowe. Diggs most recently played Booth in Nashville Rep's production of Suzan-Lori Parks' Topdog/Underdog.
Other historical characters in the play are Richard Burbage, the first actor to play many of Shakespeare's leading roles, played by David Ian Lee, and the actor Edward "Ned" Alleyn, his great rival, played by Jacob York. Theatrical financier and owner of the historic Rose Playhouse, Phillip Henslowe, is played by James Crawford in his Rep debut. Writer John Webster appears in the play as a young boy, played by 12-year-old Kevin Rome in his Nashville Rep debut.
Nat McIntyre plays Lord Wessex, the man Viola is promised to marry, and Bobby Wyckoff plays Mr. Fennyman, the financial backer who falls in love with theatre. Rachel Agee plays Viola's nurse, the character who inspires Shakespeare's creation of Juliet's nurse. David Wilkerson joins the cast as Tilney, the queen's Lord Chamberlain, and also serves as Fight Director, creating the lively sword fights in the show.
The ensemble includes Trevor Wheetman, Gerold Oliver, Andrew Johnson, Jonah Jackson, Chip Arnold, Mikey Rosenbaum, Kit Bulla, Seth Brown, Matthew Benenson Cruz, Joy Greenawalt and Katie Bruno. Rahja, a pitbull with an impressive resume, plays Spot, with the help of her human and professional dog trainer Ben Lay.
Wheetman, Rosenbaum, Bulla and Bruno, in addition to playing their roles (and with the assist of some other castmembers), will also provide the play's live music on stage, playing collectively more than 20 different instruments. While Shakespeare in Love is not a musical, it is a play that has a hefty Elizabethan score, including vocal music, for various transitions and scene underscoring. Music direction is by Jason Tucker and choreography is by Pam Atha. Assistant director Santiago Sosa is dialects and vocal coach.
The design team, headed by Nashville Rep director of design Gary C. Hoff, will recreate an Elizabethan world for the play, and besides Hoff's set design, a magnificent Elizabethan environment, the production includes sound by Ned Singh, lighting by Philip Franck and technical direction by Christopher L. Jones. Lori Gann-Smith, Nashville Rep's resident costume designer, is creating the production's 16th century costumes.
Nashville Repertory Theatre's Shakespeare in Love plays TPAC's Johnson Theatre March 23-April 13 with previews on March 21 and 22. Shows are at 6:30 p.m. on Wednesdays and Thursdays, 7:30 p.m. on Fridays and Saturdays, and 2:30 p.m. on Saturdays. For further information or for tickets, go to www.NashvilleRep.org, or call the box office at (615) 782-4040.