OZ Arts Presents WHAT THE DAY OWES TO THE NIGHT By Acclaimed French-Algerian Dancers Compagnie Hervé Koubi
Performances run February 2-4.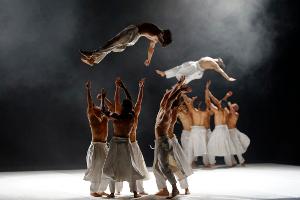 Contemporary arts center OZ Arts Nashville today announced Compagnie Hervé Koubi will take the stage with its astonishingly kinetic performance What the Day Owes to the Night, choreographed by French-Algerian artist Hervé Koubi, on February 2-4.
Described as a "creation of poetic beauty" by The New York Times, What the Day Owes to the Night is a highly-physical production with explosive movement and powerful imagery to, metaphorically, retrace Koubi's family history. Throughout Koubi's life, he believed his family originated in France; however, at 25 years old, his father, while on his deathbed, sent Koubi on a wholesome and artistic journey to the truth. The story of What the Day Owes to the Night explores Koubi's revelation of his family's Algerian heritage, captured impeccably by Compagnie Hervé Koubi's 12 all male French-Algerian and African male dancers who deliver shockingly athletic, high-velocity choreography throughout the piece.
"We're thrilled to host Compagnie Hervé Koubi in Nashville and introduce the community to the work of one of Europe's most distinctive and expressive choreographers," says Mark Murphy, OZ Arts Executive and Artistic Director. "This performance serves as a magnificent journey of exploration and legacy, and we're honored to kick off our international spring series with Koubi's Nashville debut here on the OZ Arts stage."
Compagnie Hervé Koubi is a brotherhood composed of internationally-acclaimed performers who combine expertise in capoeira, martial arts, hip-hop and contemporary styles. What The Day Owes To The Night exudes contagious energy and powerful imagery that pays homage to Sufi traditions and Islamic architecture. With gravity-defying athleticism and mesmerizing grace, the dynamic choreography draws audiences into a world of human architecture, diving bodies and mesmerizing whirlwinds, with musical pieces composed by Hamza el Din and performed by the Kronos Quartet.
Koubi, born in Cannes, was raised in France and graduated from the University of Aix-en-Provence as a pharmaceutical doctor after studying biology and dance. Koubi traces his life history and magnifies links between cultures in What The Day Owes To The Night, where he correlates his French upbringing to his actual roots in Algeria.
OZ Arts will present What The Day Owes To The Night from February 2-4 in its expansive warehouse. Tickets begin at $25 and are on sale now at the following link.
This performance is presented in part support from donors and grants, including the Metro Nashville Arts Commission and the Tennessee Arts Commission, and media sponsorship from the Nashville Scene. To learn more about upcoming performances at OZ, please visit www.ozartsnashville.org.