Miles Gatrell's UNCANNY Next Up for Woven Theatre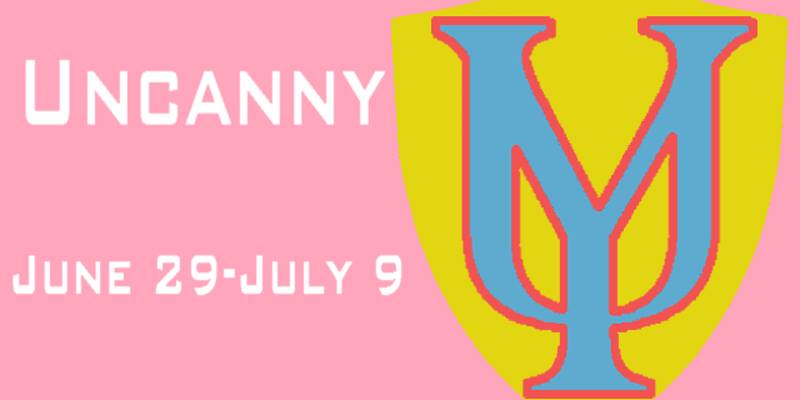 Kicking off Season #2 for Woven Theatre is the original Uncanny by Miles Gatrell, running June 29-July 9 at the Belmont Little Theater beneath Hail Hall: Imagine if Wes Anderson directed the Buffy Cast in an X-Men movie.
High school senior Eileen Monroe (played by Rachel Woods) has been reading minds since she was thirteen. As her faith in the world dwindles, she is offered the opportunity to join a team of teenage superhero called The Uncanny Youths. Under the tutelage of English teacher Paul Paton (Josh Kiev), Eileen and her crew of super-powered oddballs discover if they have what it takes to be the next generation of heroes. Gatrell helped kick start the theatre's first season in the summer of 2016 with the world premiere of Giant Squid.
Director Kyle Odum has this to say about Uncanny: "There is a reason we have superheroes. They did not emerge from some nebulous space. It's not like one day we didn't have them and now we do. The word "superhero" itself dates to around 1917, but we certainly had characters that fit the criteria long before that. Robin Hood was a super hero. Hercules was a superhero. Zorro and The Lone ranger, just to name a few more. Superheroes are not only what we see in a crowded movie theater every summer, surround by a fantastic group of super fans. Superheroes have always existed, and the purpose behind their creation has been largely unchanged. They exist to guide us.
"They exist to show us that there is a better way, that there are things we can strive for. We look to them when times are dark and bleak and we don't know how to continue; when we have no hope. Many of our modern superheroes came out of the darkest of times. Super heroes find their roots in folklore, revolution, and philosophy. Their stories are our stories, just on a slightly more cosmic level. As much as we love our heroes, there is something we must never forget. We most also hold them accountable. Uncanny originally sprouted as a reaction to Man of Steel, but from that inception it has gone so much further. No matter how cosmic or how alien these heroes may be, underneath the capes, and behind the masks they are largely human. Uncanny never forgets that."
In addition to Woods and Kiev, Odum's cast includes Ævar Jónsson (Levi Watson), Sarah Wood (Tabatha Berry), Bret Carson (Traiteur) and Michele Richardson (Villian). Individual tickets and season tickets are available at woventheatre. Tickets are $10 online and $15 at the door.
Related Articles View More Nashville

Stories

Shows