Critic's Choice: Spring is Here...Dance Into The Theater This Weekend

Spring is here! Why doesn't my heart go dancing? Well, Mr. Lorenz Hart, personally, we are too damn busy with creating the magic of live theater: We're directing a show (Daddy's Dyin'...Who's Got the Will? opens next week - April 20 - at The Larry Keeton Theatre in Donelson, thank you very much) and trying to make it out to see as much theater in Nashville as possible before old age takes its toll - it's tough out there for a theater critic!
That, however, doesn't mean we don't have the time to tell you, gentle readers, where the hell you need to be every night of your life! Obviously, you need to be out and about celebrating your fellow artists and assorted theater types by seeing their shows...here are some of our suggestions about where to go to see and be seen, as it were, in the much-anticipated return of our weekly column Critic's Choice!
During your downtime, might we suggest you start penciling in dates for the upcoming new seasons of shows at some of the region's theater companies - TPAC revealed its Broadway series offerings for 2017-18 this week, and everyone from Studio Tenn to Circle Players (and a whole bunch of others in between) have announced their upcoming shows to whet your appetite for live theater - and there's clearly no time like the present to start planning so you don't miss anything everyone who's anyone will be talking about in the months ahead. Trust me, it works!
Three shows are opening Thursday, April 13: Woodland Entertainment's production of Jeff Swafford's Crazy All These Years, Nashville Children's Theatre's revival of its 2011 production of Goodnight Moon, and William Shakespeare's Richard II, which is a collaboration between Nashville Shakespeare Festival and Lipscomb University Theater that features an all-woman cast that includes Denice Hicks, Beki Baker, Evelyn O'Neill Brush, Carrie Brewer, Rebekah Stogner, Emily Meinerding and Terri Occhiogrosso, among a plethora of other fierce females. Opening in Dickson Friday night is Renaissance Players' production of Aladdin Jr., directed by Jarrod Clark, with music direction by Amanda Mollenhour and choreography by Alaina Deaver, while the fine, if slightly drunken, folks (we're looking at you Angela Gimlin and Zach Parker to designate a, well, "designated" driver) of Inebriated Shakespeare enact their wacky version of Much Ado About Nothing at the Music Valley Event Center.
Among shows continuing this weekend, Chaffin's Barn Dinner Theatre's production of The Nerd, featuring an all-star cast that includes Brett Cantrell, Martha Wilkinson, Joel Diggs, Corinne Bupp, Tony Nappo, John Mauldin and Aiden Mauldin, is serving up laughs and a bountiful buffet in West Nashville.
Downtown, at TPAC's Andrew Johnson Theatre, Lorraine Hansberry's A Raisin in the Sun, starring Eddie George, Jackie Welch, Tamiko Robinson Steele, Lauren Frances Jones, Brandon Hirsch, James Rudolph and more local stage stars, continues its run through April 22, providing an incisive look at one of American theater's iconic plays. The remarkable production, from Nashville Repertory Theatre's producing artistic director Rene Copeland should not be missed.
The critically acclaimed (which means we liked it) The Amish Project, the annual joint production of Actors Bridge Ensemble and Belmont University Department of Theatre and Dance at the Belmont Black Box Theatre, takes off the Easter holiday weekend but will be back in action next Thursday night.
And if you are considering stretching your weekend through Monday, you'll want to keep in mind that MAS Nashville, those five wonderful women of legend and lore (aka Erin Parker, Laura Matula, Melodie Madden Adams, Cori Anne Laemelle and Megan Murphy Chambers) bring their own unique brand of entertainment to the stage of the Belcourt Theatre for their tenth - count 'em, X - show!
Here are some details to help you make your choices in a more informed fashion:
Everybody's favorite bedtime book is magically transformed into an imaginative, unforgettable theatrical experience as Goodnight Moon takes the stage at Nashville Children's Theatre April 13 through May 14.
Centered on the bedtime ritual of Bunny, Goodnight Moon takes audiences on a tour of the "Great Green Room" as Old Lady struggles to get Bunny into his bed and then go to sleep. With playful puppetry and a delightful score, Bunny explores his imagination, introducing audiences to a hundred delightful surprises including dancing bears playing musical chairs, the Tooth Fairy, a mischievous mouse, and a nervous cow jumping over the moon.
Written by Margaret Wise Brown and illustrated by Clement Hurd, Goodnight Moon is one of the best-selling children's storybooks of all time. More than 60 million copies of the book have been sold since it was first published in 1947. It was adapted for the stage in 2006 by writer, composer, and lyricist Chad Henry into a sparkling, wonder-filled musical that elaborates on the original with style and wit, yet remains true to the simple, loving heart of the beloved book.
Previously presented in January 2011, the ensemble cast is comprised of NCT veterans and features Bobby Wyckoff as Bunny and Rona Carter as Old Lady. Also returning to the roles they first played six years ago are Amanda Card as Mouse, Shawn Knight as Sandman and Samuel Whited as the Tooth Fairy. The original production was conceived and directed by the late Scot Copeland. Company Stage Manager Dan Brewer oversees the remounting of this production.
Musical direction is by Shawn Knight with choreography by Rona Carter. Set design by Nashville Repertory Theatre's Gary Hoff; lighting design by Scott Leathers; costume design by Patricia Taber; and sound design is by Dan Brewer.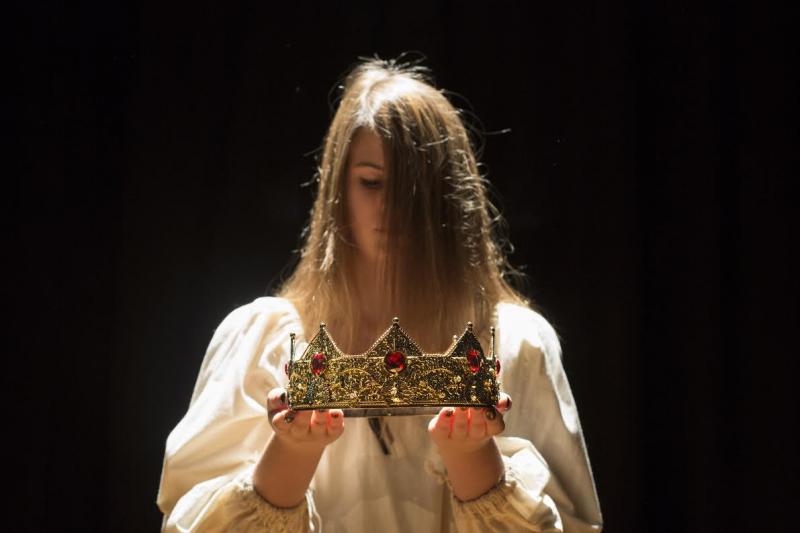 The Nashville Shakespeare Festival continues its 2017 season with Richard II, a co-production with Lipscomb University, which will run from Thursday, April 13, through Sunday, April 23. The rarely-produced play features an all-female cast and will be performed at Lipscomb University's Shamblin Theatre.
"We are thrilled to work with Lipscomb University on this production of Richard II at the intimate Shamblin Theatre," said Denice Hicks, executive artistic director of the Nashville Shakespeare Festival. "Director Sean Martin has a clear vision, and the all-female cast is going to heighten the theatricality of the play, allowing the audience to focus on the intriguing story and the magnificent language. Working with local professionals will offer the Lipscomb students a practicum experience that is invaluable."
Richard II is William Shakespeare's historic tale of a vain king and the powers that commandeer him. Sean Martin, a London-trained, relative newcomer to Nashville and adjunct professor at Lipscomb, directs the performance, which features seven local professional actresses and nine Lipscomb students.
"We've had a relationship with the Nashville Shakespeare Festival for several years and this co-production of Richard II formalizes the relationship further," said Lipscomb theatre department chair Beki Baker, who served as the NSF education director before coming to Lipscomb full-time. "Lipscomb students will have the opportunity to work alongside a true professional company, and it will also give Lipscomb's female-heavy department an opportunity to get more of its students on stage."
Spring Shakespeare performances of Richard II are open to the public and run Thursday through Saturdays at 7:30 p.m., Saturday matinee performances at 2:30 p.m. and a Sunday performance on April 23 at 2:30 p.m. School matinees are available by contacting education@nashvilleshakes.org and tickets are $8. Tickets can be purchased online at theatre.lipscomb.edu or at the door. Lipscomb University's Shamblin Theatre is located at One University Park Drive in Nashville.
Woodland Entertainment founder Jeff Swafford will bring his new play Crazy All These Years from the screen to the stage of Nashville's iconic Darkhorse Theater April 13-22.
Originally shot as a film featuring local actress Cinda McCain, Crazy All These Years is a poignant yet humorous look at life, death and the damage caused by running away from the past. This new drama, described as "quiet and compelling," focuses on Ben, a gay man who returns to his small Tennessee hometown to care for his cantankerous dying mother. As they struggle to understand one another, Ben must also examine his previous relationships and the broken hearts left in his wake.
"The idea for this story started out as a play," says Swafford, a stage actor during his early career. I've always wanted to see it on stage because I believe the emotional impact of the story lends itself well to live theater and I'm excited to see it in front of an audience." Swafford helms the world premiere production of the stage presentation, having served as writer/director of the film version of Crazy All These Years, as well as the web series Three.
After graduating from Murfreesboro's Middle Tennessee State University, Swafford moved to Los Angeles and worked in the film industry for 15 years, most notably with director Quentin Tarantino and producer Lawrence Bender. His credits include such films as Jackie Brown, Kill Bill (Vols. 1 & 2) and Good Will Hunting.
The Nashville premiere of Crazy All These Years marks the first theatrical production of Swafford's company, Woodland Entertainment.
The cast of Crazy All These Years includes local favorites Cinda McCain (as Martha), Michael Adcock (as Ben), Jennifer Richmond (as Lori) and Daniel Hackman (as Joe).
Woodland Entertainment's Crazy All These Years runs select dates April 13-22 at Darkhorse Theatre, 4610 Charlotte Avenue, Nashville. Curtain is at 7:30 p.m. Thursday-Saturday, April 13-15 and 20-22. Tickets are $15 and are available online at www.ticketsnashville.com or at the door 30 minutes prior to show time. Seating is limited. A portion of each ticket sold benefits the Tennessee Equality Project.
Nashville Rep's production of A Raisin in the Sun - opening night sold out so quickly that the show was held-over for an extra week - features startling performances from its starry cast and we can't help but continue to consider their achievements in this much-considered, often studied play and think about its impact throughout its storied life in the theater. Running at TPAC's Andrew Johnson Theatre through April 22, there are pay-what-you-can performances to ensure that everyone has an opportunity to enjoy this classic work.
From our review: Jackie Welch, Tamiko Robinson Steele and Lauren Frances Jones together onstage are like the royalty of Nashville theater: three formidable actresses who bring a wealth of experience to any role they play as individuals. Yet, collectively, the three women are more than mere forces of nature, they are nature itself, their remarkable talents combining to create a theatrical experience that will long be remembered, venerated and discussed among those people fortunate enough to see them in Nashville Repertory Theatre's stunning production of Lorraine Hansberry's A Raisin in the Sun.
Directed with passion and heartfelt emotion by Rene D. Copeland, Nashville Rep's producing artistic director, and starring NFL legend/Broadway veteran and First Night Award winning actor Eddie George in the role of Walter Lee Younger, this production of A Raisin in the Sun isn't approached as an aging work of art in some museum of the theater. Rather, Copeland crafts a production that breathes new vitality into Hansberry's classic work, revealing it as an organic - still evolving and as timely as ever - drama which still challenges its audiences to examine the facts and failings of their own lives in the communities in which they live.
Hansberry's affection for the Youngers is obvious and reverberates throughout her sharply written dialogue - and her incisive consideration of the family's efforts to pursue its own version of the American dream, amid the changing racial climate of post-World War II America, closely mirrors events that her own family endured prior to the war and resulted in a lawsuit that found its way to the Supreme Court. Hansberry's vividly created, multi-dimensional characters are made of flesh and blood, individuals to whom you find yourself emotionally drawn. In fact, if you find yourself unmoved by events taking place onstage, you must be heartless, so completely involving is Hansberry's script and so riveting are the performances on display in Copeland's exquisitely crafted revival.
Hansberry's script - and the subsequent success of the play on Broadway (including a 2004 revival that starred Sean Combs, Audra McDonald, Sanaa Lathan and Phylicia Rashad and a 2014 revival that featured Denzel Washington, Sophie Okonedo, LaTanya Richardson Jackson and Anika Noni Rose) and in films - has rendered it an American classic, often revered and sometimes even vilified (George C. Wolfe's The Colored Museum contains a vignette called "The Last Mama-on-the-Couch Play," that almost certainly satirizes Hansberry's work).
Left to consider what might have been, what could possibly be and our role in whatever transpires, audiences witnessing the superb performance of A Raisin in the Sun will have much to talk about after the show's final curtain has figuratively rung down. The emotions expressed and the life lessons learned throughout Hansberry's three-act play (here presented in two acts, with one intermission) are certain to haunt your thoughts in the days that follow.
With George headlining the production - he's been considered a Nashville treasure since first coming here as a Tennessee Titan, gaining even more notoriety as his role as a community activist and arts advocate has grown in his post-football years - audiences are surely to be drawn to the Andrew Johnson Theatre at the Tennessee Performing Arts Center, the site of his previous stage achievement in The Whipping Man just two years previous. His performance in A Raisin in the Sun, notable for his no-holds-barred, courageous approach to his character, is yet another estimable addition to his burgeoning resume, but he wisely resists the urge to commandeer the stage to himself, instead allowing his trio of co-stars to share the spotlight they so richly deserve.
A Raisin in the Sun. By Lorraine Hansberry. Directed by Rene D. Copeland. Presented by Nashville Repertory Theatre at TPAC's Andrew Johnson Theatre, Nashville. Running through April 22. For details, go to www.nashvillerep.org. Running time: 3 hours (with one 15-minute intermission).
Actors Bridge Ensemble's 21st season continues with the Nashville premiere of The Amish Project (ensemble version) by Jessica Dickey, directed by Jaclynn Jutting. This play marks the 10th annual Actors Bridge/Belmont University Department of Theatre and Dance collaboration where university theater students are paired with local theater professionals on all aspects of production. Performance dates are April 7-9 and 20-22 in the Belmont Black Box Theater (there are no performances over Easter weekend per Belmont University requirements).
Conceived in the wake of the 2006 school shootings in the Amish community of Nickel Mines, Pennsylvania, Jessica Dickey's fictional exploration of a real-life tragedy questions the limits of compassion in the face of radical forgiveness. First produced as a solo work performed by the playwright in the New York International Fringe Festival, this new ensemble version brings to life a community at the crossroads of grief and mercy.
Directed by Belmont University Department of Theatre and Dance Assistant Professor and Director of the BFA Directing program Jaclynn Jutting, The Amish Project cast includes long-time Actors Bridge and Belmont acting instructor CJ Tucker, Belmont professor Dr. James Al-Shamma as well as Belmont BFA performance majors Amanda Bell, Drew Freeman, Allie Huff, Josh Kiev, Phaedra McDowell, Astrid Rotenberry and Joe Mobley.
"The Amish Project marks our 10th annual collaborative production with the Belmont Department of Theatre and Dance and our 10th year as a professional theater company in residence there. It's a relationship we cherish," says ABE Producing Artistic Director Vali Forrister. "We are excited about our first opportunity to work with Jackie Jutting as a director. As the head of the directing program at Belmont, she brings fresh perspectives to our community."
From our review: Actors Bridge Ensemble - Nashville's most forward-thinking and cutting-edge professional theater company - teams up once again with Belmont University Department of Theatre and Dance to celebrate their tenth anniversary as artistic collaborators with Jessica Dickey's The Amish Project, a moving and provocative presentation that allows the two companies' strengths to be fully on display, giving audiences much to consider in the post-show haze of introspection and remembrance.
Easily, The Amish Project is one of the most moving pieces of contemporary theater we've encountered over the past several years - years that have seen remarkable growth both in artistic impact and, perhaps more importantly, the training of fledgling actors who have consistently shown promise and emerge from academia to claim their rightful places on stages all over the world.
Directed with a deft and steady hand by Jaclynn Jutting that ensures the story unfolds in ways both surprising and somewhat expected, The Amish Project is playwright Dickey's response to the senseless and horrific murders of ten little girls in an Amish schoolhouse in Pennsylvania a decade ago. Killed by a local milkman bent on stealing the innocence of the girls by molesting them, they are brought back to life to help tell the story that examines the impact of the event on all those affected by it. Today, the story continues to reverberate through the Pennsylvania Dutch region and the enormity of the tale resonates with every person who has become inured to the ever-increasing media reports of mass shootings and the loss of so much life for reasons that are seemingly inexplicable no matter one's perspective.
Dickey's unflinching examination of the events that led up to and followed in the wake of the Amish School murders provide a fresh perspective that resonates deeply with the audience who have seen far too many maudlin yet sensationalized TV movie-of-the-week treatments of similar stories of terror brought too close to home. Using the characters of two of the dead girls - sisters Velda and Anna - who set the scene with disarming ease, Dickey uses her play as a conduit to allow each of the characters to enter the collective heart of the audience members.
The Amish Project. By Jessica Dickey. Directed by Jacklynn Jutting. Presented by Actors Bridge Ensemble and Belmont University Department of Theatre and Dance. At the Belmont Black Box Theatre, Nashville. Through April 22. Running time: 70 minutes (with no intermission).
Coming up Monday, April 17, is the return of MAS Nashville and their appropriately entitle MAS X - their tenth cabaret performance!
Erin Parker, Laura Matula, Cori Anne Laemelle, Melodie Madden Adams and Megan Murphy Chambers - collectively known as MAS Nashville - return to the stage for their tenth cabaret performance appropriately known as MAS X, playing the Belcourt Theatre on Monday, April 17. Curtain is at 7:30 p.m.
What do you get when you combine five completely different personalities who share a love for excellent music, sparkly things, and curse words? A Mutual Admiration Society of irreverent babes who can't wait to make you laugh, cry, and blush. Cult favorite MAS Nashville is back by popular demand at the historic Belcourt Theatre on Monday, April 17, with their 10th full-length concert/comedy/cabaret adventure, MAS X.
The ladies of MAS are especially excited to bring a few extra special guests (Melinda Doolittle is the first celebrity guest to be named) onstage to perform with them!
MAS Nashville was founded in 2011 for a one-off stage show Five and surprised audiences - and the MAS ladies themselves - by selling out and emerging as a hilarious and unique way to showcase some of Nashville's favorite musical and comedic talents. Six years, nine shows, and one album later, the five MAS ladies are still going strong.
MAS X celebrates friendship, humor, girl power, and the joys of not taking oneself (or one's friends) too seriously through songs of love, loss, embarrassment and horror. Audiences are warned to xpect the usual: fantastic harmonies, glitter, high heels and humor in the polished-yet-irreverent way that only MAS can deliver. The result is a hilarious and heartfelt musical and theatrical experience to be enjoyed by adults who like to have fun on Monday nights.
Tickets are on sale now and range from $22 - $50 and are available via the "Buy Tickets" link at www.masnashville.com.
This event is rated R for language, adult humor and innuendo. MAS X contains no violence or nudity, and no animals will be harmed during this production, but there will be "bad" words (funny, funny "bad" words), so bring your sense of humor and/or your earmuffs. Cori, Erin, Laura, Megan and Melodie will make you laugh, cry, groan and keep you coming back for más.
Related Articles View More Nashville

Stories

Shows
Jeffrey Ellis is a Nashville-based writer, editor and critic, who's been covering the performing arts in Tennessee for more than 35 years. In 1989, Ellis (read more...)