BWW Review: Cumberland County Playhouse Sends SANDERS FAMILY Off With Heartfelt Emotion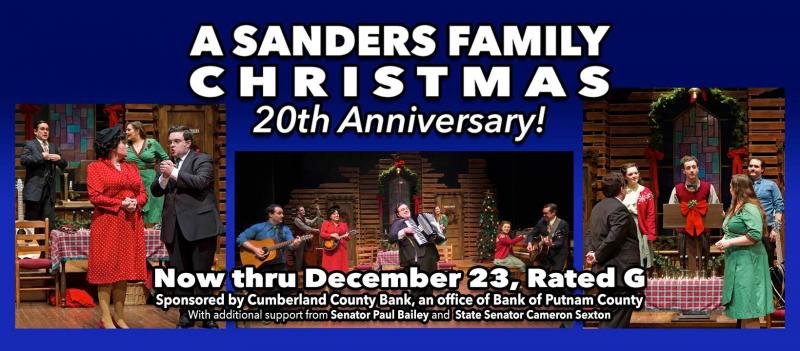 Growing up in a small Southern town with fewer than 1,000 people, the prevalent thoughts tend to be centered on how to get out of that stifling, archly conservative community, in order to search for the proverbial greener pastures and to find like-minded people who will make you feel more "at home" with yourself and in your own skin. While that may well be the honest-to-God true story of my youth, nonetheless it always startles me when my emotions are stirred up by a stage musical set in the years long before my birth, with a show that fairly reverberates with the heart and soul, memories and nostalgia usually associated with a trip back home.
Such is the case with every viewing of a musical from the Smoke on the Mountain trilogy by Connie Ray and Alan Bailey, in which audiences are transported back to the seemingly kinder and gentler time of the pre-World War II era in America, shows in which small-town values are venerated and celebrated, during which a North Carolina-born and bred family of gospel singers put their ample musical talents on display and impart words of wisdom whose themes, regardless of your beliefs, are timeless and universal.
The Sanders family, the close-knit group of parents, siblings, their uncle and the minister of the church where each segment of the trilogy is set, seem like kinfolk now after all the years seen watching their antics - some sweetly sentimental, others wildly funny, all certain to evoke memories of childhood. Thus, news that 2018 marks the final year of a decades-long run at Crossville's Cumberland County Playhouse for both Smoke on the Mountain (which ran for 25 years - a quarter of a century) and the eponymous A Sanders Family Christmas (closing out its 20th anniversary season with a final performance set for Sunday, December 23) was met with mixed emotions, to be certain: happiness that their spots on the season's performance calendar at CCP will make way for new productions contrast with the feeling of sadness that we won't see the shows there any longer. It's like saying goodbye to two longtime friends and compatriots, or bidding farewell to loved ones long cherished, but sometimes overlooked so ubiquitous is their presence.
We've seen the shows so often, we know what to expect. The jokes are still amusing, the songs are evocative of our church-going youth and over the years the characters have come to represent people we know and love. So, it was with some trepidation that we approached our final time in the audience for A Sanders Family Christmas at Cumberland County Playhouse this week, to review it one last time before the pulpit is packed away, the handbells are put into storage and the costumes relegated to the closet to be repurposed for some future show still to come.
"Just so you'll know," I warned my companion for the performance, "I may become a little emotional at some point, because this show reminds me of 'my mama and them' [a Southern colloquialism that refers to every member of the extended family who might be part of a trip back home] and I don't want you to be taken unawares by it."
Little did I expect that the very moment the lights went down and Reverend Oglethorpe and June Sanders (played during the final season by the appealing Paul Gary, who reminded me of every Baptist preacher encountered during my youth - with his heart on his sleeve and his focus on doing good works for the unfortunate - and the versatile Jensen Crain-Foster, whom we've watch grow up on CCP stages into a multi-talented and beautiful young woman) rushed into the little country church that provides the setting for A Sanders Family Christmas that I would feel the warming glow of nostalgia coursing through my body. In fact, by the time the rest of the Sanders family entered the theater, explaining their bus had slid off the road because of ice and snow, the golden-tinged memories it elicited in me would almost instantly fill my eyes with tears. Luckily, a couple of deep breaths prevented me from sobbing or else the people seated around me might have been disturbed.
And not a note of music had yet been heard. So what in the ever-loving world was I going to do when they started singing and each character would be introduced? Well, I'm not ashamed to admit it: I cried, great heaving sobs that somehow I managed to keep relatively quiet (although I suspect the 4.4 on the Richter scale earthquake the following morning might have been caused by me trying to contain myself). Pretty much all the way through the whole show. Every scene, every line uttered, every phrase that was sung reminded me of "my mama and them" and every Sunday morning of my young life spent sitting in a church pew next to my mama, laughing at my sister's growling stomach and hoping my daddy wouldn't be drunk when he picked us up after the benediction.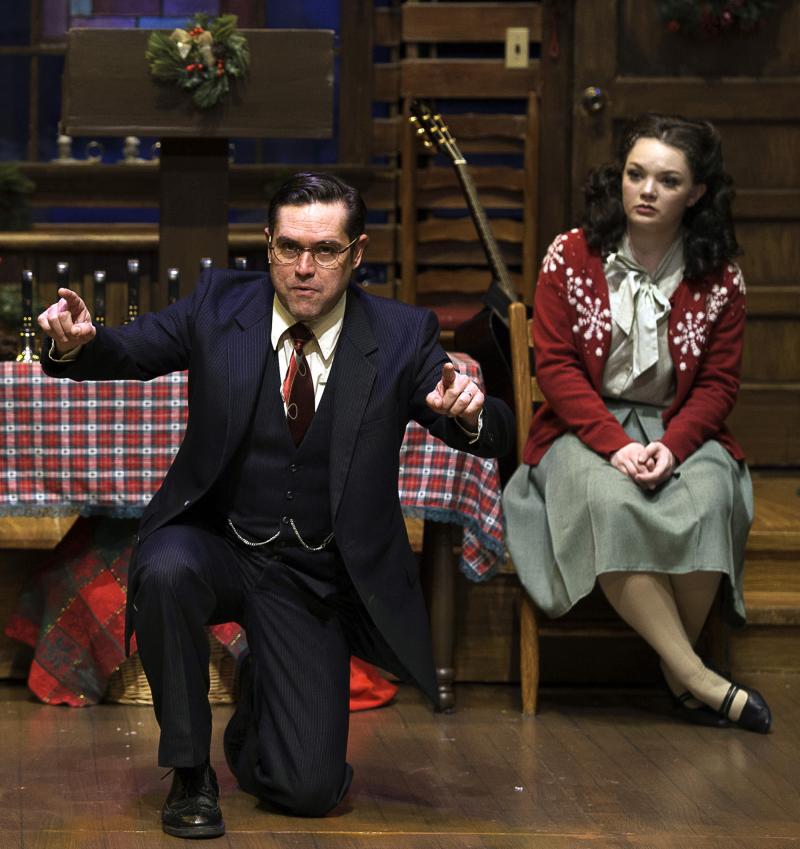 Like everyone's, my memories are sometime sweet, funny and fun, while others are pretty dismal and distressing, continuing to pack an emotional wallop and exact a physical toll even after six decades of life. But there was not one minute of A Sanders Family Christmas that I would have risked not experiencing, no memory recalled would I not savor. During the course of two hours on a Tuesday afternoon, director Weslie Webster and her remarkable cast of talented actors, singers and musicians - they do it all, y'all - deliver the most heartfelt and moving of holiday season performances and while I'm sure they are looking forward to what next year has in store at CCP, I cannot help but marvel at how effortlessly and seamlessly they deliver the story of A Sanders Family Christmas with such sincerity and palpable and familial intensity.
The action of A Sanders Family Christmas takes place on Christmas Eve night, 1941, in the Mt. Pleasant Baptist Church - less than three weeks after the Japanese attack on Pearl Harbor precipitated U.S. entrance into the second World War and three days before Dennis Sanders ("he's the boy") leaves for boot camp to become a United States Marine, off to fight Hitler, Tojo and Mussolini. The emotions of such a compelling and dramatic moment in American history are richly drawn in the simple scenes that transpire for this fictional family on a make-believe Christmas Eve that's sure to evoke every emotion possible in each audience member.
Clearly, part of the impact of A Sanders Family Christmas derives from the particularly theatrical alchemy responsible for assembling such a stellar ensemble of actors. In addition to the aforementioned Gary and Crain-Foster, Webster cast the show with obvious care and a genuine eye for what makes a family, whether that family is connected by blood or by love (or by both, of course), starting with the charming and talented Daniel W. Black as Burl Sanders, the earnest father of the bunch (who bears witness to his faith in God by relating a story of his own wartime experience in France during The Great War); Lauren Marshall, who possesses one of the most glorious voices you'll ever encounter in any theater in any city in the world and at any given moment, plays family matriarch Vera Sanders with such subtlety and heart that I could swear she knew my mama; Cory Clark and DeAnna Etchison (Denice - "she's the girl" - who, like Crain-Foster and Black has grown up at CCP) are ideally cast as the twins, sharing an indefinable quality that will have you consulting your playbill to prove once more they aren't related in real life; and Matthew Smolko plays Uncle Stanley (the country music and cowboy movie star of the family whose stint in prison makes him the most interesting member of the extended family) with impressive authenticity.
The music - a collection of church hymns, gospel songs and novelty tunes for the season - is performed with skill by the members of the closely knit cast, showing off their estimable talents on various acoustic instruments. There are moments of joy and rapturous religious fervor that are sometimes contrasted by smaller, more intimate moments shared between mother and son, brother and sisters or pastor and congregation that will remind you of growing up in a small Baptist church (as it obviously did me), but even if you've never set foot in such a place or grew up in a community that small, you won't feel out of place or foreign to the action. Rather, chances are you'll feel right at home no matter what circumstances made you who you are.
A beautiful a capella rendition of "Angels We Have Heard on High" took me right back to playing the angel Gabriel in the First Baptist Church of Bethel Springs' Christmas pageant of 1966. And like mine, the sweetly joyful and startlingly plaintive strains of "Beautiful Star of Bethlehem" may stir your heart to consider there might really be a God in charge of things - even as my atheist intellect refuses to give way to such conjecture as an adult.
Funny, but I am always certain in my convictions and beliefs until I go to the theater, where talented people can so easily transport me to another time and place, perhaps even to transform me. I'll continue to ponder the mystery and possibility of divine creation as the holiday season continues to hold powerful sway over me and to allow memories of an exquisitely performed version of A Sanders Family Christmas to take me on a sentimental journey.
A Sanders Family Christmas. Written by Connie Ray. Conceived by Alan Bailey. Musical arrangements by John Foley and Gary Fagin. Directed by Weslie Webster. Musical direction by Lauren Marshall. Presented by Cumberland County Playhouse in the Adventure Theatre, Crossville. Through December 23. For tickets and other details, go to www.ccplayhouse.com or call (931) 484-5000. Running time: 2 hours (with one 15-minute intermission).
Jeffrey Ellis is a Nashville-based writer, editor and critic, who's been covering the performing arts in Tennessee for more than 35 years. In 1989, Ellis (read more...)