Hampton Art Lovers Set To Make A Cultural Impact With Two African-American Masters Of Fine Art During Art Basel And Miami Art Week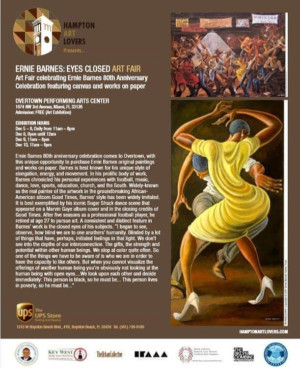 Hampton Art Lovers present "Elizabeth Catlett & The Hampton Arts Tradition" and "Ernie Barnes: Eyes Closed" December 5-9, 2018 in Historic Overtown in Miami, FL.
The "Elizabeth Catlett & The Hampton Arts" exhibition will take place at the Ward Rooming House, at 249 NW 9th St, Miami, FL 33136. The "Ernie Barnes: Eyes Closed" exhibition will take place at the Overtown Performing Arts Center, at 1074 NW 3rd Ave, Miami, FL 33136. Both will run from December 5-9, 2018 during Art Basel and Miami Art Week.
Hampton Art Lovers are passionate supporters of Hampton University's long-standing commitment to fine African-American art. The group will join the myriad of exhibitions, pop-up art galleries, special events throughout Historic Overtown's cultural and historical venues under the "Soul Basel" moniker. Soul Basel is sponsored and supported by Miami City Commission Chairman Keon Hardemon, the Southeast Overtown / Park West Community Redevelopment Agency (SEOPWCRA) and the Greater Miami Convention & Visitors Bureau (GMCVB) Art of Black Miami.
Admission to both Hampton Art Lovers exhibitions is free. For complimentary tickets register at:
https://www.eventbrite.com/e/hampton-art-lovers-presents-elizabeth-catlett-and-the-hampton-arts-tradition-at-art-basel-in-tickets-8335320167
https://www.eventbrite.com/e/hampton-art-lovers-presents-ernie-barnes-eyes-closed-tickets-52173310777
Ernie Barnes was an African-American painter, best known for his unique figurative style of painting that was immortalized on classic television, including the "Sugar Shack" oil painting featured in the credits of the popular sitcom "Good Times," which was painted in 1976 for Marvin Gaye's "I Want You" album. Art critic Frank Getlein called Barnes the creator of neo-Mannerism.
Hampton Art Lovers proudly presents "Eyes Closed" in partnership with the Ernie Barnes Estate, The International Review of African American Art, Southeast Overtown Parkwest CRA, Chairman Keon Hardemon, The Black Archives, Urban Collective, Key West Africana, Brooklyn Combine and UPS (The Fountains of Boynton Beach).
Barnes' art has been admired and collected internationally. His national traveling "Beauty of the Ghetto" exhibition in the 1970s featured some of his timeless works as "Storyteller," "High Aspirations" and "The Graduate." His famous 1971 "Sugar Shack" dance scene appeared on the "Good Times" television show. Singers loved his artwork for their album covers. Barnes' most famous painting, "The Sugar Shack," was also used by Marvin Gaye for his album "I Want You" in 1976. "The Beauty of the Ghetto," exhibition marked the beginning of his Genre period. In 1972, it debuted at the distinguished Heritage Gallery, before beginning a nationwide tour to museums around the country -- hosted by such dignitaries as Ethel Kennedy, Los Angeles Mayor Tom Bradley, Atlanta Mayor Maynard Jackson, and Durham (North Carolina) Mayor James Hawkins. During this period almost all of the people in Barnes' paintings were depicted with their faces obscured or their eyes closed. Barnes stated, "I won't paint people with their eyes open," explaining "We don't see each other, we are blind to each other's humanity." In 2009, Ernie Barnes passed away as he was developing an exhibition entitled "Liberating Humanity From Within." This exhibition would have been a return to the concept of "The Beauty of the Ghetto."
The Elizabeth Catlett & The Hampton Arts Tradition spotlights the works of Elizabeth Catlett, a world-renowned African-American artist who explored themes relating to race and feminism in her range of sculpture, paintings, and prints. She was the granddaughter of freed slaves and is universally adored for her sculptures. Catlett was also just as adept in printmaking. Her print work almost exclusively focused on women, particularly Black and Hispanic working-class women. Hampton University Museum is the largest collector of her work in this genre and working with Hampton Art Loves to share 30 pieces of her work with the community.
"We are excited to present these two exhibitions in Historic Overtown. We celebrate Mr. Ernie Barnes' 80 years of contribution to arts and culture and look forward to showing these never before seen masterpieces from his posthumous exhibition. Additionally, we look forward to exhibiting the works of Elizabeth Catlett groundbreaking 15 piece linocut series from 1946 entitled "Negro Woman." This is an epic commemoration of the historical oppression, resistance, and survival of African-American women", says Christopher Norwood, Co-Founder-Hampton Art Lovers.
"In exhibiting the great works of art by Ernie Barnes and Elizabeth Catlett, the CRA again highlights the Historic Overtown as the center of art and culture for the African Diaspora in Miami-Dade County," said Chairman Keon Hardemon
For more information, please visit: www.hamptonartlovers.com
Related Articles View More Miami

Stories

Shows
More Hot Stories For You