DANCING LESSONS Makes South Florida Premiere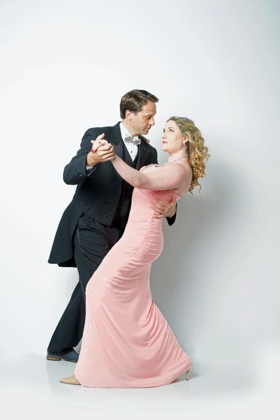 Zoetic Stage (@ZoeticStageMIA) and the Adrienne Arsht Center for the Performing Arts of Miami-Dade County (@ArshtCenter) are proud to present the South Florida premiere of DANCING LESSONS, Mark St. Germain's insightful, poignant, witty and hilarious romantic comedy. Playing March 8 - March 25, 2018 in the intimate Carnival Studio Theater (Ziff Ballet Opera House), DANCING LESSONS continues Zoetic Stage's 2017-2018 season at the Arsht Center as part of the Center's Theater Up Close Series.
The Arsht Center's 2017-2018 Theater Up Close Series is supported by Adrianne and Jerry L. Cohen, Alan and Diane Lieberman and the Hotel Croydon Miami Beach.
Tickets to DANCING LESSONS are $50 & $55*; and they may be purchased through the Adrienne Arsht Center Box Office by calling (305) 949-6722, or online at www.arshtcenter.org.
Directed by Stuart Meltzer, DANCING LESSONS tells the story of Ever (Caleb Scott), a young man with high-functioning autism, who enlists the help of a Broadway dancer to help him survive an awards dinner. The dancer, Senga (Lindsey Corey), is recovering from an injury that may end her dancing career. As their relationship unfolds, they are caught off-guard by the discoveries - both hilarious and heartwarming - that they make about each other and themselves.
Meltzer says of the show, "We are so excited to present Mark St. Germain's beautifully funny and touching play, Dancing Lessons. Audiences can expect a smartly written theatrical experience with performances that are charming, nuanced and engaging. It is the perfect production to take our minds off the world for 90 minutes."
Zoetic Stage was founded in 2010 to create fresh, bold interpretations of contemporary plays and musicals, and is dedicated to enhancing South Florida's national artistic profile by producing regional premieres and developing new works to become part of the American stage repertoire. The company will co-present one more exciting production with the Arsht Center in the 2017-2018 season. Zoetic Stage's 7th anniversary season will close with the anticipated South Florida premiere of the five-time Tony Award-winning musical, Fun Home (April 12 - May 13, 2018).
ABOUT THE CAST AND CREATIVES
LINDSEY COREY (Senga Quinn) is a native of Chattanooga, Tennessee. She holds her BFA in Musical Theater from New World School of the Arts and is a proud member of the Actors' Equity Association. Her past roles with Zoetic Stage at the Arsht Center include: Melissa in The Savannah Disputation, Squeaky Fromme in Assassins, and Masha in Chris Demos-Brown's Stripped, for which she received a Best Actress Carbonell Award. She was most recently seen as Jane in Tarzan with Slow Burn Theatre Company and Belinda in Noises Off at Actors' Playhouse. When not performing onstage, Lindsey is a Digital Production Specialist at Insight for the Blind in Fort Lauderdale, in support of the Library of Congress' Talking Books Program.
CALEB SCOTT (Ever Montgomery) is an actor and writer. His New York Theater credits include: Boom! (Classic Stage Company), The Golden Ass (Fringe Festival) and House of V (Map Space Theater), all of which he co-wrote with Eyases Ensemble; Joey: A Mechanical Boy, which he co-wrote with Combustive Arts in Brooklyn; RECALL (Adrienne Campbell-Holt, Colt Coeur); My Renaissance Faire Lady (Evan Cabnet); Salome (HERE); and Sexy Saint James (HERE). His plays and performance pieces have been produced and presented at venues in New York and around the country, including Bleecker Street Theater, La MaMa ETC, Ars Nova, HERE, Bootleg Theater in Los Angeles, DiversaFest in Tulsa and the Wooster Group's Performing Garage. Regional credits: Three Days of Rain (Adrienne Campbell-Holt, Amphibian Stages). Film and TV credits: My Freakin' Family (ABC); Point and Shoot (opposite Donald Sutherland); Stingray Sam (Sundance); Girlfriend Killer (Lifetime); The Black Room (Rolfe Kanefsky, Netflix); and most recently, Chateau Vato (Tom Musca).
STUART MELTZER (Director) is the Artistic Director and a founding member of Zoetic Stage. He is currently nominated for five Carbonell Awards and is the proud recipient of Carbonell Awards for Best Director of a Musical for Passion and Best Director of a Play for Clark Gable Slept Here, both at Zoetic Stage at the Arsht Center. Altogether, he has been honored with 16 Carbonell nominations. He is pleased to return to the Carnival Studio Theater at the Arsht Center after directing Zoetic Stage's highly successful productions of Wrongful Death and Other Circus Acts, Topdog/Underdog, The Caretaker, Sunday in the Park with George, After, Passion, Rapture, Blister, Burn, Stripped, Betrayal, Trust, Detroit, The Great God Pan, Assassins, Fear Up Harsh, The Savannah Disputation, All New People, I Am My Own Wife, Moscow, The SantaLand Diaries, Captiva and South Beach Babylon. Previously, Stuart served as the Artistic Director of City Theatre in Miami, where he oversaw and expanded the Summer Shorts Festival. New York and South Florida credits include Romulus Linney's Gint, Harold Pinter's One for the Road, Aristophanes' Lysistrata, Kiss of the Spider Woman, Painted Alice, Everything Will be Different and Melt. He is the recipient of two Silver Palm Award for his "Outstanding Work as the Resident Director of Zoetic Stage." He received his M.F.A. in Directing from the Actors' Studio in 2002 and B.F.A. from New World School of the Arts in Miami, where he currently serves on the faculty.
Mark St. Germain's (Playwright) play Freud's Last Session ran for two years Off-Broadway, closing July 24, 2012. The play has been open in Argentina since January 2012 and in repertory in Sweden, Australia, Denmark. His play Becoming Dr. Ruth premiered in July 2012 at the Barrington Stage Company in the Berkshires, played at Hartford Theaterworks, and was brought to NYC to The Westside Theatre. Scott and Hem in the Garden of Allah co-premiered in the summer of 2013 at the Contemporary American Theater Festival and Barrington Stage Company. His play The Best of Enemies, first produced by the Barrington Stage Company, is now being produced throughout the country. The Fabulous Lipitones, a musical comedy co-written with John Markus, premiered at the Theatrical Outfit in Atlanta in summer, 2013, and then at Goodspeed Playhouse. Mark's other plays include Camping with Henry and Tom (Lucille Lortel and Outer Critics Circle Awards), Ears on a Beatle, The God Committee, Out of Gas on Lover's Leap, and Dancing Lessons (premiered at the Barrington Stage Festival). Mark wrote the Tammy Wynette Musical Stand By Your Man, which began at the Ryman Theater in Nashville. With composer Charles Strouse, he co-wrote the book for his adaption of Dreiser's American Tragedy. With composer Randy Courts, Mark has written the perennial musical The Gifts of the Magi as well as Johnny Pike and the Foolkiller (AT&T Award Grant) and Jack's Holiday (Playwrights Horizons). TV work includes writer/creative consultant for The Cosby Show and Dick Wolf's Crime and Punishment. He co-wrote director Carroll Ballard's film Duma and produced and directed the documentary My Dog, An Unconditional Love Story, with Richard Gere, Glenn Close, Edward Albee and others. Mark also wrote the award-winning children's book Three Cups. Mark is an Associate Artist of the Barrington Stage Company, a recipient of the William Inge Festival's New Voices Award, and a member of the Dramatists Guild and the Writer's Guild East. He is an alumnus of New Dramatists.
The play's creative team features choreography by Jeni Hacker, scenic design by Michael McKeever; costume design by Angelina Esposito, lighting design by Rebecca Montero, sound design by Matt Corey, properties by Natalie Taveras and technical direction by B.J. Duncan. Amy Rauchwerger is the production's stage manager.
*All programs, artists, ticket prices, availability, dates and times are subject to change without notice. Visit www.arshtcenter.org for up-to-date information.
The Adrienne Arsht Center for the Performing Arts of Miami-Dade County is made possible by the public support of the Miami-Dade County Mayor and the Board of County Commissioners, the Miami-Dade County Department of Cultural Affairs and the Cultural Affairs Council, the Miami-Dade County Tourist Development Council and the City of Miami Omni Community Redevelopment Agency, as well as the State of Florida, Department of State, Division of Cultural Affairs and the Florida Council on Arts and Culture. The Adrienne Arsht Center also receives generous support from individuals, corporations and local, state and national foundations.
Zoetic Stage is made possible with the support of the Miami-Dade County Department of Cultural Affairs and the Cultural Affairs Council, the Miami-Dade County Mayor and Board of County Commissioners.
Photo by Chris Headshots
Related Articles View More Miami

Stories

Shows
More Hot Stories For You