BWW Review: NOISES OFF at Actors' Playhouse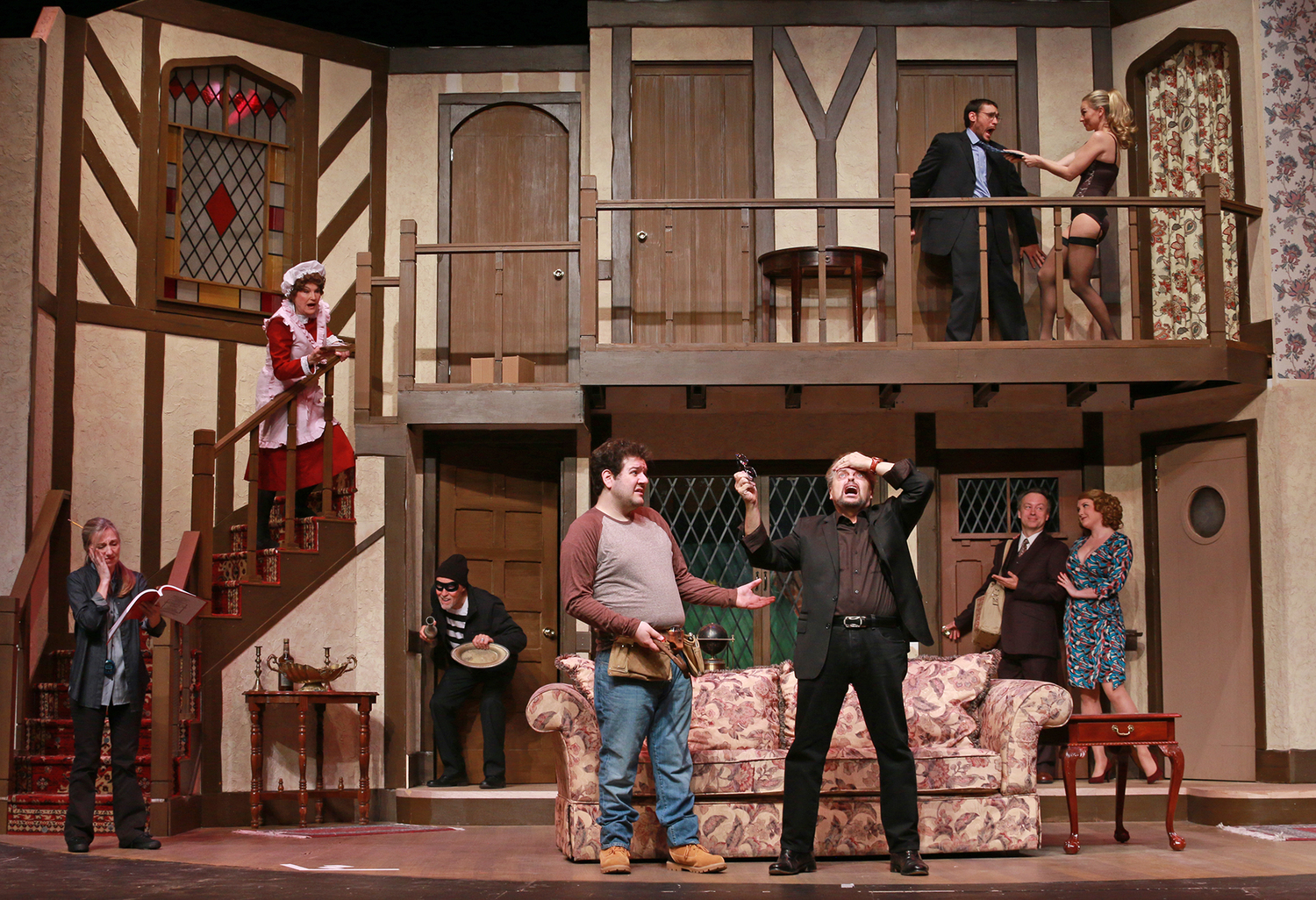 The celebrated English farce, "Noises Off", now playing at Actors' Playhouse in Coral Gables, has 753 door slams in its three acts. I know. I counted them. And counted also the laughs that came with each slam. 753. Exactly. Hey, it's a farce. And a brilliant one, written back in 1982 by Englishman Michael Frayn.
A play within a play,"Noises Off" has an American troupe playing an English show, "Nothing On". In Act One they're in Des Moines, January 14. Act Two has them in Miami Beach, February 13. And April 6 has them in Cleveland.
Act One has them on stage in a midnight rehearsal prior to opening the next day. A disaster.
Act Two has them backstage. Relationships are exposed. The director with the ingenue and the assistant stage manager; the realtor with the ingenue and the maid. And anyone else who falls readily to hand.
Act Three they're back in performance. Calling it a disaster would be a compliment.
And the troupe?
Daniel Capote, as Garry LeJeune, plays Roger Tramplemain, a paranoid rental agent for stately British homes who is frantically pursuing the delights of Vickie, played by Betsy Graver as Brooke Ashton. Brooke is a sometimes blind, slightly smarter than a stalk of celery, young actress who discards her clothing 73 times. I counted.
Mark Della Ventura as Timothy Allgood is the stage manager, overworked slave of the always frustrated director Lloyd Dallas, played by Gary Marachek. Lloyd (big reveal) is breathing heavily for both Brooke and Poppy Norton-Taylor, frazzmataz assistant stage manager, played by Jeni Hacker.
Lindsey Corey is Belinda Blair who plays Flavia, wife of Philip, played by Terry Hardcastle as Frederick Fellows. They have been out of England dodging the tax man.
Peter Haig, as Selsdon Mowbray, a booze hound old actor, plays a burglar.
And Annette Miller plays Dotty Otley, the star of "Nothing On" as the sardine befuddled maid who is giving new meaning to 'cougar' with Garry LeJeune.
An impressive cast at work, each with their starring bits. Loved the joy of Peter Haig in his mop head wig, the spectacular pratfalls of Terry Hardcastle and Daniel Capote, Hardcastle's witlessness, the posturing of Betsy Graver, Lindsey Corey's support and realism, Marachek's voice as he gave his stage directions, the quiet subtlety of Mark Della Ventura,
Actors' Artistic Director David Arisco has made a couple of excellent choices for this production, besides his casting, that is. He's cut out the second intermission and has the actors use their normal American accents when not on stage as British actors.
Tim Bennett designed the two story, revolving, English country home and Eric Nelson designed the lighting. Sound by Shaun Michell with costumes by Ellis Tillman. Jodie Della Ventura designed the props.
"Noises Off" is great fun, with talented people. It's a long evening at Actors' and you can blame the playwright for that. But the excellence of the production, despite being not quite seamless, offers great joy to those who can't get enough British farce.
PS I lied about the counting. I was too busy laughing.
"Noises Off" plays through February 4 at Actors' Playhouse at the Miracle Theatre, 280 Miracle Mile, Coral Gables. 305-444-9293. http://www.actorsplayhouse.org