Rarely Produced Alan Menken/Kurt Vonnegut Musical Opening In Portland Next Week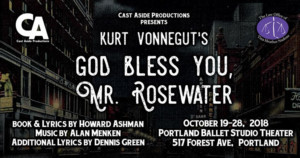 Cast Aside Productions-Portland, ME's professional musical theater company-presents the rarely staged Kurt Vonnegut's GOD BLESS YOU, MR. ROSEWATER at the Portland Ballet Studio Theater this October 19-28th.
Before THE LITTLE MERMAID, BEAUTY AND THE BEAST, NEWSIES, and LITTLE SHOP OF HORRORS, the writing team of Alan Menken and Howard Ashman began their career by penning a musical adaptation of the 1965 Kurt Vonnegut novel. That original production ran Off-Broadway for 49 performances.
"The story is somehow timelier now than when the book was published in 1965," shared Artistic Director David Surkin. "But that feeling is there because America is continuing to avoid addressing the concerns raised in meaningful ways."
GOD BLESS YOU, MR. ROSEWATER focuses on Eliot Rosewater-drunk, volunteer fireman and president of the fabulously rich Rosewater Foundation-as he conducts a noble social experiment examining the true value of wealth and humanity. The result is Vonnegut's funniest satire, an etched-in-acid portrayal of the greed, hypocrisy, and follies of the flesh to which we are all heir.
Cast Aside Productions has recently stirred up controversy and interest by announcing their 2019 Season of ONCE UPON A MATTRESS, CABARET, and DEBBIE DOES DALLAS the Musical, will feature casts, pits, and crews made up by 100% female, gender fluid, and transgendered folks. Executive Director of Cast Aside Productions, Celeste Green, explained how the final show of the 2018 season dovetails into their upcoming season's work as follows:
"ROSEWATER is about a cis, white man choosing to give up his privilege, making room for those that have been oppressed and forgotten for too long, and using his platform to give those people an audience. As CAP enters into our 2019 season, we will be exploring what happens when male privilege is removed from musical theater. We will examine gendered power dynamics present in these stories through this unique perspective."
The cast of GOD BLESS YOU, MR. ROSEWATER features: Suzie Assam, Samuel James, Whitney Brown, Rachel Henry, Vanessa Romanoff, Hayden Jones, David Bass-Clark, Brian Daly, Adam Gary Normand, Craig Capone, LJohn Van Norden, David Surkin, Jacob Sutherland, and Owen White.
Cast Aside Productions presents Kurt Vonnegut's GOD BLESS YOU, MR. ROSEWATER October 19 - 28 at the Portland Ballet Studio Theater (517 Forest Ave, Portland, ME). Tickets can be purchased at castasideproductions.com
More Hot Stories For You