West Coast Premiere Of Solo Show KASSANDRA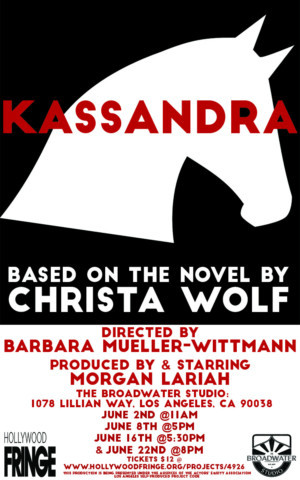 Morgan Lariah and Barbara Mueller-Wittmann team up to present the West Coast Premiere of a fresh adaptation of Kassandra, a solo piece performed and produced by Lariah and directed by Mueller-Wittmann. As part of the 2018 Hollywood Fringe Festival, Kassandra will be presented at the Broadwater Studio (1078 Lillian Way, Los Angeles 90038) on June 2nd, 8th, 16th, and 22nd.
In this neoclassical solo performance that employs Object Theater and adapted from the beloved German novel by Christa Wolf, Kassandra retells the story of the Trojan War. Humanizing this mythical figure, Kassandra breathes life into the timeless tale as we see Kassandra pit herself against the political forces responsible for the war that destroys everything she knows and loves. For decades Kassandra has been performed all over the world, and now she finally makes her way to Los Angeles during one of our most politically polarized of times.
Kassandra will be presented Saturday, Jun 2nd @ 11am; Friday, June 8th @ 5 pm; Saturday, June 16th @ 5:30 pm, and Friday, June 22nd @ 8pm.
Tickets are Pay-What-You-Can for the performance on June 2nd and $12.00 thereafter.
Tickets available at http://www.hollywoodfringe.org/projects/4926
Barbara Mueller-Wittmann (Director):
Barbara Mueller-Wittmann has two Master degrees from German universities, one in Cultural Administration and one in Dramatics, German and French Literature. In the recent years she worked as a producer at the Odyssey Theater Ensemble in Los Angeles. She produced plays such as "The Brig" by Kenneth Brown, one of the 10 best productions of the year (L.A.Times), and "Sliding into Hades", for which she got two L.A. Weekly Awards. In 2017 she started a very well received Dance series. Before moving to Los Angeles, she was managing director of the Citytheater Aalen. In Germany she produced plays such as "Your House is mine" with the Living Theatre, New York and "Some of my best friends" with the Left Bank Theatre Group, Tel Aviv. She worked for various theater festivals and served as board member of several cultural associations. As a Board member of "ARENA of the Young Arts", the International Week of Young Theatre, she got awarded by the city of Erlangen (Germany) for her merits in theatre, cultural exchange and international understanding. She was production manager, assistant director and dramaturg at the Citytheater Freiburg (Germany), Volkstheater Munich (Germany), the Opera North Leeds (UK) and Kampnagel Hamburg (Germany) among others.
Morgan Lariah (Producer/Performer): Morgan Lariah graduated from the American Academy of Dramatic Arts and Antioch University Los Angeles with a BA in Film Studies. Always seeking roles that are challenging and enriching while being a driving force to help shift the way women are often portrayed in the media, she began to write and produce her own works in 2011. Her first short film, 2-Star, premiered at the East End Film Festival in London and went on to screen at festivals around the world.
5th Passenger, which features beloved sci-fi actors from The Shape of Water, Deep Space Nine, Star Trek: Voyager, and Star Trek: The Next Generation, marks her first feature film as co-writer, producer and actress. The 5th Passenger screenplay made it to the second round in the 2012 Austin Film Festival and won Best Feature Screenplay, 2nd Runner-up at the 2012 Fantastic Planet Film Festival. Her current script, Full Take, was a semi-finalist for the 2017 Sundance/YouTube New Voices lab. The teaser trailer created for Full Take is an official selection of the 2018 Women in Film Mini Upfronts program and screened at Netflix with sixteen other female filmmakers.
Theater highlights include: 4 Murders, The Haunting of Hill House, Henry V, Julius Caesar, The Merchant of Venice, The Way of the World, The Bacchae, Top Girls, Rewind and Deutschland: Ein Winterma?rchen, which was performed in German in Germany.
Kassandra marks her first time as a theater producer and her first time at the Hollywood Fringe Festival.
The Hollywood Fringe Festival is an annual, open-access, community-derived event celebrating freedom of expression and collaboration in the performing arts community. Each June during the Hollywood Fringe, the arts infiltrate the Hollywood neighborhood: Fully equipped theaters, parks, clubs, churches, restaurants and other unexpected places host hundreds of productions by local, national, and international arts companies and independent performers. Participation in the Hollywood Fringe is completely open and uncensored. This free-for-all approach underlines the festival's mission to be a platform for artists without the barrier of a curative body. By opening the gates to anyone with a vision, the festival is able to exhibit the most diverse and cutting-edge points-of-view the world has to offer. Additionally, by creating an environment where artists must self-produce their work, the Fringe motivates its participants to cultivate a spirit of entrepreneurialism in the arts.

Related Articles View More Los Angeles

Stories

Shows
More Hot Stories For You