Theatricum Botanicum Announces 2019 Summer Season Outdoors in Topanga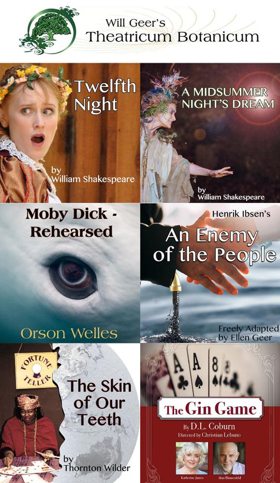 Spring has sprung, and Will Geer's Theatricum Botanicum is thrilled to announce its annual summer line-up of theater, music and performance in its unique and stunning outdoor setting in Topanga. The Summer 2019 Season will include six plays opening in rapid succession and performed in repertory throughout the summer, along with a host of satellite events.

Kicking off the season on June 1 will be Twelfth Night, William Shakespeare's delightful comedy of mistaken identities, gender bending, twins lost at sea, love unrequited and love triumphant. Original music byMarshall McDaniel will lend the Bard's beloved words a refreshing new sound.

June 2 will see the return of Theatricum's signature production of William Shakespeare's A Midsummer Night's Dream, an annual audience favorite. Theatricum's magical outdoor setting is once again transformed into the Bard's enchanted forest, conjuring up a world of wonder, magic and romance.

Opening June 8 is Moby Dick-Rehearsed, a seldom-produced whale of a tale by the great Orson Welles, in which an acting troupe works between performances to create a play from Herman Melville's epic novel. Join the voyage under the helm of Captain Ahab, the brooding one-legged fanatic whose revengeful obsession is to kill the dreaded white mammoth, Moby Dick.

Beginning June 22, Theatricum transfers Henrik Ibsen's powerful An Enemy of the People to a small town in South Carolina in the 1980s. Powerful people have difficult choices to make in Ellen Geer's free adaptation of this classic - and extraordinarily timely - struggle between the interests of the individual and the welfare of society in the face of environmental disaster.

Joining the repertoire on July 13 is The Skin of Our Teeth. The story of humankind told through the lives of the Antrobus family, Thornton Wilder's Pulitzer Prize-winning play is a whirlwind of modernity and antiquity, an inspiring piece of Americana that uses humor, history and mythology to highlight humanity's drive to carry on.

In addition to the theater's usual 5-play repertory season, real life husband and wife Alan Blumenfeld and Katherine James will star in D.L Coburn's Pulitzer Prize and Tony Award-winning The Gin Game, beginning Aug. 17 in Theatricum's intimate S. Mark Taper Pavilion.The irascible Martin Weller and self-righteous Fonsia Dorsey share a mutual love of gin rummy, but as they play, they reveal secrets that get used against each other - and the game becomes a metaphor for their lives. Presented in partnership with the Sierra Madre Playhouse.

All six productions will play in repertory through Sept. 29. Unlike most theaters in the L.A. area that stage continuous runs of a single play, Theatricum, using a company of actors, will perform each of the plays in repertory, making it possible to see all six plays in a single summer weekend.

In addition to theater, Theatricum will present three special events on its mainstage. On Saturday, April 6 at 1 p.m.: the Re-Pete Seeger Centennial Celebration 2019: Pete's Legacy, a tribute to late singer/songwriter and activist Pete Seeger on the occasion of his centennial; on Sunday, May 12 (Mother's Day) at 2 p.m.: Momentum Place, Theatricum's yearly offering of modern dance, aerial acts, juggling and performance art curated by Lexi Pearl; and on Thursday, July 4 from 11 a.m. - 5 p.m.: Theatricum's fifth annual Family Barn Dance. Additional summer programming includes Under the Oaks, four evenings of music and performance in the intimate S. Mark Taper Foundation Pavilion; Botanicum Seedlings: A Development Series for Playwrights presenting free readings of new plays; comedy improv with Theatricum's in-house troupe Off The Grid; Family Fundays, offering interactive children's theater from Creative PlayGround and music from Peter Alsop's Kids Koncerts; and Theatricum's annual Halloween celebration, which sees the bucolic Botanicum transformed into the haunted "BOO-tanicum."

Theatricum Botanicum has been named "One of the 50 Coolest Places in Los Angeles" by Buzz magazine, "One of Southern California's most beguiling theater experiences" by Sunset magazine, and "Best Theater in the Woods" by the LA Weekly. "The enchantment of a midsummer night at Theatricum Botanicum [makes it] crystal clear why audiences have been driving up into the hills since Theatricum's maiden season way back in 1973. Summer Shakespeare doesn't get any better than this," writes Stage Scene LA. Says Los Angeles magazine, "The amphitheater feels like a Lilliputian Hollywood Bowl, with pre-show picnics and puffy seat cushions, yet we were close enough to see the stitching on the performers costumes. Grab a blanket and a bottle and head for the hills."

The beginnings of the Theatricum Botanicum can be traced to the early 1950s when Will Geer, a victim of the McCarthy era Hollywood blacklist (before he became known as the beloved Grandpa on The Waltons), opened a theater for blacklisted actors and folk singers on his property in Topanga. Friends such as Ford Rainey, John Randolph and Woody Guthrie joined him on the dirt stage for vigorous performances and inspired grassroots activism, while the audiences sat on railroad ties. Today, two outdoor amphitheaters are situated in the natural canyon ravine, where audiences are able to relax and enjoy the wilderness during an afternoon or evening's performance. Theatricum's main stage amphitheater sports a new and improved sun shade for increased audience comfort, installed with support from the Los Angeles County Board of Supervisors and the Ralph M. Parson's Foundation. Theatricum is the recipient of multiple awards, including the Margaret Harford Award for "sustained excellence," which is the Los Angeles Drama Critics Circle's highest honor.

Will Geer's Theatricum Botanicum is located at 1419 North Topanga Canyon Blvd. in Topanga, midway between Pacific Coast Highway and the Ventura (101) Freeway. The amphitheaters are terraced into the hillside, so audience members are advised to dress casually (warmly for evenings) and bring cushions for bench seating. Patrons are welcome to arrive early and picnic before a performance.

For tickets, subscriptions, group discounts and a full schedule of theater, music and family entertainment, call 310-455-3723 or go to www.theatricum.com.
Related Articles View More Los Angeles

Stories

Shows
More Hot Stories For You