Theatre Raymond Kabbaz Presents THE PEARL OF MARSEILLES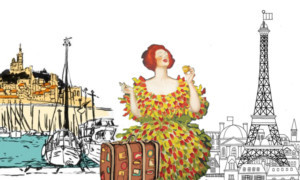 Théâtre Raymond Kabbaz (TRK) presents La perle de la Canebière (The Pearl of Marseille). The play is performed by La Troupe du Théâtre Raymond Kabbaz (TRK's Gang) and directed by Pierre Leloup. La perle de la Canebière (The Pearl of Marseille) is a single act comedy, performed for the first time in Paris (Theatre du Palais Royal) in February 1855. The play was written by Eugène Labiche and Marc Michel, both fine observers of the French society of the 19th century. What happens in this pearl ? The action takes place in a very bourgeois and conservative society, greatly unreceptive to poetry and any kind of eccentricity. Théréson Marcasse, the outgoing pearl, the free and generous marseillaise, shatters this incredibly narrow world. The pearl is a bomb of excessiveness in a world of moderation.
Admission is ONLY $15 for adults, $10 for students, and tickets are available here. The play runs for 45 minutes with no intermission. Performances start at 7:30pm and are in French without subtitles. A no host bar will be available. Théâtre Raymond Kabbaz at Le Lycee Francais de Los Angeles is located at 10361 W. Pico Blvd., Los Angeles, CA 90064 (310-286-0553). To learn more about Théâtre Raymond Kabbaz, please visit http://www.theatreraymondkabbaz.com.
Summary
A morning in Paris, at M. Beautendon's place, a Parisian perfumer. M. Beautendon and his shy son Godefroid are waiting for Mme de Sainte-Poule and her daughter Blanche, Godefroid's future bride, coming from Cambrai (north of France). The young man just spent some days in Marseille visiting Théréson Marcasse, an outgoing widow. Scared by the exuberant behavior of the woman, Godefroid left his hostess' place without saying goodbye. Embarrassed by this inappropriateness, M. Beautendon tells Théréson that his son was actually in love with her and that he ran away for that reason. However, Beautendon couldn't expect Théréson to arrive in Paris with her maid "Miette", sowing discord on Godefroid's engagement day.
Eugène Labiche
Eugène-Marin Labiche, (born May 5, 1815, Paris, France-died Jan. 23, 1888, Paris), comic playwright who wrote many of the most popular and amusing light comedies of the 19th-century French stage.
Born into the bourgeois class that was to provide him with the social setting for most of his works, Labiche read for the bar and then briefly worked as a journalist before turning to writing fiction. In 1838 he published a novel, La Clef des champs ("The Key to the Fields"). Of his early plays, Monsieur de Coislin (1838), written in collaboration with Marc Michel, was his first great success. A long series of hilarious full-length and one-act plays followed. Written together with other authors, these works were presented mostly at the Palais-Royal, the home of light comedy. Typically, the plays are based on an improbable incident evolving into an imbroglio that brings out the folly and frailty of the characters. The best of his works include Le Chapeau de paille d'Italie (1851; The Italian Straw Hat), which inspired René Clair's classic film of the same name (1927); Le Misanthrope et l'Auvergnat (1852); Le Voyage de M. Perrichon (1860; The Journey of Mr. Perrichon); and La Poudre aux yeux (1861; "The Bluff").
Though full of dramatic devices, Labiche's plays nonetheless show real insight into human nature. When his plays were first presented, the exaggerated and slapstick style of his favorite actors-such as Jean Geoffroy, for whom many of the parts were written-somewhat obscured the delightfully precise delineations of character. With the publication of his Théâtre complet, 10 vol. (1878-83) while he was in retirement, Labiche was engulfed by renewed acclaim and success, including election to the Académie Française in 1880. Sound and entertaining, his works raised the lowly farce to a much higher level of literary accomplishment.
Pierre Leloup, TRK Artistic Director & Episode de la vie d'un auteur Director.
Pierre Leloup has worn many hats in his professional career as an arts administrator and cultural creative. For the past 17 years, he has served as Théâtre Raymond Kabbaz's executive and artistic director, with responsibility for managing theater operations, curating events, marketing, and providing creative direction. He has also worked professionally as a music teacher, drama teacher, and choir director. As an actor and/or director, his credits include more than 40 plays including La Cantatrice Chauve (Ionesco), Une Aspirine Pour Deux (Woody Allen) , Quisaitout et Grobéta (Coline Serreau), Le Mariage de Figaro (Beaumarchais), A Midsummer Night's Dream (Shakespeare), Pride and Prejudice (Jane Austen), La colonie, l'île des esclaves, le triomphe de l'amour (Marivaux), Les serviteurs (Lagarce) Le fil à la patte (Feydeau) and many more. In 2012, he was honored as a Chevalier de l'Ordre des Arts et des Lettres in recognition of significant contribution to the arts by the French Ministry of Culture. He has earned numerous diplomas in theatre and music from institutions of higher education in both France and the United States. Born in Drancy, France (a Paris suburb), he has lived in California for the past 30 years.
La Troupe du Théâtre Raymond Kabbaz -
In 1992, Mr. Raymond Kabbaz decided to put on plays in French with a troupe that took its first steps at the Stage Theater in Hollywood, resulting in four sold out performances. That success was the genesis of the troupe, which has since presented plays in French by Marcel Aymé, Coline Serreau, as well as an operetta by Jacques Offenbach, plus plays by Pierre Beaumarchais, Anton Chekhov, and Jean-Luc Lagarce.
La Troupe du Théâtre Raymond Kabbaz is composed of Pierre Leloup, Christine Oustry Gaelann Moulinier le Meur, Jean-François Herry, Cassandre Garnier, Sergio Parreira, Aline Pottier, and Marlène Boucat. Most of the cast have been acting under Leloup's direction for 10 to 15 years and are drawn from the Lycée community, all sharing a passion for the theatre.
Théâtre Raymond Kabbaz -
Théâtre Raymond Kabbaz is a non-profit institution dedicated to the promotion of art and culture in the West Los Angeles area. This 220-seat theater welcomes multidisciplinary and multicultural shows. TRK's mission is to be an Open Window on French and international cultures, as well as to inspire and sustain a lifelong appreciation for the arts.
The theater opened in June 2000. It is a tribute to the passion and ambition of Mr. Raymond Kabbaz, President and Founder of Le Lycée Français de Los Angeles, who dedicated the last three years of his life to the creation of the theater. As part of Le Lycée Français de Los Angeles, TRK features International Artists' performances year round, and is also a place of expression and fulfillment for Le Lycée's students and professors who often perform on stage. The venue, directed by Pierre Leloup, is the only theater in Los Angeles to dedicate a significant part of its programming to French language and culture.
More Hot Stories For You