The Broad Stage and Red Hen Press with AT THE KITCHEN TABLE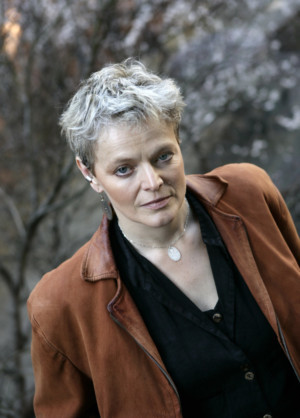 The Broad Stage continues their collaboration with Red Hen Press for Red Hen Press: At the Kitchen Table with Rinde and Ellen on Sunday, July 22 at 2:00pm in the East Wing at The Broad Stage.
The theatre of Ellen McLaughlin of Angels in America and Rinde Eckert, known for his Kennedy Center performances and his acting out of little men with big ideas, juxtaposed with the poetry of Victoria Chang and Allison Joseph, carries the viewer into a spin of story floating between the poetic and the theatrical.
The Broad Stage and Red Hen Press have a history of bringing music, poetry and performance together in The Edye. Last season, Red Hen Press events featured GRAMMY Award winners
Hila Plitmann
and
Eric Whitacre
, as well as California Poet Laureate
Dana Gioia
, Brendan Constantine, and t'ai freedom ford. The Edye at The Broad Stage also hosted the Los Angeles premiere of
Samuel Beckett
's Imagination Dead Imagine, set to music composed by
Michael Roth
. Kate Gale, Managing Editor of Red Hen Press said, "The Broad Stage is a fantastic place to premiere and explore new work from Red Hen Press writers and other poets from Los Angeles and beyond. With The Broad Stage's diverse programming, we feel at home in presenting these performances that transcend genres. With this event in particular,
Rinde Eckert
and
Ellen McLaughlin
both have rich histories that touch on all aspects of performance and we can't wait to see their worlds intersect onstage with the poetry of Victoria Chang and Allison Joseph." Tickets are available now at
www.thebroadstage.org
or by calling 310.434.3200. About
Rinde Eckert
Rinde Eckert
is a writer, composer, librettist, musician, performer and director. Eckert began his career as a writer and performer in the 1980's, writing librettos for
Paul Dresher
(Pioneer, Power Failure, Slow Fire, Ravenshead). He composed dance scores for choreographers
Sarah Shelton
Mann and Margaret Jenkins, including the evening-length Woman, Window, Square for The Margaret Jenkins Dance Company. Rinde began composing and performing his own music/theater works in 1992 with The Gardening of Thomas D, an homage to Dante which subsequently toured the United States and France. Staged works for solo performer include Becoming...Unusual: The Education of an Eclectic; three one-act plays: An Idiot Divine, Romeo Sierra Tango and Quit This House; and works for radio including Shoot the Moving Things and Four Songs Lost in a Wall. In February 2017, Rinde opened the inaugural season of Renée Fleming's Voices Series at the Kennedy Center where he premiered his recital Rin: Tales from the Life of a Troubadour. Writing credits for the theater include Highway Ulysses, Horizon, Orpheus X, And God Created Great Whales, which has been produced three times with the original cast and director, for a total of 227 performances. And God Created Great Whales, Horizon and Orpheus X have run off-Broadway, garnering Drama Desk Nominations and the
Lucille Lortel
Award. Rinde has received numerous honors and awards for his body of work. In 2012 he was named an inaugural Doris Duke Artist, was honored to receive the 2009 Alpert Award in the Arts for Theatre, a 2007 Guggenheim Fellowship, and The American Academy of Arts and Letters 2005
Marc Blitzstein
Award. In 2007,
Rinde Eckert
was the finalist for the Pulitzer Prize in Drama. Eckert's work has been produced in New York by the
Foundry Theatre
,
Culture Project
, Theater for a New Audience and the New York Theatre Workshop. American Repertory Theatre in Cambridge, Center Stage in Baltimore, Cleveland's Dobama Theatre Company, REDCAT in Los Angeles at the Roy& Edna Disney/CalArts Theater, and Berkeley Repertory Theater have also produced his work. Directors have included
Tony Taccone
,
Robert Woodruff
,
David Schweizer
, Richard ET White and
Ellen McLaughlin
.
Rinde Eckert
has directed for The Asia Society, Juggernaut Theater, Opera Piccola and the
Paul Dresher
Ensemble. In 2013, he directed a remounting of Eye Piece for Barnard College students, and directed the two operas Theotokia and The War Reporter by Jonathan Berger and
Dan O'Brien
for Stanford Live. About
Ellen McLaughlin
Ellen McLaughlin
's plays have received numerous national and international productions. They include Days and Nights Within, A Narrow Bed, Infinity's House, Iphigenia and Other Daughters, Tongue of a Bird, The Trojan Women, Helen, The Persians, Oedipus, Ajax in Iraq, Kissing the Floor, Septimus and Clarissa, and Penelope. Producers include:
The Public Theater
, The National Actors' Theater and
New York Theater
Workshop in NYC, Actors' Theater of Louisville, The
Actors' Gang
L.A., Classic Stage Co., N.Y., The Intiman Theater, Seattle, Almeida Theater, London, The
Mark Taper Forum
, L.A., The Oregon Shakespeare Festival, The Getty Villa, California., and The Guthrie Theater, Minnesota, among other venues. Grants and awards include: Helen Merrill Award for Playwriting, Great American Play Contest,
Susan Smith
Blackburn Prize, the NEA, the Writer's Award from the Lila Wallace-Reader's Digest Fund, the
Berilla Kerr
Award for playwrighting. T.C.G./Fox Residency Grant -- for Ajax in Iraq, written for the A.R.T. Institute. She has taught playwriting at Barnard College since 1995. Other teaching posts include Breadloaf School of English, Yale Drama School and Princeton University, among others. Ms. McLaughlin is also an actor. She is most well known for having originated the part of the Angel in
Tony Kushner
's Angels in America, appearing in every U.S. production from its earliest workshops through its Broadway run. About Allison Joseph
Allison Joseph received a BA from Kenyon College and an MFA from Indiana University-Bloomington. She is the author of several poetry collections, including Confessions of a Barefaced Woman (Red Hen Press), which is forthcoming in 2018; Worldly Pleasures (Word Press, 2004); and What Keeps Us Here (Ampersand, 1992), winner of the John C. Zacharis First Book Award. Joseph has received fellowships and awards from the Illinois Arts Council. She teaches at and directs the Southern Illinois University-Carbondale MFA Program in Creative Writing, where she also serves as the editor-in-chief and poetry editor of Crab Orchard Review. She lives in Carbondale, Illinois. Her selected bibliography includes Worldly Pleasures (Word Press, 2004), Imitation of Life (Carnegie Mellon Unviersity Press, 2003), In Every Seam (University of Pittsburgh Press, 1997), Soul Train (
Carnegie Mellon University
Press, 1997) and What Keeps Us Here (Ampersand, 1992). About Red Hen Press
Red Hen Press, one of the few literary presses in the Los Angeles area, was founded in 1994 by Kate Gale and Mark E. Cull with the intention of keeping creative literature alive. Our focus as a literary press is to publish poetry, literary fiction, and nonfiction. Red Hen Press is committed to publishing work of literary excellence, supporting diversity, and promoting literacy in our local schools. We seek a community of readers and writers who are actively engaged in the essential human practice known as literature. Red Hen Press offers several literary awards each year, including the Benjamin Saltman Award. The winner of the Benjamin Saltman Award receives a cash prize in addition to publication of the winning poetry collection. Past judges include:
Claudia Rankine
, Robin Becker, Wanda Coleman, B.H. Fairchild, Nick Flynn, Eloise Klein Healy, David St. John, Dorianne Laux, Thomas Lux, Philip Levine, Alicia Ostriker, James Ragan, Peggy Shumaker, and Quincy Troupe. Other awards offered include the Red Hen Press Short Story Award and the Ruskin Art Club Poetry Award, both for publication in the Los Angeles Review. Red Hen Press is also committed to promoting literacy in the community. Beyond developing an appreciation of literature, we believe it is essential to our society to promote a readership that remains open and critically engaged in reading a variety of well-written, thought-provoking work. Our Writing in the Schools program brings writers into schools to run writing workshops and to read and discuss their work-promoting both literacy and creative expression among young people. We organize readings in schools, universities, libraries, and literary organizations. We donate books to a variety of organizations, including schools and facilities that educate at-risk youth.