Tailgate Fest 2019 Announces Brantley Gilbert And Brett Eldredge As Headliners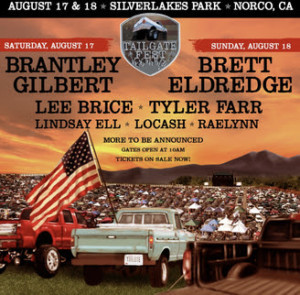 One-of-a-kind country music experience TAILGATE FEST announces its dramatically expanded 2019 lineup today, revealing headliners BRANTLEY GILBERT and Brett Eldredge among a top-flight batch of performers. Also set to appear at this year's two-day tailgating event are Lee Brice, TYLER FARR, LINDSAY ELL, LOCASH and RAELYNN, with the exponentially-growing phenomenon set to add more country favorites in the coming weeks. Now in its second year, TAILGATE FEST 2019 has more than doubled in size - both physically and in terms of excitement - moving from a simple parking lot to 200+ lush acres of green grass at Silverlakes Festival Grounds in Norco, CA, just 45 minutes outside of Los Angeles. Palm trees, a giant gorgeous side-stage pool and a pristine lake invite fans for a double shot of country fun in a real-life paradise, with the addition of overnight camping and bonfire singalongs adding to the immersive, make-your-own party vibe.
Much like year one, TAILGATE FEST 2019 will once again cater to country fans who love to show up hours before concerts and turn the parking lot into a party - making the tailgating experience into the main event itself. Bringing the stage, the artists and the music outside to the fans, festivalgoers never have to leave the comfort of their own customized tailgate area, free to bring all their favorite amenities including tents and outdoor furniture, as well as all their favorite food and beverages. This year's party won't quit for two days, and fans can enjoy non-stop country tailgating with perfect views of the action onstage - whether is truckside, poolside, stage-side or now lakeside. After a wildly successful start in year one, the explosive growth of TAILGATE FEST comes as no surprise to festival co-founder Melissa Carbone, who claims "Tailgate Fest will be the most popular Country music festival in the world. It's a fresh new model that's listening to and answering the needs of fans. It's clear they want to experience live music their way, without breaking the bank.
Tailgate is breaking the mold by letting people build a world around their vehicles ... they can stay in that world and have everything they love most in one place ... food, drink, country music, sun, games, love and friendship!" Carbone continues, "at Tailgate in year one we noticed that people don't have their phones in their hands when they tailgate - it's one of the only human-to-human visceral social interaction festival models around these days. That sense of connection alone will make Tailgate Fest the most popular Country music festival in the country." About Tailgate Fest, LLC Team
Tailgate Fest creator/founder, Melissa Carbone was the founder and CEO of Ten Thirty One Productions, creator of the iconic Los Angeles Haunted Hayride and immersive entertainment attractions throughout the country with a cumulative attendance of over 600,000 tickets sold to her events. She has been featured inForbes, Fortune, Entrepreneur Magazine, The Today Show, and Bloomberg, to name a few. Carbone was awarded the Entertainment Visionary Award by CSQ Magazine, was a Keynote Speaker at Music Matters Singapore, and is also well known for securing the largest investment in the history of NBC's Shark Tank. She recently launched her first book Ready, Fire, Aim: How I Turned a Hobby into an Empirewhich became an October 2017 Business Bestseller, among many other awards. Alyson Richards was the co-founder of Ten Thirty One Productions, alongside Carbone. Richards most recently was the Senior Vice President of Strategic Partnerships for iHeartMedia, overseeing business development and innovative partnerships. Richards was responsible for driving revenue, listenership and brand partnerships for iHeartMedia as well digital growth and engagement for iHeartRadio. She helped distribute iHeartRadio across more than 250 platforms that contributed to iHeartRadio's more than 1.7 billion downloads and 120 million registered users.
Carbone's business partner and co-founder, Giancarlo Chersich, is the co-founder/CEO of Empowered Media which operates the Jillian Michael's brand. Chersich is an investor in Lucky Jack Coffee, Krave Jerky, PopChips, Barry's Bootcamp, FlyWheel, Thrive Market and AQUAHydrate, to name a few. Carbone and Chersich brought in renowned producer Ford Englerth, owner of Red Rock Entertainment, a subsidiary of Live Nation. Ford is the former head of production for Live Nation for over 20 years and has produced every major festival and show in Southern California including Route 91 Harvest, Lalapalooza, Blake Shelton, Florida Georgia Line, Toby Keith, Red Hot Chili Peppers, U2, Jay-Z, The Rolling Stones and even Kenny Chesney.
For more information, please visit: https://latailgatefest.com.
More Hot Stories For You