THE JOY WHEEL Opens Feb. 15th At Ruskin Group Theatre; Jason Alexander Directs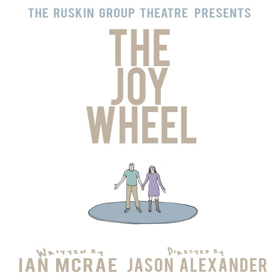 Life is changing for Frank and Stella. On the day of Frank's retirement party, this once loving and simple couple find themselves pulled in different directions as the winds of change blow through Joy, Illinois. The world is not what it was. Joy is not what it was. Stella is shaken, but inspired, by her best friend becoming a liberated, sexualized, independent woman, while Frank decides to emulate his doomsday prepper friend by building an underground bunker that once was the family swimming pool. It's as if all of them are riding the Joy Wheel, hanging on to someone else so they can stay their ground.
Ian McRae's popular play, The Alamo, debuted at the Ruskin in 2017, continuing with two extensions and running for almost three months. The Alamo will have its Chicago debut in April 2019. Ian was a member of Cucaracha Theatre in NYC where several of his plays have been produced. He apprenticed with Sanford Meisner and has taught at The Neighborhood Playhouse School Of The Theatre in New York.
"While The Joy Wheel is fun and funny, it is also about people who find themselves losing connection and confidence in the lives they have built," says director Jason Alexander. "They desperately reach out to find something that helps them feel safe and secure. It feels like a reflection of what so many people are experiencing in these divisive, uncivil times. I very much wanted to be part of the journey that these characters take in finding something better. Ian has written a beautiful play and I'm thrilled to be a part of its world premiere."
Jason Alexander directed the Los Angeles premiere of The God of Hell at Geffen Playhouse, Native Gardens at Pasadena Playhouse, Broadway Bound at Odyssey Theatre, and the world premiere of Windfall at Arkansas Rep. His feature film directing credits include, "For Better Or Worse" and "Just Looking." Jason won a Country Music Award for his direction of Brad Paisley's "Online" video. TV directing credits include: Seinfeld, Criminal Minds, Everybody Hates Chris and Mike and Molly. He served as the artistic director of Reprise where he directed Damn Yankees, Fantasticks and Sunday in the Park. When not directing, he has occasionally tried acting.
Artistic Director and Producer John Ruskin founded the professional company in 2001. He helmed their critically acclaimed production of Strange Snow and teaches a Master's Class in acting at RGT. John's years of experience include studies at the Yale School of Drama, British American Drama Academy in Oxford, England, and the University of Colorado in Boulder. In New York, Ruskin joined the acting faculty of The Neighborhood Playhouse at the request of Sanford Meisner (who he then apprenticed with) before moving to Los Angeles where he founded his own school of acting in addition to the professional theatre company. He provides outreach through RGT with their "Healing Through the Arts" project. Presently, this includes taking RGT actors into Mattel Children's Hospital UCLA to work with and entertain the patients.
Producer and Managing Director Michael Myers has produced more than 80 projects since 2002, including the world premiere hit production of Rex Pickett's Sideways The Play. He directed the long running "sold out" run of Paradise: A Divine Bluegrass Musical Comedy at the Ruskin last season, and again in January 2019 for its premiere in Austin, Texas. Michael helmed the world premiere of Digging Up Dad and the critically acclaimed production of Faithful at RGT. He is a co-creator of the Ruskin Group Theatre's popular CAFE PLAYS, the monthly offering of one-acts that are done in 10 1/2 hours from conception to staging.
Ruskin Group Theatre launched the World Premieres of Rex Pickett's Sideways The Play, picked up by La Jolla Playhouse (directed by Des McAnuff), and subsequently moving to London's West End, Paradise: A Divine Bluegrass Musical Comedy later produced by the Austin Playhouse in 2019 with the Ruskin cast, and The Alamo which will have its Chicago premiere in April 2019. Ruskin's Healing Through The Arts program brings their actors into Mattel Children's Hospital UCLA, where they are working with the Chase Child Life Program, to work with and entertain the patients. The CAFE PLAYS, created by RGT, are produced and now celebrating their 12th anniversary. RGT supporters Dylan McDermott, Ed Asner, and other industry celebrities joined to produce the Best of Café Plays (both shows sold out within hours) for their 10th season. Anthony Hopkins, David Mamet, Ed Asner, Ed O'Neill, and Jim Belushi are just some of the noted guests to have taught Master classes at the Ruskin.
The cast includes *Dann Florek, *Gina Hecht, *Lee Garlington, and Maury Sterling
The creative team includes Mike Reilly (Production Manager), John Iacovelli (Scenic Design), Edward Salas (Lighting and Sound Design), Sarah Figoten Wilson (Costume Designer), Paul Ruddy (Casting), and Nicole Millar (Stage Manager)
The Joy Wheel opens at 8pm on Friday, February 15th and runs Thursdays - Saturday at 8pm, Sundays 2pm through March 24, 2019. Ruskin Group Theatre is located at 3000 Airport Avenue, Santa Monica, CA 90405. Tickets are $30 - $35 and can be purchased in advance by calling (310) 397-3244 or online at www.ruskingrouptheatre.com. Free parking available on site.