Skylight Theatre Company Opens ROTTERDAM, A West Coast Premiere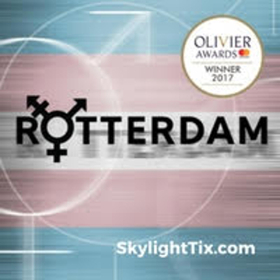 A queer love story, about all of us...
Skylight Theatre Company Stages West Coast Premiere of ROTTERDAM by Jon Brittain and Directed by Ovation Award Winner
Michael A. Shepperd
"Rotterdam" opens at 8:30pm on Saturday, November 11, 2017 and runs Fridays & Saturdays at 8:30pm, Sundays at 2:00pm, and Mondays at 8:00pm through December 11, 2017. Skylight Theatre is located at 1816 ½ North Vermont, Los Angeles, CA 90027. Tickets are $15 - $41. Reservations: 866-811-4111 or http://SkylightTix.com New Year's. Rotterdam, 2017. Alice has finally found the courage to email her parents to tell them she's a lesbian. But before Alice hits send, her girlfriend Fiona reveals that she has always identified as a man, and now wants to live as one, sending their relationship into a tailspin. Amid a breaking wave of transgender stories in popular culture (Transparent, Boy Meets Girl, and Orange is the New Black), Jon Brittain has created a groundbreaking play, with deeply relatable characters that are flawed, and hilarious. Rotterdam is a comedy with powerful questions about love and identity at its core. Jon Brittain received the Olivier Award in 2017 for Outstanding Achievement in an Affiliate Theatre and was nominated for the Charles Wintour Award for Most Promising Playwright at the Evening Standard Awards, with a nomination for the Off West End Award as well. His plays include The Wake, The Sexual Awakening of Peter Mayo, What Would Spock Do? and A Super Happy Story (About Feeling Super Sad). Brittain co-created the critically acclaimed show Margaret Thatcher Queen of Soho (winner of both the Brighton Argus Angel for Artistic Excellence, at Brighton Fringe, and the Micheál Mac Liammóir Award for Best Male Performance at the Dublin International Gay Theatre Festival) and its sequel Margaret Thatcher Queen of Game Shows. He was one of the 503Five 2012/2013, and has worked extensively with Old Vic New Voices. Brittain has written for Radio 4's The Now Show and the Cartoon Network's The Amazing World of Gumball. "Everything I've ever written has had some kind of comedic angle to it. To entertain someone is an excellent way to open them up to new thoughts, says Brittain. This story is an optimistic one. Given what's happening in the world today, I think we need a bit of optimism." "To live your truth out loud can be dangerous," added director
Michael A. Shepperd
. "But, to take that step into your authentic self can make you much more powerful than anything the world can throw at you. This is the world of Rotterdam." Director Michael Sheppard is the Co-Artistic Director of Los Angeles' award-winning
Celebration Theatre
. Directing credits include: The Boy From Oz (Ovation Award, LADCC Award, Best Director), The View Upstairs, The Next Fairy Tale, [title of show], A Gay Christmas Carol, GaGa Gardens, The Max Factor Factor, and Rent. Michael is a Resident Director for The
Blank Theatre
's Young Playwrights Festival and numerous others. Acting roles include Fences (Troy; Ovation, LADCC Nominations), Bootycandy (LADCC nom, Ovation, Stage Raw Win), The Color Purple (Mister; Ovation Award), Steel (Ovation Award), Master Harold and the Boys (NAACP theatre nom), Intimate Apparel (NAACP Award), and Choir Boy (NAACP nom). Broadway/Regional credits include:
Cathy Rigby
is Peter Pan, Little Shop of Horrors, Caroline, or Change, Whipping Man. TV: Curb Your Enthusiasm, Soul Man, Hot In Cleveland, Wizards of Waverly Place, Monk, Criminal Minds, NCIS.
Gary Grossman
(Producer) is the recipient of Stage Raw's 2016 "Career Achievement Award," and he is the Producing Artistic Director for Skylight Theatre Company. He started his career in New York owning two theaters and a theatrical lighting company by the age of 23. Gary worked at
The Public Theatre
, Café La Mama, and Sheraton Square Playhouse before traveling west in the 70's to join up with the emerging theatre moment in Los Angeles. He has produced over 300 stage plays, including more than 50 world premieres. Among his celebrated productions are the World Premieres of Church & State (deputing Off-Broadway on March 2017), Dontrell, Who Kissed the Sea (Steinberg/National Theatre Critics Citation), Lord of the Underworld's Home for Unwed Mothers (Humanitas/CTG Playwriting Prize), El Grande CIRCUS de Coca-Cola , Wrong Man (3 Ovation Awards), Pray To Ball (1 Ovation Award), Years to the Day, Hermetically Sealed, Bullrusher, Sexsting, Mad Women (LA Weekly Award), Romeo and Juliet directed by
Milton Katselas
(3 LADCC Awards), Dylan (3 LADCC Awards), Influence, Open House, Dream Man, Lone Star, Balm in Gilead, Visions and Lovers, Rabbit Hole, Beautified and La Ronde de Lunch.
Tony Abatemarco
(Producer) is the Co-Artistic Director of Skylight Theatre Company. He served as Director of LA Live! at the Natural History Museum and was Artistic Director of
Jacques d'Amboise
' National Dance Institute at The
Mark Taper Forum
, for
Center Theatre Group
. Recognized for his work directing
Julie Harris
in Lucifer's Child on Broadway and for A & E TV, he directed
Robyn Peterson
's Catwalk Confidential at the Arts Theatre in London's West End. Regional directing credits include work at
The
Pasadena Playhouse
, The Taper Too, Santa Fe Stages, La MaMa ETC, and Theatre Grévin in Paris. In Los Angeles Abatamarco is the recipient of 6 LA Weekly and 18 DramaLogue Awards for Direction. A graduate of The Juilliard Drama Division, as an actor he has won top honors for his lead performances in The Mystery of Irma Vep (Ovation & LA Weekly Awards), Bach at Leipzig (LA Drama Critics' Circle nom), La Bete (Ovation Award nom), Slow Motion (LA Weekly and LA Drama Critics' Circle Award nom), and his original Four Fathers (LA Weekly and DramaLogue Awards). Tony won the first Ted Schmitt "Innovation in Small Theatre Award" from Theatre LA and he was the recipient of the first DGA/ SSDC
George Stevens
Observership.
Andrew Carlberg
(Producer) was named by Variety alongside
Mindy Kaling
, Ryan Coogler and
Beau Willimon
as one of "Hollywood?s New Leaders." He is an award-winning feature film, television, new media, Broadway and Los Angeles stage producer with selected credits that include Broadway's Romeo and Juliet and Side Show, as well as
Celebration Theatre
's Ovation Award winning productions of The Color Purple: The Musical and The Boy from Oz. Andrew was a producer for ABC's Castle, DirecTV's Full Circle, the
Neil LaBute
penned feature films "Some Girl(s)" and "Dirty Weekend." Josh Gershick (Associate Producer) is the
Dramatists Guild
's Southern California regional representative. His works include the plays Dear ONE: Love & Longing in 20th Century Queer America, Coming Attractions and Bluebonnet Court, winner of the GLAAD Award for Outstanding Los Angeles Theatre; the film Door Prize, winner of the Alfred C. Kinsey Award; and the books Gay Old Girls and Secret Service: Untold Stories of Lesbians in the Military. He is a former newspaper reporter, editor, publicist & professor. Skylight Theatre Company discovers, develops and produces new, exhilarating works that expand mainstream theatre while nurturing and educating the people who create them. A recipient of the prestigious Steinberg National Theatre Critics Citation (Dontrell, Who Kissed The Sea -
Nathan
Alan Davis
), Skylight's resident PlayLAb writers have been recognized with productions nationwide, a national 2014 USA Ford Fellowship in Theater and Performance (Sigrid Gilmer), and locally as a winner in the 2015 Humanitas/CTG Playwriting Prize (Louisa Hill - Lord of the Underworld's Home for Unwed Mothers). Skylight won 4 Ovation Awards in 2014 for The Wrong Man and Pray To Ball (the most of any intimate theatre in LA). LA Weekly included the Skylight's productions of Years To The Day, Open House and Sexsting on their Top Ten list of plays for 2013. Their first year as a company dedicated to developing new plays, 2011, found Skylight's production of Hermetically Sealed on the LA Times annual list of Top Ten Plays, while Mad Women moved from Los Angeles to La MaMa in New York. Since then, plays developed by Skylight have been performed Off-Broadway and in other New York theaters, Chicago, Washington D.C., Oregon, Cincinnati, Cleveland, Indianapolis, Kansas City, and internationally in Scotland and France. For more information, script submission policy and production history go to http://skylighttheatre.org Hartshorn - Hook Productions Ltd. are the Olivier Award-winning producers of Rotterdam at Trafalgar Studios. Founded in 2007 by Louis Hartshorn and Brian Hook, H+H has produced over 70 shows, including Woody Sez (nominated Best West End Musical, ES Awards); Away From Home (winner 24:7 awards Best Actor and MTA awards Best New Play); and Some Small Love Story (nominated MTM: UK Best Lyrics). Additional West End credits include Murder Ballad (Arts); Urinetown (Apollo); American Idiot (Arts and UK Tour) and The Blues Brothers: Xmas Special (Arts) and a production of Richard II performed in the Palace of Westminster. International work includes the Away From Home world tour, concluding in Auckland, New Zealand, and The Rat Pack - Live, which has toured across the UK, Europe and Africa. Hartshorn - Hook is a co-producer of the central London transfer of the Guild of Misrule's immersive The Great Gatsby. Cast: Ryan Brophy (Young Arts 2014 Finalist/Silver Award winner);
Audrey Cain
(East West Players production of La Cage Aux Folles, and Friends in Transient Places by Fresh Produce'd LA with appearances at the Fountain Theatre, Chalk Rep and EST-LA);
Ashley Romans
(Charm at
Celebration Theatre
in 2016, and The Devil Lives in Clarksville County);
Miranda Wynne
(Cissy Franks in the West Coast premiere of Punk Rock at the
Odyssey Theatre Ensemble
); Production Team:
Jeff McLaughlin
(Set and Lighting Design), Christopher Moscatiello (Sound Design),
Naila Aladdin Sanders
(Costume Design), Christopher Aguilar (Asst. to the Director), Tuffet Schmelzle (Dialect Coach), Raul Clayton Staggs (Casting Director) Rotterdam opens at 8:30pm Saturday, November 11th and plays at 8:30pm on Fridays and Saturdays; 2:00pm on Sundays; and 8:00pm on Mondays through December 11, 2017. Skylight Theatre is located at 1816 1/2 N. Vermont Ave, LA, 90027. Tickets are $15 - $41. Reservations: 213-761-7061 or or 866-811-4111. Online at http://SkylightTix.com
More Hot Stories For You