Review: PARFUMERIE Takes Much Too Long to Get to the Love Story at its Heart
The 1936 Hungarian play PARFUMERIE by Miklós László has the humble distinction of living in the shadow of the more famous movies (and Broadway musical) that it inspired. In fact, Hollywood has cashed in on the play not once but three times - the first adaptation was the 1940 Ernst Lubitsch romantic comedy "The Shop Around the Corner," starring James Stewart and Margaret Sullavan, which was followed by the 1949 screen musical version "In the Good Old Summertime," starring Judy Garland, and much later by the 1998 Nora Ephron movie "You've Got Mail," with Tom Hanks and Meg Ryan. And of course, the Broadway musical "She Loves Me" - adapted from the play by Jerry Bock, Sheldon Harnick and Joe Masteroff - opened in New York in 1963 and is now one of the most beloved (and revived) musicals during the Christmas season each year.
All I can say is for those who enjoy this story of mistaken identity between pen-pal lovers should see one of those versions rather than the overly long and drawn out adapted version of PARFUMERIE by E.P. Dowdall now onstage at Theatre Palisades, which at 2 ½ hours seemed to drag out the central love story of
George and Amalia's to the brink of boredom. Perhaps this was due to the lackluster caliber of many in the cast and the total lack of the play working as the ensemble piece it was meant to be, perhaps due to Brandon Ferruccio's direction which seemed made it seem more like a showcase for each actor to say their lines and overplay their characters as caricatures without really worrying about the give-and-take necessary between actors to make a story believable and interesting. Perhaps as the run continues through December 9 the actors will learn to be onstage as a team to generate the much-needed higher energy level.
In general, PARFUMERIE follows the tangled tale of Parfumerie employee George Horvath,
portrayed by Tyler Gaylord as the most likable "everyman" character in the play. Just days before Christmas, George's boss Mr. Hammerschmidt (Mitch Feinstein, whose emotional reactions run the gambit of reality) fires him after mistakenly suspecting him to be the lover of his unfaithful wife. Meanwhile, George's own love life goes awry when he discovers that the stranger he has fallen in love with through a secret correspondence is none other than Amalia Balash (lovely Mariel Suarez), a co-worker with whom he constantly feuds.
Other employees who interact
with those three main characters include hard-working Mr. Sipos (Manfred Hofer), the eldest salesman who befriends George by lending him an ear, all the while worried layoffs will happen sending him out the door with a wife and 2 kids to feed at home. Hofer presented this character as the most caring and well-rounded in the production.
Remember life was tough in 1936 Romania, although the time period is only hinted to with costumes designed by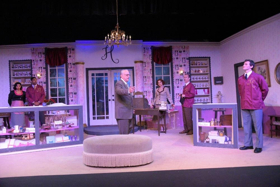 June Lissandrello since others seemed to reflect more of a 1950s feel, and the Policeman's (Judy Rosenfeld) comments about now nicely the store is decorated when its two neighboring businesses have shut down. Perhaps her most alarming comment "to remember to close down by 9pm to observe the curfew" is the most revealing time period revelation in the play.
The other employees of the Parfumerie include handsome Steven Kadar (Kristian Kordula, who personifies a totally selfish user of others to maintain his "man about town" image),
eye-candy man-crazy sales clerk Ilona Ritter (Kiara Feliciano) and cashier Elizabeth Molnar (Brittany Turner). Kevin Kempis portrays the store's harried, bike-riding delivery person Arpad Novack, with Hana Pak, Nancy Hulligan, and Judy Rosenfeld taking on other ensemble roles. Hulligan has a very nice scene portraying a detective hired by Hammerschmidt to spy on his cheating wife to determine exactly who she is running around with, after which George regains the trust of his boss and Kadar is fired.
Unfortunately, even though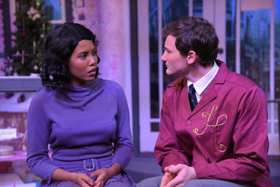 George realizes that Amalia is his secret love, he does not reveal the truth to her until Christmas Eve, more than two hours into the play, which of course leads to a happy resolution in this very old-fashioned, romantic Christmas tale. That tender scene, however, was disrupted by some very loud chatter in the theater lobby which could be heard clearly over the play dialogue from where I was seated in the theater, ruining probably the most heartfelt scene in the play that I had been anxiously awaiting to occur.
Set and lighting design by Sherman Wayne
suits the production well and Susan Stangl's holiday music-filled sound design will certainly welcome in the season for all who attend.
PARFUMERIE by E.P. Dowdall runs through December 9, 2018 on Fridays and Saturdays at 8 p.m. and Sundays at 2 p.m at Theatre Palisades Pierson Playhouse, 941 Temescal Canyon Dr., (just south of Sunset), Pacific Palisades 90272. Tickets are Adults $20; Seniors and Students $18. Box Office at (310) 454-1970. Free Parking onsite and in the adjoining neighborhood.
Photo credit: Joy Daunis