Review: Adam Rapp's Pulitzer Prize Nominated and Award-Winning Play, NOCTURNE, Brilliantly Acted by Jamie Wollrab
The dialogue in Adam Rapp's searingly and brutally honest play NOCTURNE is so beautifully written with remarkably descriptive phrases, it will awe your imagination into immersing yourself into one man's journey after, as a teen, he unwittingly caused the death of this younger sister in a late-night, tragic car accident on a country road due to failing brakes. The Son, whose name we never learn, is brilliantly portrayed by Jamie Wollrab who engulfs his entire being into telling one man's journey of redemption in this gut-wrenching yet hauntingly lyrical mediation on guilt and grief, all of which begins with the repeated line, "Fifteen years ago, I killed my sister."
Directed by James Eckhouse and Richard Schiff for the Triptych Theatre Company, NOCTURNE, as told by the masterful Jamie Wollrab, presents a passionate, multi-media visual experience on a set designed by David Mauer in the very small VS. Theatre Company (formerly the Black Dahlia Theatre) in West LA. As you follow "The Son's" woeful tale, 3 scrim-hidden chambers are revealed thanks to Justin Huen's lighting design, showing us a black piano, old-fashioned typewriter, and parts of a 1969 Buick Electra, in which the young man, at 17, was driving when his brakes failed, causing the tragic accident in which his younger sister was killed at age 9 in the most gruesome way imaginable near their family home in Joliet, IL. It's a wonder anyone could survive the guilt and remorse such an incident would cause to your psyche.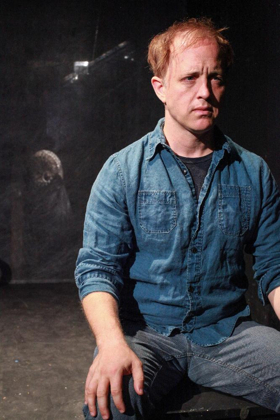 The solo show runs approximately 90 minutes, during which time Wollrab never leaves the stage nor takes a sip of water while speaking Rapp's poetic and intensely emotional lines. I guarantee tears will well up more than once in your eyes, as they do so believably in Wollrab's, as he describes how he attempted to move on with his life by drifting to New York City while wracked with remorse, as he tries to put the pieces of his shattered existence back together. Along the way, he writes a novel and takes up with a red-headed woman who assists him in getting it published, but it unfortunately only sells 2,000 copies to friends and family members. As their friendship slowly turns into a loving relationship, his inability to consummate it eventually turns him into even more of a recluse, at which point we meet up with him as he recalls his life - as he apparently considers ending it.
The black Steinway piano, which the young man describes as the only striking element in the pale Formica covered house where he grew up, often emits music of much sadness as his tale is told. For while he enjoyed playing it from ages 10-17, he has not touched it again since the tragic accident. This piano plays an important role near the end of the play as he discovers it again in the hospice room where his father is being cared for at the end of his life, someone the young man had no spoken to since the accident. Be sure to have a tissue ready during this scene. And be ready to be thoroughly amazed by Jamie Wollrab throughout his performance.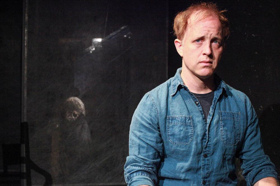 Pulitzer Prize nominated and award-winning play, NOCTURNE, written by Adam Rapp, co-directed by James Eckhouse ("Beverly Hills, 90210," "Avengers") and Richard Schiff (" West Wing"), featuring Jamie Wollrab, runs through Sunday, August 13 on Fri/Sat at 8pm, Sunday at 7pm, as a guest production at Vs. Theatre, 5453 W. Pico Blvd. in Los Angeles. Ticket prices are $25 for all performances, and available online at http://www.triptychgroup.org or at www.eventbrite.com.
Founded in 2002 by Artistic Director Jamie Wollrab, Triptych Theatre Company was created with the intention to foster creative collaborations between Los Angeles based artists and local non-profit organizations by raising money and awareness. For this year's production of NOCTURNE, part of the proceeds will profit Zeno Mountain Farm, a camp and community comprised of friends with diverse needs that come together every year to create projects around art, film, theatre, sports, music and adventure. No one is paid nor pays to come to camp. Their mission is to create lifelong friendships and opportunities for people with diverse needs.