Photos: Vox Femina Gets Their Yule On
Yes, Virginia, there is a Santa Claus ... and a sugar plum fairy, not to mention five gold rings, seven swimming swans and a partridge in a pear tree too! And audiences experienced them all at Vox Femina's "Holiday Voices" concert at the First Congregational Church in Pasadena on December 12th, where the Los Angeles based, but internationally known, Vox Femina offered patrons their first holiday concert in 11 years to a sold out crowd.
Not the typical holiday fare, the concert presented the unique Vox perspective on the season of love, renewal, and peace. The concert featured popular carols and lullabies (both in English and Spanish) as well as taking the audience on a journey along the road to Bethlehem and the simple stable that witnessed an event that changed the world.
The repertoire included music of Benjamin Britten, Conrad Susa, Z. Randall Stroope, Roger Bourland, Paul Carey and Mack Wilberg. The evening also included various sets dedicated to "Voices of Tradition," "Voices of Peace and Hope," "Voices of Vox," and concluding with "Sugar and Spice." The engagement included an exciting routine by dancers Billy Rugh and Michelle Benton as a Toy Soldier and Ballerina preforming the "Dance of the Sugar Plum Fairy" from "The Nutcracker," in addition to a very special appearance by Ole Saint Nick himself who was treated to a saucy rendition of "Santa Baby" in true Vox Femina style ... There was no response from Mrs. Claus.
Vox Femina Los Angeles is a women's choral ensemble dedicated to the performance of quality choral literature with an emphasis on music by women composers. Choral singing is one of the oldest performance arts in existence, but Vox is excited to perform new works and accept new
challenges for themselves and for the audience. Vox Femina Los Angeles is under direction of Dr. Iris S. Levine who is Chair of the Cal-poly Music Department, the Artistic Director for the Stephen S. Wise Master Chorus and the ACDA Western Division Repertoire and Standards Chair for Women's Choirs. She founded Vox in 1997 and in the past 12 years, Vox has established itself as one of the preeminent women's choruses in the United States with a demonstrated ability to perform highly
eclectic repertoire, some of which can be heard on several recordings. It has actively fulfilled its goals through an exciting schedule of performances, touring and educational outreach. Vox Femina Los Angeles is funded through grants and private donations.
"Holiday Voices" was supported, in part, by the Los Angeles County Board of Supervisors through the LA County Arts Commission. "Vox Femina Los Angeles and I shared a tremendous pride in presenting this concert." says Dr. Levine. "It will surely be remembered by all who attended as a performance full of joy and peace, as well as sugar and spice. We intended to comfort the audience, make them laugh and offer a twist on the traditions of the season and I think we succeeded."
For more information about Vox Femina please visit www.voxfeminala.org
Photo Credits: Maurine Dodge

Billy Rugh and Michelle Benton as a Toy Soldier and Ballerina preforming the Dance of the Sugar Plum Fairy from The Nutcracker.

Dr. Iris Levine with Vox Femina

Dr. Iris Levine with Vox Femina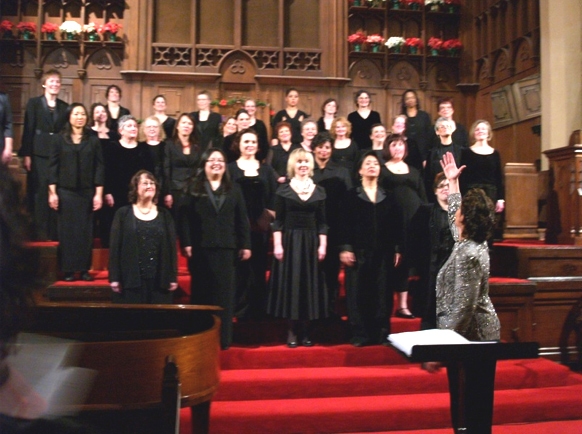 Dr. Iris Levine with Vox Femina