Photo Flash: Short film Troublesome Screens At The Renberg Theatre
Award winning Writer, Hilliard Guess, proves he is equally as talented as a Director and Executive Producer with the debute of the theatrical short film "Troublesome" at the Renberg Theatre on Wednesday, February 17th, 2010. "With the destruction of jobs after the WGA strike, I took an active position in my life," recalls Guess. "I'd proven myself as a writer and developed "Troublesome" as a project for me to produce and direct."
The Hilldog Productions film starring stage and screen veteran Gordon Thomson as Dr. Ross and Kareem Grimes as Rap super star Kritikal were very well received by audience members which included Alison Arngrim (Little House on the Prairie), Channing Chase (Mad Men), Romi Dames (Hanna Montana), and Kate Linder (The Young & the Restless) among others.
The storyline takes its characters and patrons on a rather fast paced emotional ride considering it takes place on board a stranded subway car with no promise of rescue. "There's a reason I chose a subway as our one and only location," says Guess. "It's contained, confining and worst of all ... Dark!" With Oxygen fading and tensions rising, confrontations lead to confessions and ultimately discovery in this well written and performed tribute to what can be accomplished with a low budget, when you have both talent and dedication to produce excellence. The cast is complimented by the work of director of photography, John Savedra and a remarkable musical score that included "My Life's Kritikal," produced by Mike Greene with Lyrics by Dert Julian and performed by Kareem Grimes. "Troublesome" should be submitted for consideration as a Best Short Film Live Action for the 2011 Academy Awards.
Check out www.hilldogproductions.com/troublesome.htm for more information.
Photo Credits: Bonnie Osborne


Film Poster

Kareem Grimes, Gordon Thompson and Hilliard Guess

Romi Dames and Kareem Grimes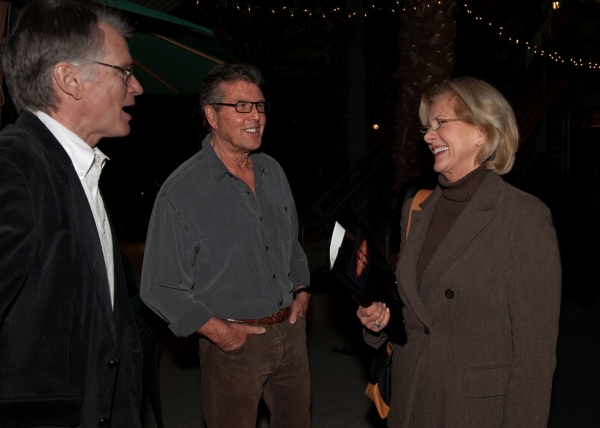 Gordon Thompson, Robert Hales and Channing Chase

Alison Arngrim, Hilliard Guess and Kate Linder