Photo Flash: Rubicon Theatre Company Celebrates Black History Month with THE DEVIL'S MUSIC: THE LIFE AND BLUES OF BESSIE SMITH
Rubicon Theatre Company celebrates Black History Month with THE DEVIL'S MUSIC: THE LIFE AND BLUES OF Bessie Smith, starring singer and actress Miche Braden of the original Off-Broadway production (named one of the 10 Best Off-Broadway productions of the year by the N.Y. Daily Times). Described by CBC as a, "bawdy, bluesy, boozy rollicking night out at the theatre," the show follows the life, loves and career of blues and jazz singer Bessie Smith, called the "Empress of the Blues."
THE DEVIL'S MUSIC: THE LIFE AND BLUES OF Bessie Smith is conceived and directed by Joe Brancato of Penguin Rep, and written by Angelo Parra. Set in 1937 in Memphis, Bessie and her musicians have been turned away from performing at a "Whites-Only" theatre, then finding a hospitable gin joint where Bessie recounts her incredible journey from an impoverished childhood in Chattanooga, to her fortuitous rise as a show-stopping singer. Laughter, pathos and music all come together to deliver an electric, entertaining and surprisingly touching evening in which Bessie sings signature songs such as "I Ain't Got Nobody," "St. Louis Blues," "Baby Doll" and "T'ain't Nobody's Bizness If I Do." Braden is joined by musicians Gerard Gibbs on Piano, Anthony Nelson Jr. on Sax and James Hankins on Bass. Gibbs also plays Pickle, who serves as narrator and guide at times, while coaxing Bessie to tell her story.
MUSIC: THE LIFE AND BLUES OF Bessie Smith opens in Ventura on Saturday, February 25 at 7:00 p.m., followed by a post-show party with cast, crew and local VIPs at NOW Ventura. Low-priced previews are February 22-24. The show runs Wednesdays through Sundays through March 12, 2017. For tickets, go to www.rubicontheatre.org or call (805) 667-2900.
The show stars Miche (pronounced "Mickey") Braden in the indelible role of one of the greatest blues singers of all time, Bessie Smith who would go on to inspire Billie Holiday, Aretha Franklin and Janis Joplin. Tragically, Bessie's career was cut short in a car crash when she was only 43. Her funeral was held in Philadelphia a week later, with over 7,000 mourners paying their respects. In THE DEVIL'S MUSIC: THE LIFE AND BLUES OF Bessie Smith, the singer recounts her highs and lows in music and love with raucous humor and mirthful regret tinged with an unshakable foreboding.
THE DEVIL'S MUSIC: THE LIFE AND BLUES OF Bessie Smith began with a six-week Off-Broadway run in early 2001, and was produced by The Melting Pot Theatre at Theatre 3. It was directed by Brancato and starred Braden. Musical direction and arrangements are also by Braden. Productions of the show have played to sold-out houses in New Jersey, Florida, Connecticut, Massachusetts, Oregon and Winnipeg, Canada.
Miche Braden (Bessie Smith/Musical Director/Musical Arrangements) is a singer, actor, musician, songwriter, arranger, writer and musical director. She describes herself as a product of the rich musical heritage of her hometown, Detroit, where she was an Artist-in-Residence with the Detroit Council of the Arts, the founder and former lead singer of Straight Ahead (a women's jazz band), and was honed by the best musicians in Detroit including Motown musicians Thomas "Beans" Bowles, Earl Van Dyke (leader of the Funk Brothers), jazz masters trumpeter Marcus Belgrave, composer Harold McKinney and her mother Dr. Mildred J. Dobey.
Braden's Musical Direction & performance as
Bessie Smith
in the Off-Broadway production of The Devil's Music: The Life and Blues of
Bessie Smith
garnered her and her collaborators four coveted award nominations: The Drama Desk "Best Actress in a Musical," Off Broadway Alliance "Special Event" and the
Lucille Lortel
and Audelco "Best Solo Show." Braden was also nominated for the Carbonell Award (Florida) and the Connecticut Critics Award. She has also earned an L.A. Critics Award nomination for Musical Direction for The Tempest (
South Coast Repertory
), Connecticut Critics Circle Award win for best ensemble for Gee's Bend (Hartford Stage) and New York Musical Theater's Outstanding Ensemble win for Acapella. Braden comes to Rubicon having recently performed in world-renowned Pop Conductor Jeff Tyzik's Return to the Cotton Club, sharing the stage with Trumpeter/Singer
Byron Stripling
and Tap Dancer/Singer Ted
Louis Levy
. She has received over 8.3 million views on Post Modern Jukebox's "Sweet Child O' Mine" remix, and arranged vocals for
Spike Lee
's movie project "Da Sweet Blood of Jesus." Braden is featured on CD's to be released this year by Regina Carter and Gayelynn McKinney. with whom she shared the stage in Straight Ahead. Braden's other theatre credits include Mammy in the 2013 World Premiere of Gone with the Wind, adapted by Niki Landau at Rubicon's sister organization in Canada, the Royal Manitoba Theatre Centre in Winnipeg. She has appeared in and served as musical director/arranger in The People's Temple, Gee's Bend, The Bluest Eye, Mahalia: A Gospel Musical, Lady Day at Emerson's Bar and Grill, Hot Snow: The Story of
Valaida Snow
and Ma Rainey's Black Bottom. Miche originated the role of Duchess DeLovely in the original cast of Hats: The Red Hat Society Musical. She's also appeared in two episodes of "Law & Order: SVU." As a singer, Braden has performed with Regina Carter, Alexis P. Suter,
Milt Hinton
,
Lionel Hampton
(the nephew of
Bessie Smith
's common law husband), and
Frenchie Davis
. She is featured on the
James Carter
releases "Gardenias for Lady Day" and "At the Crossroads." and appeared with him at
Carnegie Hall
. Miche performed "New York State of Mind" in Movin' Out on Broadway when she won Washington Mutual's singer/pianist contest and was dubbed "
Billy Joe
l's Piano Woman" by Fox 5 News. Braden's talented and versatile work may also be heard on "Diva Out of Bounds - Ms. Miche." Braden was the featured singer in Damien Foundation's 2007 Gospels for Life tour in Belgium and France, and is a recurring featured artist in the Absolute Gospel Festival in Lyon, France. She has toured Japan for several years in a series of jazz concerts and teaching choral jazz and gospel workshops. She is a former Minister of Music, Choral Director and restarts her troupe The Performance Art Chorale (aka The PAC), this spring.
Angelo Parra (Playwright), is an award-winning writer and has had works produced Off-Broadway, in Los Angeles, Chicago, Washington, D.C., and at Hartford Stage, Florida Stage, The Cape Playhouse, George Street Playhouse, Florida Rep, Merrimack Rep, Cleveland Playhouse, and Milwaukee Rep, among others. THE DEVIL'S MUSIC: THE LIFE AND BLUES OF Bessie Smith was named among the "Top-Ten Off-Broadway Experiences" by the NY Daily News, nominated for a 2012 Lucille Lortel Award, and the only play ever invited and performed at the Montreal International Jazz Festival. Parra's honors include the Jewel Box Theatre, Mixed Blood Versus America, and David James Ellis Memorial national play awards, two NY Foundation for the Arts Fellowships, and the 1998 Chicano/Latino Literary Award (UC Irvine). In 2000, he was named a Tennessee Williams Scholar at the prestigious Sewanee Writers Conference. Parra is a member of The Dramatists Guild and member emeritus of the BMI/Lehman Engel Musical Theatre Workshop. Angelo is the founder and director of the Hudson Valley Professional Playwrights Lab in Nyack and the Main Street Playwrights Lab in Tarrytown, NY, and teaches playwriting, performing arts, and English at SUNY Rockland Community College.
Joe Brancato (Director) was cited by The New York Times as "one of America's most insightful directors." In addition to The Devil's Music: The Life and Blues of Bessie Smith (Drama Desk, Lucille Lortel, Off Broadway Alliance, and Audelco awards nominee); his Off-Broadway credits include Tom Dudzick's Miracle on South Division Street (St. Luke's Theatre); Fall to Earth and Freed (Audelco Award nominee) at 59E59; Tryst (Outer Critics nomination for Best Play); Cobb (Drama Desk winner) produced by Kevin Spacey in NYC and L.A.; From Door To Door at the Westside Theatre; One Shot, One Kill at Primary Stages; Jeffrey Solomon's Santa Claus is Coming Out; Two and a Half Jews; My Italy Story; Ricky Ian Gordon's The Matter of Minutes; Escape from Happiness (starring Marsha Mason), The Big Swing (starring Madeline Kahn, Sarah Jessica Parker, Matthew Broderick, Marisa Tomei) and Dr. Valentine's Waltz (starring John Turturro, Laura Linney, Gina Gershon, Jane Alexander) at Naked Angels; as well as Hold the Wedding, produced by Joseph Papp.
As founding Artistic Director of Penguin Rep Theatre, Brancato has directed over 100 productions, including premieres by Arthur Laurents, Lanie Robertson, William Mastrosimone, James Sherman, Steven Dietz, Richard Vetere, Allan Knee, and Tom Dudzick. He commissioned and directed the play The Man Who Was Peter Pan, which was the basis for the Oscar-nominated film, "Finding Neverland" starring Johnny Depp.
Bessie Smith: "Empress of the Blues"
The daughter of a preacher, Bessie Smith overcame Southern poverty to become the greatest and most influential classic blues singer of the 1920s, earning the title "Empress of the Blues." Bessie was born to a poor family in Chattanooga, Tennessee. Her date of birth is uncertain, sometime between 1894 and 1900. Bessie's career began when she joined the Moses Stokes Company's traveling (vaudeville) show around 1912, initially as a dancer. There she was exposed to the subtleties and intricacies of blues, then still an emerging art form, as performed by Ma Rainey, known as "the Mother of the Blues." Music historians debate the extent to which Ma Rainey influenced Bessie Smith's rise as a featured vocalist. Bessie's first recording, "Down Hearted Blues," was released in the spring of 1923. Though released without special promotion, it was an immediate success. As a result, she started touring on the best race (Black) artist vaudeville circuits booked by TOBA - short for Theatre Owners Booking Association, but also derisively said to stand for "tough on black asses."
By the mid-twenties, Bessie was touring her own show through the entire South and most of the major northern cities, always as the star attraction. During that period, she was the highest-paid black entertainer in the country. Bessie became known as a fiercely independent, wild-living, short-tempered, and hard-drinking woman, who enjoyed the intimate company of women as well as men.
On the flip side, Bessie could be warmly loyal to, and motheringly protective of, her friends. By 1930, her career faltered owing to the public's changing musical tastes, mismanagement of her affairs, and her heavy drinking. In many ways, one of her best-known songs, "Nobody Knows You When You're Down and Out," could have been the theme song of her later life.
What turned out to be Bessie's last recording session took place in 1933, marking what some were hoping would inaugurate a comeback. Her last New York City appearance was in 1936 at a jam session sponsored by United Hot Clubs of America at the original Famous Door on 52nd Street.
In the early morning hours of September 26, 1937, Bessie was a passenger in a car driven by her companion Richard Morgan, a former Chicago bootlegger. Near Clarksdale, Mississippi, the car collided with a truck and rolled over. The car was struck a second time by another vehicle that continued on without stopping. The accident nearly severed one of Bessie's arms and crushed half her body. A third car, this one containing a white physician, stopped to offer assistance. Eventually, an ambulance arrived which took Bessie to a black hospital where she died.
Bessie recorded with many of the jazz greats of her day, including Louis Armstrong, Fletcher Henderson, Sidney Bechet, and Joe Smith. Bessie left behind some 160 recordings, and performed in one short movie, The St. Louis Blues (1929), which affords us the only opportunity to hear and see the great Bessie Smith perform.
The 1948 short story "Blue Melody," by J. D. Salinger and the 1959 play The Death of Bessie Smith, by Edward Albee are based on Smith's life and death, but poetic license was taken by both authors; for instance, Albee's play distorts the circumstances of her medical treatment, or lack of it, before her death, attributing it to racist medical practitioners.
In 1970, Janis Joplin and others laid a headstone on the unmarked Philadelphia grave of Bessie Smith; it reads: "The greatest blues singer in the world will never stop singing - Bessie Smith 1895-1937."
A comprehensive bio on her life. Bessie, by journalist Chris Albertson, was published in 1972 and expanded in 2003. An HBO film loosely based on the book starred Queen Latifah (who also executive produced the project) portraying Smith and Mo'Nique playing Ma Rainey.
In 1980 Bessie Smith was inducted into the Blues Foundation's Hall of Fame and, in 1989, into the Rock & Roll Hall of Fame.
Design Team
The design team for THE DEVIL'S MUSIC: THE LIFE AND BLUES OF Bessie Smith features set design by Brian Prather, lighting design by Todd Wren, sound design by Jonathan Burke, costume design by Patricia Doherty and prop design by T. Theresa Scarano. Renee Alexander is Production Stage Manager with Kelsey Sapp as Production Manager and David King as Technical Director.
Low-priced previews for THE DEVIL'S MUSIC: THE LIFE AND BLUES OF
Bessie Smith
begin on Wednesday, February 22, 2017 at 7 p.m., continuing Thursday, February 23 and Friday, February 24 at 8 p.m. Opening night is Saturday, February 25, at 7 p.m. with a post-show party at NOW Ventura. The production continues Wednesdays at 2 and 7 p.m., Thursdays and Fridays at 8 p.m., Saturdays at 2 and 8 p.m. and Sundays at 2 p.m. through March 12. All performances are at Rubicon Theatre, 1006 E. Main Street in Ventura's Downtown Cultural District (the corner or Main and Laurel). For tickets, go to www.rubicontheatre.org or call (805) 667-2900. Talkbacks with actors are scheduled after the Wednesday 7 p.m. performances on March 1 and 8. Tickets for THE DEVIL'S MUSIC: THE LIFE AND BLUES OF
Bessie Smith
range from $30 to $55 plus a $4 processing fee (opening night is $99 and includes a post-show reception). Tickets for students with ID are $25; Equity members and military are $30. There is a $5 discount for seniors 65 and older. Discounts of 10% to 20% are available for groups of 10 or more, depending on the size of the group. Tickets for THE DEVIL'S MUSIC: THE LIFE AND BLUES OF
Bessie Smith
may be purchased in person through the
Rubicon Theatre Company
Box Office at the corner of Main and Laurel in Ventura (Laurel entrance and downstairs) or online at
www.rubicontheatre.org
. To charge by phone, call 805.667.2900.
Rubicon Theatre Company is a non-profit regional theatre based in Ventura, California. True to the name and the vision of founders Karyl Lynn Burns and James O'Neil, the company is committed to providing a nurturing environment for artists where exploration and experimentation are encouraged and supported. Now in its 19th Season, Rubicon has earned a reputation for innovative, reinvigorated productions of classics; and for the development of new works. The company has presented more than 115 diverse mainstage productions to more than 420,000 audience members. Described by critics as "the rising star of the Southern California cultural scene" and the "best theatre between Los Angeles and San Francisco," the company has won a New York Drama Desk Award (four nominations), the L.A. Drama Critics Circle Award for "Sustained Excellence," 14 Ovation Awards, a NAACP Award, and multiple Indy, Garland and Robby Awards. Luminaries such as Susan Clark, Dana Delaney, Bonnie Franklin, Joel Grey, Gregory Harrison, Bill Irwin, Harold Gould, Larry Hagman, Stacy Keach, Michael Learned, Ted Neeley, Paul Provenza, Linda Purl, Joe Spano, Bruce Weitz, Efrem Zimbalist, Jr. and Stephanie Zimbalist have graced the Rubicon stage. Jack Lemmon and John Ritter made their final stage appearances with Rubicon.
Photo Credit: Ronnie Slavin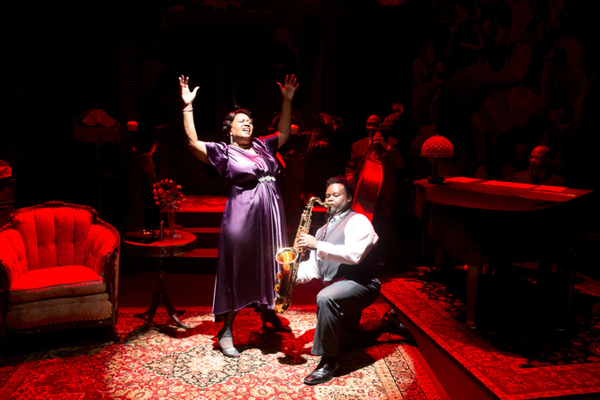 Miche Braden
with Anthony E. Nelson on sax
Anthony E. Nelson, James (Jim) Hankins,
Miche Braden
and Gerard Williams Gibbs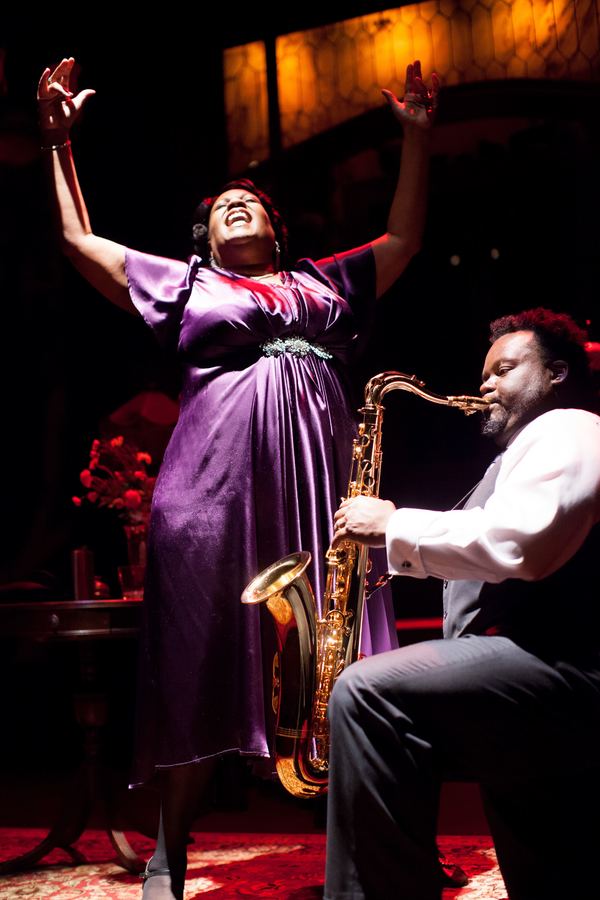 Miche Braden
and Anthony E. Nelson
Miche Braden
Anthony E. Nelson, James (Jim) Hankins,
Miche Braden
and Gerard William Gibbs
Related Articles View More Los Angeles

Stories

Shows
More Hot Stories For You