Photos: Jose Iturbi Foundation Music Competition
If there were an International Idol ... The José Iturbi International Music Competition would be it. José Iturbi was recognized as the world's greatest classical pianist during the 1930's - 1970's. He appeared in several Hollywood films of the 1940s, notably playing himself in the 1943 musical, Thousands Cheer and in the 1945 film, Anchors Aweigh. He worked with legendary talents including Frank Sinatra, Judy Garland, Gene Kelly, Cornel Wilde, and many more. Today, the name José Iturbi has a legacy that still lives through The José Iturbi International Music Competition. It is appropriate that one of the most sought after awards by those who have devoted their lives to music, be dedicated to this remarkable man.
The José Iturbi Foundation's competition is open to pianists and singers of any nationality who are 17 to 35 years of age. Past winners and finalists the competition have hailed from Italy, Spain, Canada, Mexico, Japan, France, Austria, Germany, Ukraine, Russia, Croatia, China, South Korea and the United States. Last year there were hundreds of applications submitted from contestants representing 39 countries, making this an international musical extravaganza. The level of talent is outstanding and the judges in competition look for contestants to have a full range vocally, including the ability to perform pieces from opera to Broadway and Cole Porter; and for pianists to perform works from J.S. Bach to Chopin, to Gershwin and beyond.
"We are so pleased to announce our ten world-class concert artists, coaches and educators who will serve as the judges for the 2010 José Iturbi International Music Competition," said Donelle Dadigan, President of the José Iturbi Foundation. "As a special treat this year, we have confirmed that Martin Katz, will act as collaborator and accompanist for the final round in voice. As we enter our fourth year of competition we are excited about both the judges and the exceptional talent of our competitors."
The Judges for the 2010 voice competition held on Friday night, June 18 at 7:00PM at included: Matthew Epstein, David Daniels, Marilyn Horne, Peter Kazaras and Carol Vaness. The Judges for the piano competition held on Saturday night, June 19 at 7:00PM included: Daniel Pollack, Jorge Mester, Lalo Schifrin, Marc Swed and Ilana Vered.
Opening remarks for the evenings festivities on Saturday were made by Grammy nominated, Broadway and TV personality Ilene Graff, saying "My husband Ben Lanzarone and I are examples of the philosophy of the Iturbi Foundation and Competition. Ben started studying piano at the age of 5, and continued to study classical piano and composition all through his college career ... The work ethic and discipline that he learned while he was a classical student served him well as he dealt with the crushing deadlines of writing music in Hollywood. I was never going to be a classical singer, but the technique I got from my teacher as I learned arias and art songs is the same technique I used while singing on Broadway, or in the recording studio or cabaret stage.
They say it takes 10,000 hours of work to get good at anything. The young artists we are going to hear tonight are well into, or have probably surpassed their 10,000 hours. The work, dedication, discipline and commitment that come along with those hours will serve them well as they deal with all the different aspects of their careers. And we will be the beneficiaries of their hard work and practice because we get to hear the result...their beautiful music.
Also adding her voice to the evenings festivities was Disney voiceover star, best known for her role as Tracie Van Horn on the hit series "Hanna Montana," Ms. Romi Dames, who remarked from the stage, "When I moved to LA, one of the first projects I did was this little indie short film. I was really excited about it because there was this meaty, dramatic scene, and I felt like I had really just nailed it. When the shoot was over, I kept bugging the director, asking him when it would be ready for me to watch. He finally invited me to come check out a rough cut. As I watched, I was a little disappointed. What I didn't realize, at the time, what was missing was the score. Once the music was added, the piece completely transformed. The score is the invisible actor in every film & television show. The actor takes what's on the page and makes it real. The score adds another dimension, making it magical. I appreciate these classically trained musicians, because without them, countless scenes would be missing that extra dimension. Alfred Hitchcock's suspenseful movies wouldn't be quite the same without Bernard Herman's masterful scores. The training, the emotion, the time these classical musicians put in to their craft is astounding. And in a time like this one, when so many schools are cutting their arts programs, it's wonderful to have a foundation like this one to match the investment of these young artists to help keep classical music alive."
The audience was held in rapt attention as hours passed and each protégé presented their work for critical review. Finally, of course, their can only be one first prize and the 2010 honors went to Mezzo-soprano, Sasha Cooke, for vocals with a repritoire that included: Ravel - Asie (Sheherazade); R. Strauss - Wie du warst! Der Rosenkavalier; Granados - El mirar de la maja (Tonadillas, No. 5); Sondheim - Losing my mind Follies and Bernstein - What a movie! Trouble in Tahiti. Stanislav Khristenko walked away with the prize for Piano with a repretoir that featured Gershwin/Khistenko - The Man I Love; Granados - Spanish Dance No. 5 (Andaluza) in E minor; Liszt - Hungarian Rhapsody No. 2 with cadenza by Rachmaninov and Prokofiev - Scherzo, Op. 12.
"We are thrilled that the Jose Iturbi International Music Competition has become a showcase for emerging classical musicians to share their talent to the world. It is our goal to help popularize classical music and with the help of the internet we can bring it to the attention of masses and create a new generation of interest. These musicians dedicate their entire lives to the study of classical music, they are truly inspiring to watch! We are already planning for next year."
The José Iturbi Foundation is a not-for-profit 501(c)(3) organization dedicated to continuing the legacy of concert great José Iturbi, to fulfill his desire of bringing to the public's attention today's greatest emerging classical pianists and vocalists. It is the mission of The José Iturbi Foundation to globally expand the passion for classical music through dynamic competition and compelling live performance. The foundation's goal is to provide a platform for young classical pianists and singers to debut their talent and for the foundation to launch their careers.
Photo Credit: Bob Long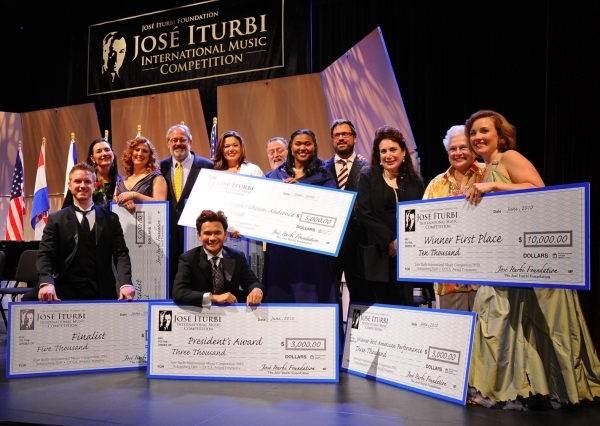 Carol Vaness (Judge), Rebecca Davis (Finalist) , Peter Kazaras (Judge), Elaine Alvarez (Spanish Prize), Matthew Epstein (Chairman - Voice), Aundi Marie Moore (People's Choice), David Daniels (Judge), Donelle Dadigan (Co-Founder and President), Marilyn Horne (Judge), Sasha Cooke (First Prize and American Prize). Left to Right BOTTOM ROW: Christopher Job (FInalist), Rodell Rosel (Presidents Prize)

First Prize for Vocal, Sasha Cooke with Donelle Dadigan (Co-Founder and President)

Donelle Dadigan (Co-Founder and President), Daniel Pollack (Chairman Piano Jury), Claire Huangci (Finalist), Lalo Schifrin (Judge), Krystian Tkaczewski (Finalist), Stanislav Khristenko (First Prize Winner), Goran Filipec (American Prize), Vladimir Khomiakov (People's Choice), Anastasia Markina (Spanish Prize), Mark Swed (Judge), Jorge Mester (Judge), Ilana Vered (Judge)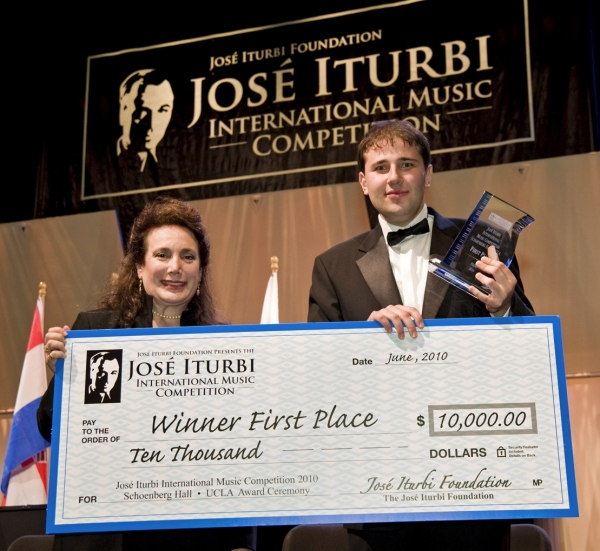 Donelle Dadigan Co-Founder & President with the winner of First Prize for piano, Staninslav Kristenko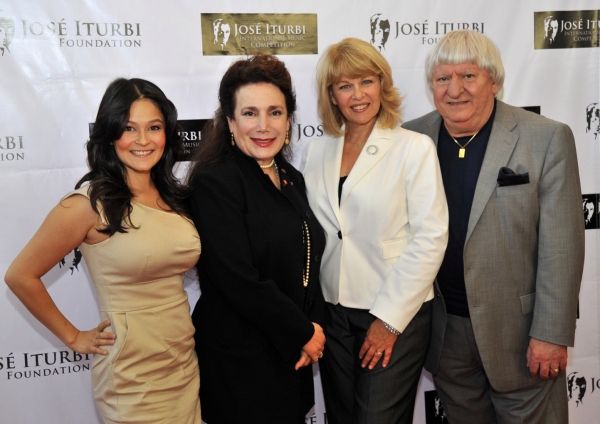 Romi Dames, Donelle Dadigan, Ilene Graff and Ben Lanzarone