Date of Birth: October 13, 1915
Date of Death: October 16, 1989 (74)
Birth Place: New York, NY, USA
Latest News on Cornel Wilde
Stage Credits
  [Broadway]
1940
Tybalt
  [Broadway]
1939
Reef Tabanian
  [Broadway]
1939
Nehemiah
  [Broadway]
1937
Doc
  [Broadway]
1936
Phaon
  [Broadway]
1935
Fillipo Morello
  [Broadway]
1933
Dimitri Nekrasov
Stage
Performances
  [Broadway]
1940
Tybalt
  [Broadway]
1939
Reef Tabanian
  [Broadway]
1939
Nehemiah
  [Broadway]
1937
Doc
  [Broadway]
1936
Phaon
  [Broadway]
1935
Fillipo Morello
  [Broadway]
1933
Dimitri Nekrasov
Cornel Wilde News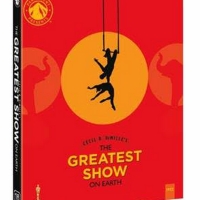 Cecil B. DeMille's THE GREATEST SHOW ON EARTH Debuts on Blu-ray March 30th
by Sarah Jae Leiber - Feb 2, 2021
Legendary director Cecil B. DeMille's grand spectacle THE GREATEST SHOW ON EARTH arrives for the first time on Blu-ray as part of the Paramount Presents line on March 30, 2021 from Paramount Home Entertainment. 

The Morris Museum to Launch New Inside Cinema Film Series
by Kaitlin Milligan - Aug 21, 2018
The Morris Museum will launch its new Inside Cinema Film Series on Wednesday, September 5, 2018 at 10:00AM in the Bickford Theatre. During this season, this film series will focus on film Noir, and will be hosted monthly by David Landau, a professor of film at Fairleigh Dickinson University.  For each screening there will be a discussion with David before the film to provide further insights.
Sarasota Opera Announces New Opera House Film Series
by BWW News Desk - Jul 25, 2017
Sarasota Opera announces an expansion of their "HD at the Movie House" series entitled "Classic Moves at the Opera House." Originally designed as a movie house and vaudeville theater, Sarasota Opera is embracing the history of the building by bringing many of the classic films that once played at the theater when they originally premiered.
2017 CAPA SUMMER MOVIE SERIES Lineup Announced
by BWW News Desk - May 1, 2017
The CAPA Summer Movie Series, the longest-running classic film series in America, celebrates its 47th anniversary in 2017 with an impressive assembly of classics, cult favorites, and beloved films.
Moving Image's SEE IT BIG! Series Tributes Great Cinematographers, 11/8-12/29
by BWW News Desk - Nov 7, 2013
Museum of the Moving Image's ongoing series See It Big! presents classic and contemporary films on the big screen in the beautiful Sumner M. Redstone Theater. In November and December, the Museum will showcase 22 films photographed by some of the world's greatest cinematographers, including Gordon Willis, Vittorio Storaro, Vilmos Zsigmond, Nestor Almendros, Raoul Coutard, James Wong Howe, and more. The series, See It Big!: Great Cinematographers, runs from November 8 through December 29, 2013.
Photo Flash: Jose Iturbi Foundation Music Competition
by Jessica Lewis - Jun 22, 2010
If there were an International Idol ... The José Iturbi International Music Competition would be it. José Iturbi was recognized as the world's greatest classical pianist during the 1930's - 1970's. He appeared in several Hollywood films of the 1940s, notably playing himself in the 1943 musical, Thousands Cheer and in the 1945 film, Anchors Aweigh. He worked with legendary talents including Frank Sinatra, Judy Garland, Gene Kelly, Cornel Wilde, and many more. Today, the name José Iturbi has a legacy that still lives through The José Iturbi International Music Competition. It is appropriate that one of the most sought after awards by those who have devoted their lives to music, be dedicated to this remarkable man.
Cornel Wilde Frequently Asked Questions
How many Broadway shows has Cornel Wilde been in?
Cornel Wilde has appeared on Broadway in 7 shows.
How many West End shows has Cornel Wilde been in?
Cornel Wilde has not appeared in the West End