Photos: First Look at Lower Depth Theatre Ensemble's ELMINA'S KITCHEN
The Lower Depth Theatre Ensemble presents the West Coast premiere of ELMINA'S KITCHEN, written by award-winning playwright
Kwame Kwei-Armah
, directed by
Gregg T. Daniel
. This gut-wrenching drama is set in the notorious "Murder Mile" section of London's East End. ELMINA'S KITCHEN examines the bitter clash of values between three generations of black men and its effect on their family and community. The play runs August 11 through September 9. Fridays & Saturdays at 8pm, Sundays at 4pm. The Lost Studio, 130 S. La Brea, Los Angeles. Get a first look at the production in the photos below!
The Lower Depth Theatre Ensemble (LDTE) is a company of seasoned professionals who work in TV, film, and on stage. Founding company members Gregg T. Daniel, Jason DeLane, Yvonne Huff, and Veralyn Jones came together to explore the idea of founding their own company, a theater home that supports family, career and craft. Their shared beliefs moved them to found the Lower Depth Theatre Ensemble. LDTE's inaugural production was the well received 2010 U.S. Premiere of Three Sisters After Chekhov, Mustapha Matura's penetrating adaptation of Anton Chekhov's classic play set in 1941 Colonial era Trinidad.
LDTE is working to create future seasons of classical, contemporary and original material from some of the world's finest playwrights, showcasing not only great writing but excellence in the craft of acting as well. Their aim-to explore the truth and reality that lies beneath the lower depth of our existence.
Kwame Kwei-Armah
is an award-winning British playwright, director, actor, and broadcaster. His plays include Seize the Day, A Bitter Herb, Blues Brother Soul Sister, Big Nose, and his triptych of plays chronicling the struggles of the British African-Caribbean community in London-Elmina's Kitchen, Fix up, and Statement of Regret-which each premiered at
The
National Theatre
between 2003- 2007. With Elmina's Kitchen he became the first Black Briton to have a play produced in London's West End; Elmina's Kitchen and Let There be Love each had their American debuts at Baltimore's CENTERSTAGE. In addition, he penned the 2010 teleplay, Walter's War, about the first Black commissioned officer to lead British troops during
WW I.
He has been named a Writer-in-Residence at the Bristol Old Vic and for BBC Radio drama, an Associate Artist and board member at The National Theatre of Great Britain and London's Tricycle Theatre, as well as being named an Associate Artist at Baltimore's CENTERSTAGE, where he made his directing debut with Naomi Wallace's Things of Dry Hours, and in 2011 was named CENTERSTAGE's new Artistic Director.
Gregg T. Daniel
(Director, Artistic Director LDTE): a graduate of NYU's Tisch School of the Arts his most recent directing credits include the critically acclaimed COBB by
Lee Blessing
at the Group Repertory Theatre. Also, for GRT, he directed
Tom Stoppard
's translation of HEROES. Other credits include the U.S. premiere of Mutapha's Matura's THREE SISITERS AFTER CHEKHOV, the world premiere of solo performance artist Joyce Guy's WAR STORIES for the Los Angeles Theater Center and
Sybyl Walker
's BENEATH RIPPLING WATER for the Fremont Center in Pasadena. For Theatre 150 in Ojai, Gregg directed the 2004 Pulitzer Prize winner, I AM MY OWN WIFE by
Doug Wright
, STOP KISS by
Diana Son
and
Athol Fugard
's SIZWE BANSI IS DEAD (NAACP Theatre nom.). He is a visiting guest director for USC's School of Theatre. He has been a member of the
Lincoln Center Theater
Lab in both New York and Los Angeles. For the U.S. premiere of Afro Caribbean playwright
Mustapha Matura
's, THREE SISTERS AFTER CHEKHOV Gregg traveled to Spoleto, Italy to participate in LaMaMa's International Directors Symposium working with renowned directors
Anne Bogart
and
JoAnne Akalaitis
. He holds membership in the SDC (Stage Directors and Choreographers). This summer, Gregg is mounting a staged reading of
Alice Childress
' WEDDING BAND for the Antaeus Company's ClassicsFest 2012 of which he is a member. He is the current Artistic Director and founding member of Lower Depth Theatre Ensemble.
Racquel Lehrman, Theatre Planners (Producer): Racquel is the founder and managing director of Theatre Planners, her own theatre production/PR firm which has been serving the Los Angeles theatre scene for almost ten years. She graduated from NYU-Tisch School of the Arts and lived in NY for many years producing theatre. Theatre Planners has since developed into a very busy and successful outlet for actors, writers, producers and theatre companies, doing everything from producing, publicity, consulting, marketing and more. Racquel is also the owner of the LOUNGE THEATRES in Hollywood on Theatre Row.
Terrell Tilford
* (Deli): currently stars on the hit VH1 scripted-series "Single Ladies". He was last seen on stage in Los Angeles in the award-winning ensemble StickFly at The Matrix and in NYC as Laertes in the NPTC production of Hamlet. Prior to that, he received critical acclaim in the West Coast premiere of the Tony Award-winning Take Me Out at the
Geffen Playhouse
. TV Series regular: "The Protector", "One Life to Live" & "Guiding Light". Recurring: "24", "Soul Food", "Lincoln Heights", "Star Trek: Enterprise", "Shark", "MDs", "Just Legal" & "All of Us". Guest star: "NCIS", "Army Wives", "Bones", "CSI:NY", "The District", "Girlfriends", "My Wife & Kids", "CSI", "Half & Half", "Cosby" & "Coach", among others. Upcoming Films: The Get Away (opp.
Lor
Etta Devine
), H4 (opp.
Harry Lennix
& Angus Macfadyen) and Broken Roads (opp. Sally Strickland). An MFA graduate of Rutgers University and the University of California at Berkeley, Tilford has performed at such theatres as the
Geffen Playhouse
, the Guthrie, McCarter, Crossroads,
Actors' Gang
, LA Theatre Works, Black Dahlia and a slew of New York houses. Nominated for an NAACP Image Award as outstanding Actor in a Daytime Drama Series, Terrell has received the LA Drama Critics, NAACP Theatre Award, Garland, LA
Stage Alliance
& Ovation awards. (www.TerrellTilford.com)
Noel Arthur* (Digger): Favorite stage roles include Horatio in Hamlet directed by John Gould Rubin one of the co-artistic directors of LABrynth Theatre (Phillip Seymour Hoffman's theater) and Errol in Statements after an Arrest under the Immorality Act directed by Peter Wallace for the NYC Fringe Festival 2004. Film: Reynaldo in "Bad Lieutenant Port of Call: New Orleans"; TV: "The Event", "Glee", "Scrubs", "NCIS: LA" among others.
Tracey A. Leigh* (Anastasia): is an OBIE Award-winning actor for Tale of 2Cities, An American Joyride in Multiple Tracks at PS 122, which was also performed at UCLA Live before going to NY; most recently seen in The Many Mistresses of Martin Luther King at Ensemble Studio Theatre/LA. Other credits include the nat'l tour of The Vagina Monologues, and Off-Broadway productions at Soho Repertory, Primary Stages, NY Theatre Workshop, Signature Theatre, as well as productions at The Old Globe, South Coast Rep, La Jolla Playhouse, Arena Stage, and A Contemporary Theatre. She's worked numerous times with director/choreographer Ken Roht, appearing in Same-O: A 99¢ Only Electric Ballad, and his vampire musical film "The Bloody Indulgent." TV appearances include "Grey's Anatomy," "Criminal Minds," "Law and Order" and "Charmed" among others.
Aaron Jennings (Ashley): Born and raised in Los Angeles he got his start at Stage 52, as the lead in Take a Giant Step. He was a recurring guest star on TBS' "Meet the Browns" and a guest star on TNT's "Rizzoli and Isles". He can also be seen next year in the Farrelly brothers' upcoming comedy, "Untitled Farrelly/Wessler Comedy" opposite Terrance Howard. He has also been in numerous national commercial spots such as Pizza Hut, SoCalHonda, Motorola and others. He has trained at Columbia College Chicago, Diana Castle's Imagined Life, and Berg Studios.
Basil Wallace* (Clifton): hails from Jamaica WI, and attended NYU School of the Arts. With credits too numerous to mention, Basil Wallace has worked in New York at The Public Theatre, American Place, La Mama ETC as well many other Off - Broadway houses. In Film he's done: "Marked for Death," "Grand Canyon," "Blood Diamond" and others. Recently he did "NCIS," "CSI," "Burn Notice," and "Eagle Heart." Basil, an actor with an active film and TV career is happy to be back on stage again.
Leon Morenzie (Bagee): Theatre: Broadway, The Sound in The Leaf People. Off Broadway Yasha in James Earl Jones' The Cherry Orchard; Critical acclaim for Sam in Master Harold... at ICT., and Creator in Rum and Coca Cola at BAM. Dramalogs best comedy actor award for Franco in Beef,no Chicken; Shakespearean roles from Othello to Caliban. Film : Co-starred in "Strange Fruit", was Narrator in "Buffy the Vampire Slayer" and VO'd the Eunuch in "One Night with the King ". Co-starring TV roles; TV and radio commercials and cartoon voices.
For tickets and information, visit www.lowerdepththeatreensemble.org or phone
(323) 960-4451.
Photo credit: Ed Krieger


Noel Arthur, Aaron Jennings and Terrell Tilford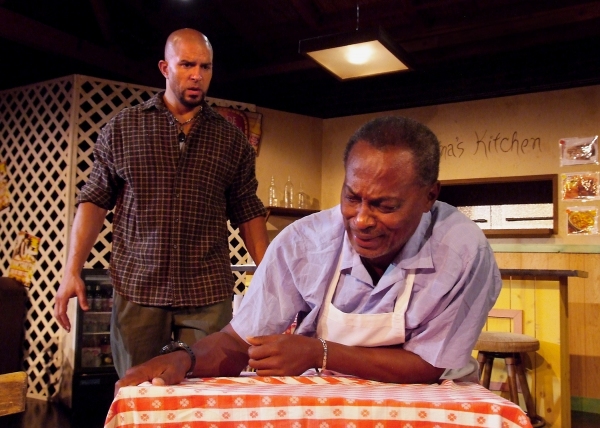 Terrell Tilford and Basil Wallace

Basil Wallace and Leon Morenzie

Noel Arthur and Terrell Tilford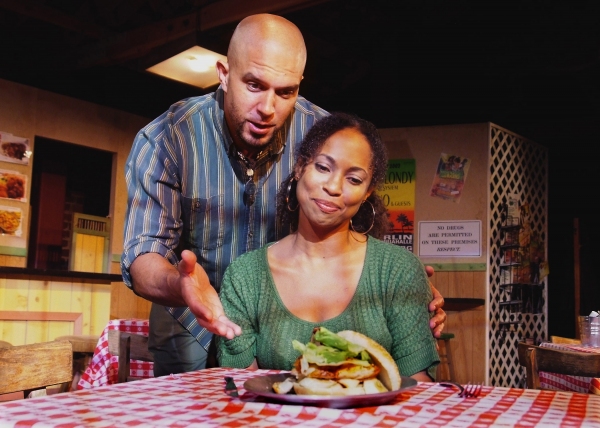 Terrell Tilford and Tracey A. Leigh