Photo Flash: First Look at FINDING THE BURNETT HEART at Hollywood's Lillian Theatre
Gina Stoj, co-founder of Theater 48 (a non-profit corporation dedicated to presenting theater that matters - www.Theater48.org), makes her producing debut with the stage play, Finding the Burnett Heart by Paul Elliot, which premiered in Hollywood at The Lillian Theatre and runs through May 27. Check out photos from the production below!
This powerful new work by Paul Elliott centers around 16-year-old Tyler Burnett who inadvertently comes out to his extremely old school, hardcore grandfather. Only after some major drama, the two find common ground and grow to accept and, miraculously, even love each other. Tyler's isn't the only family secret that's exposed and each character is transformed by the revelations. The play is extremely funny and rivetingly dramatic. It will make you laugh, cry and gasp.
Often hilarious and always gut-wrenchingly honest, it's not just a play. It has a message that needs to be shared - one of hope inspired by Tyler's journey and ultimate ability to stand up for himself. It offers a much-needed contrast to the bullying, depression and suicide many LGBT teens experience.
Finding the Burnett Heart is a very personal story for Paul. The idea for writing it came about when his father, at age seventy-eight, came to stay a couple of weeks with Paul's family after the death of his mother, who had been the real glue that held their extended family together, and Paul's young daughter got into a screaming match with grandpa.
For a more info regarding the play, including the playwright, cast and crew information, please visit www.burnettheart.com or read more coverage on BroadwayWorld here.
Photos courtesy Theatre 48.


Colleen McGrann, Joel Johnstone and Jeff L. Williams

Joel Johnstone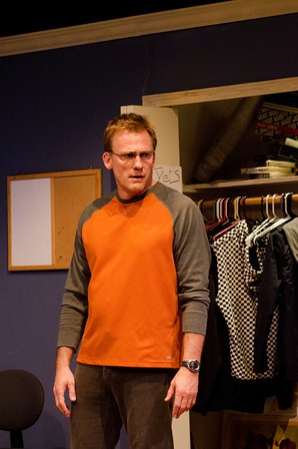 Jeff L. Williams

James Handy and Joel Johnstone

Colleen McGrann and Joel Johnstone